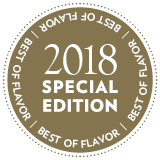 Late-night street food is a New York staple, and grabbing some halal chicken and rice after hitting the town is as classic as it gets. Dale Talde, Executive Chef/Partner of Rice & Gold, an Asian-American restaurant located in Chinatown's Hotel 50 Bowery, presents an ode to the halal cart with his Golden Chicken.
The dish starts with the craveable flavors found in typical street-cart chicken and rice, and elevates them with sophisticated ingredients and preparation. The result is an item that Talde says "has been a crowd pleaser since day one."
A deboned Cornish hen is first marinated for 24 hours in Persian spices and yogurt, then roasted until charred. This smoky meat is paired with sweet chicken-stuffed shishito peppers and feta-stuffed Medjool dates, then drizzled with housemade red and white sauces.
On the predominantly Asian menu, the Persian dish stands out. Aromatic and slightly spicy, the Golden Chicken draws diners in with the promise of a familiar dish taken to new heights with thoughtful pairings that add up to a robust flavor profile. To meet demand and diversify options, Rice & Gold added a lunch salad version that plates the chicken over lettuce with red and white sauces, making for a lighter mid-day meal.