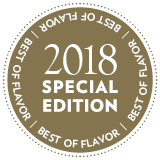 Patent Pending is an underground cocktail bar behind Patent Coffee. To gain access, patrons have to ring a bell, then walk through the closed coffeeshop through a hidden door that leads to the speakeasy.
Owned by Ryan McKenzie, the beverage program carries a sleek, creative vibe, with offerings like AC/DC (Blanche Armagnac, peach, fennel, genever, egg white, lemon and seltzer) and Radio Waves (tequila, mezcal, agricole rhum, basil, Thai chile, lime and cucumber).
One of the most intriguing offerings, The Twain, leverages apple juice."We are big fans of the use of apple juice in cocktails," says Harrison Ginsberg, who, along with Nick Rolin, consulted on the cocktail menu. "We like to look at different types of apples and really study their flavor profiles. After that, we pair ingredients that we believe will complement those flavors."
The Twain was inspired by a bar in London called Coupette. "Coupette takes different types of apples, clarifies the juice, carbonates it and then pairs different apple juices with different types of Calvados. Now that is cool," says Ginsberg. "This inspired us to look into different apples."
On the menu at Patent Pending, The Twain stars freshly pressed Fuji apple juice paired with tequila, Alpine liqueur, gin, pear, Woodruff syrup, almond and lemon. A flourish of nutmeg garnishes the drink.