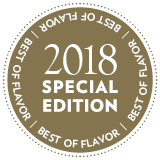 Intense flavors make Urbain 40's Ginger-Teriyaki Char-Crusted Yellowfin Tuna Filet a winning dish. Tim Keating, Executive Chef, explores the Asian pantry here, pulling out flavors that are complex and savory, and that work well in making this entrée a success.
"Tuna is always a popular dish, no matter what style you serve it," he says. "The success factor comes from the multilayered umami flavors that this dish boasts."
The tuna stars a ginger-teriyaki char crust, and it's paired with a sauce that starts with a heady reduction of fresh ginger, shallots, lemongrass, makrut lime leaves, cilantro, sesame oil, mirin, white wine, Thai fish sauce, gochujang, vegetable stock, coconut milk and tamari. "This is all steeped together for 45 minutes to make an intense, multilayered Asian infusion," he says. The broth is strained and reserved for finishing at service.
At pick-up, he adds fresh carrot juice and curry compound butter (olive oil, apples, onion, mirin, fish sauce, Madras curry, turmeric, golden raisins and butter). He introduces lime juice to enhance acidity.
The dish is served over a stir-fry of Asian mushrooms and vegetables sautéed in sesame oil, garlic and ginger, topped with the finished emulsion and garnished with crispy fried lotus root and slivered scallions.
"When blended together, it hits the palate with a carnival of Asian flavors," says Keating.