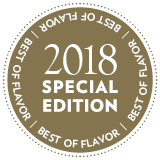 Birch's on the Lake prides itself on creating inventive, high-quality beers. Its 10-barrel system serves up brews like a Root Beer Dopplebock, a rich German lager with a good dose of sassafras, and a Vanilla Milk Stout with whole Madagascar-bourbon vanilla beans.
Co-owner and Brewmaster Brennan Greene has brewed hundreds of different styles of beer in his time at Birch's, but he says one rises above the rest: the Blood Orange Berliner Weiss, a sour German wheat ale with hints of blood orange, made with one-third wheat and two-thirds barley.
"Our house sour culture has now been used in 23 batches, each time picking up more flavor," says Greene. After souring the brew for four days, Greene adds minimal hops and lets the fermentation process begin.
"The beer is a perfect mix of grapefruit and blood orange with a generous amount of tartness, which keeps it from tasting too sweet," he says. "It's light bodied, and the blood orange flavor is very pronounced, making it a refreshing beverage, perfect for summer."
The beer was first brought in as a seasonal offering, and it was an immediate hit. After the third batch sold out quickly, Greene added it as a permanent tap. "It's a beer that appeals to the dedicated craft-beer drinker, the novice beer drinker, and the white-wine drinker for its citrus notes," he says.
"It truly is a unique and delicious beer."