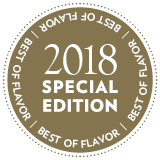 High-quality steak plus a zippy chimichurri for $14? Urban Plates, a growing fast-casual chain, has a winner in its Chimichurri Grass-Fed Steak Plate, delivering a palate-satisfying, value-conscious entrée.
The grass-fed, hand-trimmed steak is grilled to medium-rare and sliced to order. Drizzled atop is the brand's version of chimichurri, with fresh parsley, red bell pepper, purple onion, red onion, oregano, red chiles, white balsamic vinegar and organic extra-virgin olive oil.
A choice of hot or chilled sides and char-grilled bread complete the plate.
"We collaborate with partners to ensure the best-quality meat, seasoned with herbs and spices and just a touch of coffee," says Senior VP of Culinary Jim Cannon. "The perfect amount of chimichurri adds just enough tangy punch without overpowering or overshadowing the meat itself."
Cannon says the combination of "hearty, nourishing, feel-good food at an affordable price" exemplifies Urban Plates' philosophy.