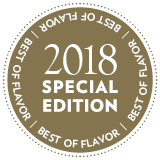 Nothing says comfort like French onion soup—except, perhaps, a loaded baked potato. Combining the two into one dish, the Idaho Potato and French Onion Soup is a true power couple. A loaded baked potato replaces the oft-used bread bowl and elevates the flavor profile.
For the build, created by Chef Lucas Forgy of Denver's Block & Larder restaurant, the baked Idaho russet potato "centerpiece" is cut open lengthwise, then layered with slices of fontina cheese, Asiago croutons, caramelized onions and more fontina, and then brûléed.
Savory bison stock is ladled over the cheese, and the potato is garnished with caramelized onions, scallion and a dollop of sour cream.
"In many restaurants, soup or a side salad are giveaway items, included with the entrée," says Don Odiorne, VP of Foodservice for the Idaho Potato Commission. "This becomes an entrée, but one that is very economical, without the need of a heavy protein. It could easily be a veg-forward menu item. Or, add braised beef tips and it's a hearty lunch or dinner entrée."
The possibilities for signaturization are endless, such as adapting other soups—from beer cheese soup to New England clam chowder— into a baked potato format.