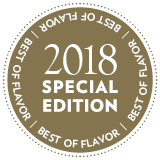 Still considered an adventurous choice, rabbit doesn't show up on menus that often. But Coolinary Café's Rabbit Sausage & Noodles is a surprise customer favorite that diners keep coming back for.
The combination of an intriguing protein with a comforting, familiar, broth-based noodle bowl helped propel this dish into stardom. "This is one of our most popular items featured on the menu. Customers will come in and ask for it by name," says Chef Tim Lipman, who owns the restaurant with his wife Jenny.
The dish presents an appealing combination of vegetables, protein and noodles with a rich and hearty flavor build. Sliced rabbit sausage is sautéed with garlic and olive oil, along with Spanish onion, olives, shiitake, oyster and trumpet mushrooms, and jalapeño for a bit of heat.
White wine and chicken stock provide a delicious broth, which balances out the savory rabbit sausage. Finally, the mixture is tossed with wheat noodles, broccolini and kale, then served in a bowl format.
"Our guests particularly enjoy this dish because it has a warm, homey-style feel," says Lipman. "It's a dish that they can recognize and feel good about eating, while still offering an adventurous touch."