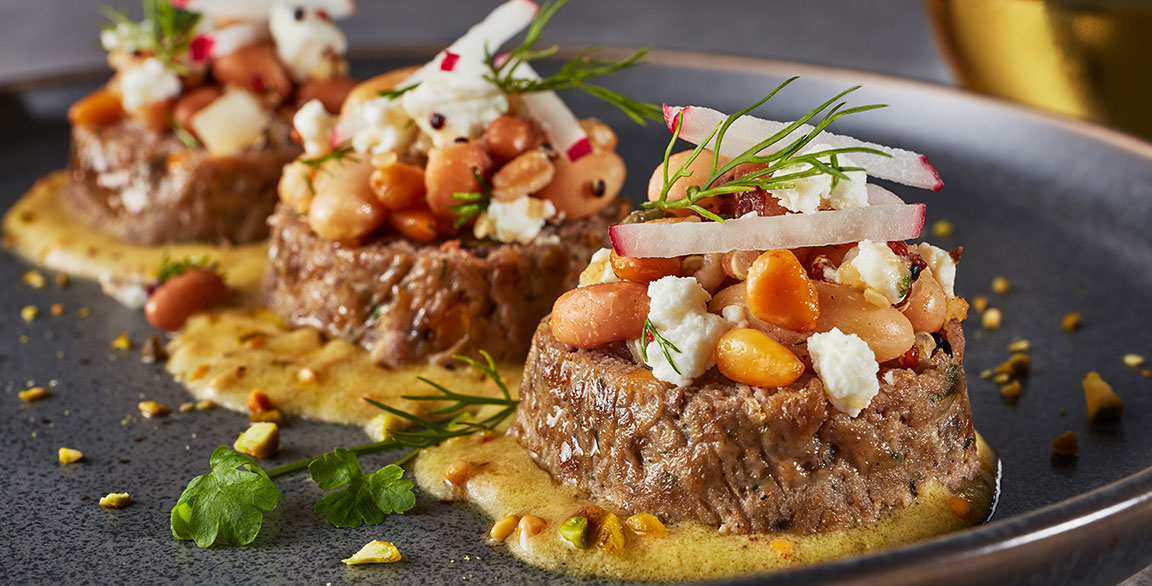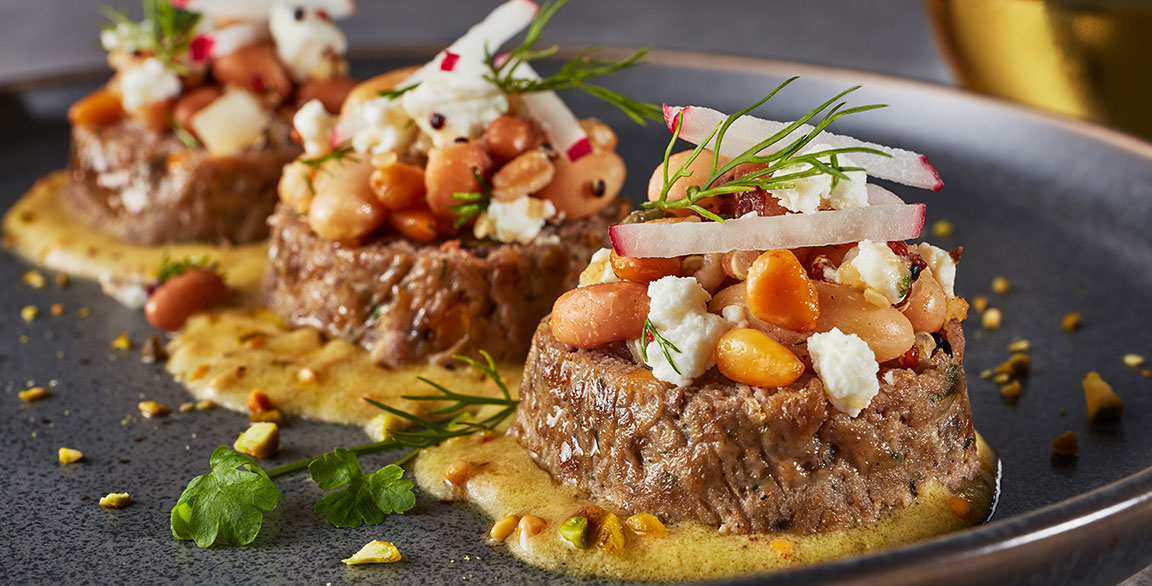 BLENDED BURGER TORCHON WITH BLACK-EYED PEA & CANNELLINI BEAN SALAD
Recipe courtesy of Chef Ian Ramirez
Sponsor: Bush's Best
This is an upscale use of the Bush's Best Blended Burger that can be also made into a meatloaf, wrapped in pastry or bacon and baked off like a terrine, or formed into meatballs and used with pasta or as an appetizer. The bean salad is a versatile, vibrant addition to almost any dish.
Servings: 24
Estimated total yield: 6 lbs
Suggested Serving Size: Makes 6 torchons, each torchon serves 4 portions.

Ingredients
4.8 pounds Bush's Best Blended Burger, thawed
2 ½ tablespoons chopped garlic
½ cup minced onions
½ cup loosely packed chopped fresh dill
7 ounces pine nuts, toasted
7 ounces rough-chopped pistachios
As needed salt and pepper
Directions
Combine all the ingredients in a large bowl.
Divide mixture into 6 equal portions.
Using a 24-inch commercial film wrap, lay out plastic wrap on a table and place one scant 1-pound portion of the mixture in a cylindrical shape, being sure to leave at least 6 inches on either side. You will need this length to tie the ends. Next, roll over the plastic until it is completely wrapped. Twist the ends and tie them up tight. If there are any airgaps in the torchon, be sure to prick them with a cake tester or toothpick to remove the air. Repeat for the remaining 5 portions.
In a large pot of boiling water, cook all of the torchons for at about 10 minutes, or until the torchons are firming up.
Remove each torchon from the plastic and sear them on a flat top griddle.
Slice each torchon into 8 to 12 small discs.
Serve 2 to 3 discs per serving.
Top with Black Eyed Pea and Cannellini Bean Salad (recipe below)
Black Eyed Pea & Cannellini Bean Salad
Servings: 20-25
Approx. Total yield: 8 cups
Suggested Serving size: 1/3 to 1/2 cup
Ingredients
¼ cup red wine vinegar
¼ cup olive oil
¼ cup Dijon mustard
2 cups Bush's black-eyed peas, drained and rinsed
2 cups Bush's cannellini beans, drained and rinsed
2 ½ ounces pine nuts, toasted
1-ounce capers, drained
½ cup matchstick-cut radishes
¾ cup loosely packed fresh dill
¾ cup cooked farro
¾ cup cooked tri-color quinoa
¼ cup diced red onion
½ cup goat cheese crumbles
As needed salt and pepper
Directions
In a large bowl, whisk together the vinegar, oil, and mustard.
Add in the remaining ingredients and mix evenly.
Season as needed with salt and pepper
Project Management: Summit F&B
Photography: Carlos Garcia // Food Styling: Peg Blackley & Bree Williams