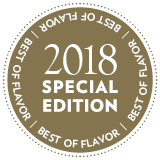 The craft cocktail movement shows no signs of slowing, and the challenge is on for mixologists to come up with ways to make drinks memorable. Head-turning garnishes are one way in, from candied ginger to chile-powder rims.
Frederic Zemmour, Mixologist Master and Director of Operations at Riviera 31, the Sofitel's hotel bar, adorns a cocktail called Fighter Weapon School – AKA Top Gun with—you guessed it—a mini paper plane. Not only does it add a playful touch, it sets the tone for a signature take on a classic bourbon cocktail, the Paper Plane.
First, there's the name. "We wanted to refer to planes, and because we're in Los Angeles, city of the stars and the cinema, we called the cocktail Top Gun, like the Tom Cruise movie," Zemmour explains. But there is also a U.S. Navy program in California called Fighter Weapon School that is nicknamed "Top Gun," hence the unusual name of the cocktail: Fighter Weapon School – AKA Top Gun.
The drink features Bulleit bourbon, Aperol, Amaro Nonino, lemon juice and passionfruit juice—plus that snappy little paper airplane to catch the eye.
"The acidity comes first in the mouth and then blends with the bitter and the strength of the alcohol flavors," he says. "A splash of passionfruit juice gives it a magic mix: the acidity and bitterness along with a fresh and sunny taste," says Zemmour. "The passionfruit juice is surprising at first taste, yet satisfyingly sweet."
He says the cocktail is a highlight of Riviera 31's spring and summer menus. "Giving it a twist of flavor really amplifies the overall experience, making it one of the best drinks out there."