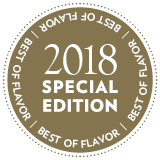 Thai and Japanese flavors come together to build a global take on the classic American steak and eggs at NaiYaRa, a Thai street-food and sushi restaurant.
The Steak and Eggs Sushi features thin slices of flash-seared Wagyu beef over a small pillow of seasoned rice and kimchi, with a sunny-side-up quail egg and ponzu topping things off. "The lavish, super-rich flavor combination of the Wagyu and quail egg, all combined in an inventive sushi roll, was a leap of faith that turned into a huge success," says Executive Chef Danny Khoetchapalayook.
Originally featured on the brunch menu, the popular item crossed over to the dinner menu when NaiYaRa discontinued brunch service. The Steak and Eggs Sushi offers diners the Thai and Japanese flavors they expect at NaiYaRa in an unexpected format.
The dish has also found success because it satisfies the desire for memorable experiences. The vibrant colors and distinct layers make this dish Instagram-worthy from every angle, while the hollowed-out and spotted quail eggshells add visual interest.
The success of the Steak and Eggs Sushi has inspired NaiYaRa to develop even more creative sushi options featuring unique ingredients like sour cream, truffle oil, caviar and—especially perfect for Instagram followers—real gold flakes.