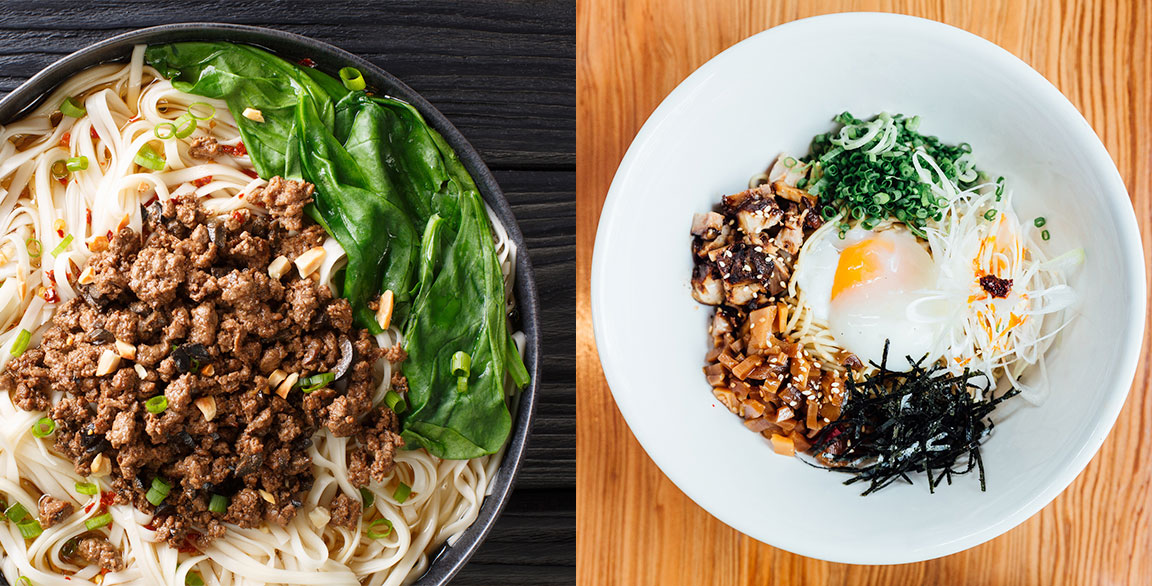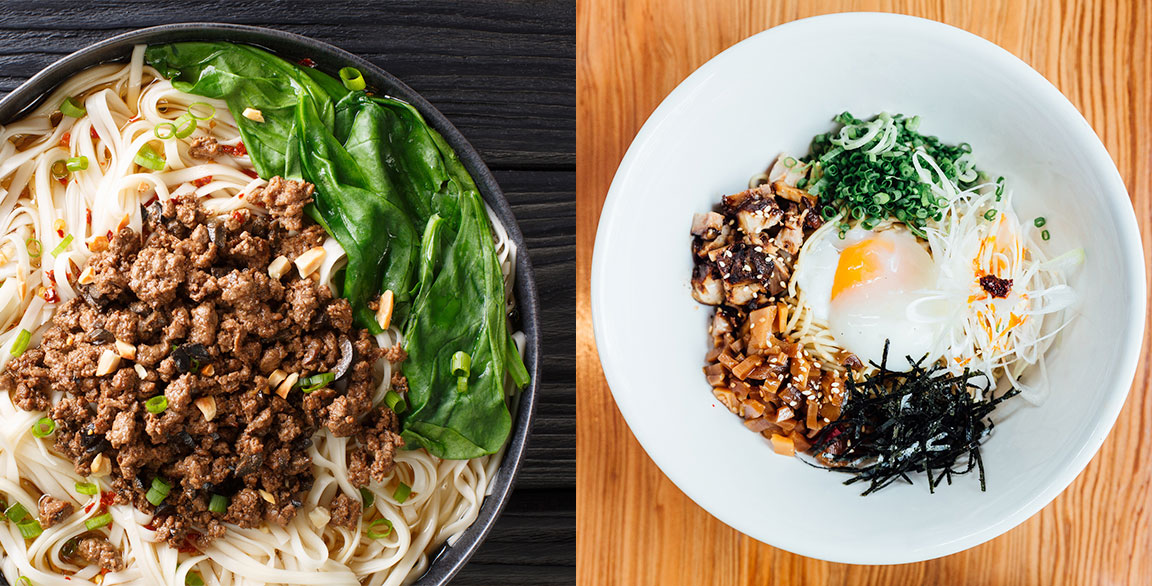 By Jarrett A. Rogers
October 13, 2021
Whether udon, soba, fettuccine or linguine, the hearty and humble noodle is the perfect carrier for iconic global flavor systems, ranging from simmering bowls of pho to rich and creamy cacio e pepe. Tapping into the inherently comforting nature of these recipes, chefs can build on these classics to transcend their customers' dining experience.
As a blank canvas, noodles offer an excellent opportunity for diners to explore new and less familiar global flavors and menu concepts. Here are variations of four beloved Asian noodle dishes as inspiration. Making thoughtful tweaks while paying homage to the recipes' origins can turn these into memorable signature dishes.
1

Cold Noodle Dishes

The ideal summer lunch offering of cold peanut/sesame noodle dishes have few barriers, with a simple base of ingredients—noodles, cucumber, peanuts—inviting signature flavor additions. At Noodle Alley in Cedar Park, Texas, the Cold Sesame Noodle dish gets a kick of heat with the addition of ground Szechuan peppercorn and chile oil.

Doubling down on the "cold temperatures, hot ingredients" approach, Stock in Philadelphia offers a Spicy Peanut Noodle dish on its Cold Noodles menu section. It's prepared vegan (provided with options of pork sausage, Thai basil chicken, or prahok katee) with a flavor-rich combination of palm vinegar, sweet and sour carrot, lime radish, fried shallot and lime leaf peanut sauce, along with a mix of mint, basil and cucumber to offset the heat of the Thai chile.
2

Brothless Ramen

Now that ramen has taken hold on American menus, perhaps it's time to explore the many options of "brothless ramen" for creative noodle dishes. Mazesoba is a Taiwanese-inspired "dry" ramen dish typically made with ground pork and other textural toppings, with a soy-based sauce. The Japan-based brothless ramen shop Menya Hanabi, with its U.S. location in Arcadia, Calif., prepares its original Nagoya Maesoba bowl with soy sauce, green onion, chive, seaweed, poached egg and spicy minced pork, showcasing the vast potential for what has always been a broth-centric meal.

Meanwhile, at Neighborhood Ramen in Philadelphia, the brothless Taiwan Mazis features niboshi chicken fat, pork soboro, scallion, nori flakes, katsuo powder, gochugaru with fresh garlic and a Jidori egg yolk. Diners can opt for a vegetarian dish by subbing in garlic oil and mushroom soboro.
3

Dandan Noodles

Chinese Sichuan dandan noodles traditionally feature a spicy sauce of preserved vegetables, chile oil, Sichuan pepper, minced pork, and scallions. Cha Kee in New York offers a version that incorporates signature Sichuanese components (minced pork and "numbing" sesame sauce) atop a base of ramen noodles, all topped with a poached free-range egg. The egg yolk is stirred with the noodles for a rich and savory sauce.

At the newly opened Chewology in Kansas City, the Dandan (Spicy Peanut Ramen) is an umami-rich build of pork, peanut, chiles and peppercorn topped with green onion and cilantro.
4

Burmese Noodle Dishes

Newer to American menus is the lineup of Burmese noodle dishes, which offer chefs relatively untapped flavor opportunities. Thamee Burmese Cuisine in Washington, D.C., introduces diners to the region's classic khuak swe noodle dishes. The Si Kyet Khuak Swe Thoke (Garlic Noodles) is a base of lo mein wheat noodles dressed in chile oil and soy sauce along with dried shrimp, garlic, onions and cilantro. Its version of the popular Burmese coconut curry dish, or Ohn No Khauk Swe, offers creamy comfort with a choice of chicken or mushrooms.

Burmese cold noodles have a place on the Cold Noodles menu at Stock in Philadelphia, where the offering of Burmese Sesame Noodles are loaded with marinated tofu, fried garlic, pickled ginger, daikon, rice wine vinegar, Thai chile and Szechuan peppercorn oil.