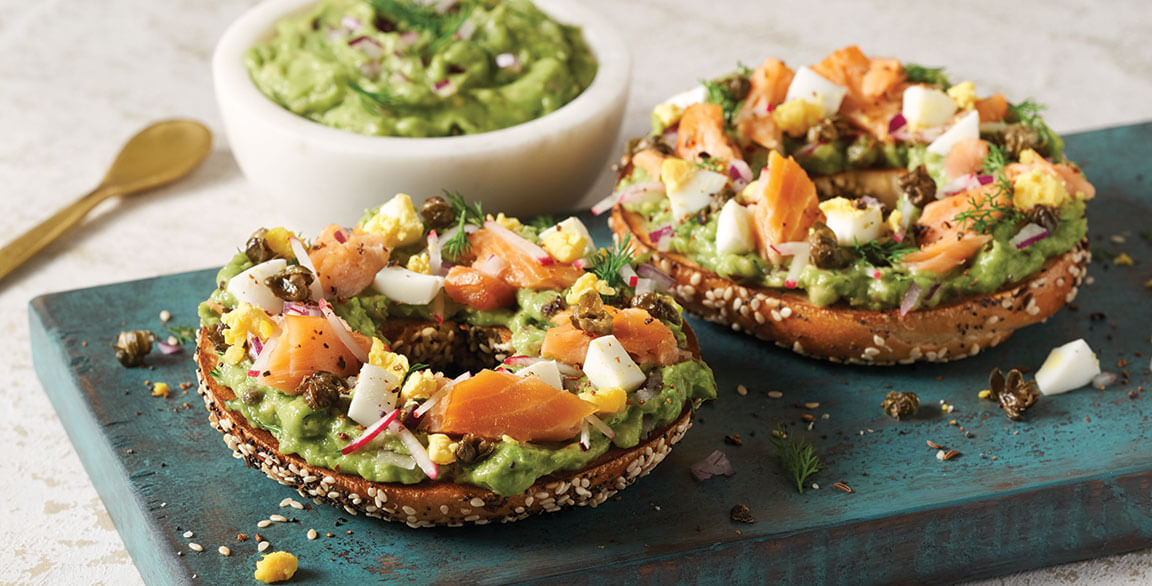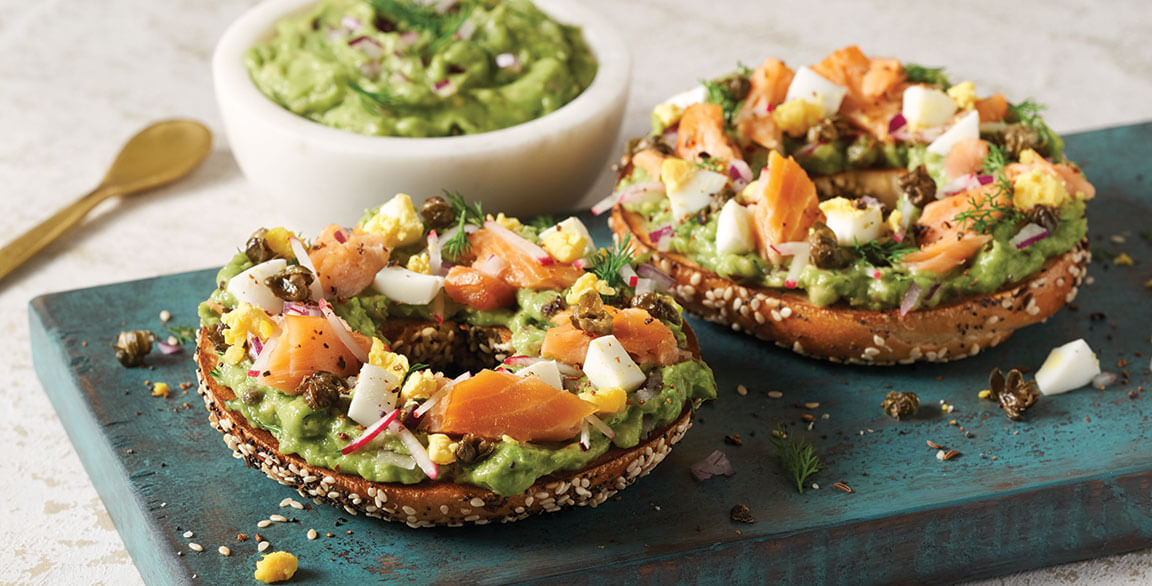 By Eliza Amari
October 13, 2021
One of the most exciting things happening in the breakfast/brunch space is its loosening of parameters, offering diners flavor experiences that challenge the notion of traditional fare while wholly satisfying modern tastes. We asked a handful of menu developers who work with commodity boards to share their flavor approach when building recipes for these dynamic, quick-to-adapt-trends categories. Whether they're taking from global pantries, rethinking classic formats or working on making a breakfast or brunch item takeout-friendly, each leads with flavor first, aiming at driving interest in the daypart and getting consumers excited.
1

Smashing Success

Globally inspired takes on guacamole can be a springboard to new flavor revelations, demonstrating that smashed avocado applications deserve broader exploration outside of Mexican ingredients. This Smoked Salmon Bagel (main picture above) with Forager's Guacamole takes its cues from Nordic traditions, pairing fresh, ripe avocados with juniper, dill and capers, along with red onions and lemon juice. It's spread over a toasted everything bagel, then topped with flaked, hot-smoked salmon, chopped hard-boiled egg and julienned radishes. The open-faced bagel is finished with minced red onions, fried capers and fresh dill.

The sweeter notes of avocado shine when paired with traditional guacamole accompaniments like lime and fresh chiles. "But juniper, with its dark bitter and floral notes, accentuates the savory, earthy flavors exhibited by fresh avocado," says David Spirito, senior director, food service & culinary for Avocados From Mexico. The herbal notes from the fresh dill add further flavor nuance.

New applications also open pathways to different menu dayparts. Fresh, smashed avocado offers great potential in the breakfast and brunch space, says Spirito, citing breakfast-specific burritos, quesadillas and sandwiches. "Many of these formats are perfect mediums for safe experimentation with new and unique flavor-forward and globally inspired combinations." But he also encourages bolder flavor play, such as Avocado-Red Mole Chilaquiles, Thai-style Green Curried Guac Benedict, Green Tomato Shakshuka with Za'atar Guacamole and Crêpes Florentine with Parmesan and Spinach Guacamole.
2

A Savory Start

Smooth, cool and crunchy, this Savory Yogurt with Grapes and Cucumber offers a pleasing and unexpected complexity in both flavor and texture. Creamy Greek yogurt is topped with a combination of halved red and green California grapes and diced cucumber that have been tossed with shallots, olive oil and white balsamic vinegar and finished with sprinklings of lemon zest and dukkah.

The tangy flavors of the yogurt, cucumber and the dressing are balanced by the delicate sweetness of the grapes. A smoky, earthy dukkah—made from toasted cashews, hazelnuts, sesame seeds, coriander and cumin seeds, thyme and salt—lends a flavorful crunch. The dish also delivers an intriguing play of textures, each spoonful highlighting the juicy grapes, crispy cucumber, silky-smooth yogurt and chewy dukkah.

This may seem like an adventurous choice for breakfast and brunch menus, but Courtney Romano, foodservice consultant to the California Table Grape Commission, expects that perception won't last long. "Savory yogurt is much more prevalent for breakfast in other parts of the world, of course, but with continued interest in health and wellness here, I think that we can expect to see more of it." With 19 grams of protein per serving, plus antioxidants and other polyphenols from the grapes and the healthy fats from the nuts in the dukkah, the dish stands out for guests looking for protein-rich, nutrient-dense morning—or anytime—options.
3

Luxe Life

With crispy, creamy potatoes at the heart of a breakfast hash, the classic dish has a solid foundation for inventive flavor builds that hold premium positioning, but at a fraction of the cost. This Idaho Potato and Crab Hash with Poached Egg is a perfect example of how an indulgent ingredient can reframe a familiar favorite. The hash is built on a combination of Idaho russets and yellow potatoes, as well as sweet potatoes. After the three are tossed with red peppers, yellow onions, herb-infused compound butter, honey and panko breadcrumbs, sweet jumbo lump crab is folded into the mixture. For service, the savory-sweet hash is sautéed until the ingredients are hot and crispy, and then it's crowned with soft-poached eggs.

"Potato hashes are a great way to build perceived value on a plate with the addition of luxury ingredients such as crab," says Matt Harding, senior VP of culinary and menu innovation at Columbus, Ohio-based The Piada Group, working in collaboration with the Idaho Potato Commission. Indeed, hashes are a good fit with a wide range of sumptuous proteins, including lobster, shrimp, pork belly and braised Wagyu short ribs. Harding also suggests changing up the types and forms of potatoes to add interest. "Idaho fingerling potatoes drive color. Or you can substitute diced potatoes with shredded hash browns or mix all of the ingredients in a decadent baked hash brown casserole."
4

The Mighty Oat

A fun twist on the classic Asian dish, this Fresh Mango Oatmeal Congee recipe substitutes the traditional rice base with a modern spin on oatmeal for a globally inspired breakfast option. The savory oatmeal base is prepared with old-fashioned rolled oats, vegetable broth, soy sauce and mushrooms. It's then topped with fresh mangos, a crunchy ginger-turmeric granola, pork sung (a type of pork floss) and a poached egg. Garnished with finely sliced Fresno chiles and green onions, the dish hits all taste senses, including umami. "The mango, however, is the tie that binds, providing the acidic and sweet pop that really brings the flavors into balance," says Dave Woolley, director of culinary, Buffalo Wild Wings, and former consulting chef for the National Mango Board.

"Oatmeal is an artist's palette, allowing chefs to play with new flavors while staying within comfortable and warm boundaries," continues Woolley. "It can tend to be slightly bland until you hit it with all these amazing global flavors, and, of course, the mango just makes it sing." Potential modifications abound. Remove the pork sung and egg to offer a vegetarian version. Experiment with the spice mixture in the granola to discover different flavor notes. Grill the mango to produce a subtle smokiness or pickle it to deliver more acidic zing.
5

Omelettes On The Run

Wake up taste buds with this bright Chorizo, Egg and Pepper Jack Omelette Muffin. It's packed with a mix of fiery heat from the chorizo sausage and melty, creamy spice from Wisconsin pepper Jack. To prepare, the chorizo is cooked with red and green bell peppers and sweet onions. After cooling, this mixture is added to beaten eggs along with shredded Wisconsin pepper Jack cheese before being baked in jumbo muffin pans for attractive, easy-to-serve portions.

Amy Thieding, culinary and consumer marketing manager for Dairy Farmers of Wisconsin, explains that the choice of the pepper Jack can moderate the spicy heat in the omelette muffins. She also offers suggestions for alternatives that allow for more signaturization, including sharp pepper cheddar, a zingy garlic-and-onion Jack or a mild and buttery Chihuahua variety. "Wisconsin cheesemakers are always innovating and creating new flavors of cheese," she says. The omelette muffin provides a canvas that can be adapted for other global flavors as well, including Italian (with hot Italian sausage, tomatoes, Italian seasoning, mozzarella and Parmesan) and Greek (ground lamb, dried oregano and feta are key substitutes).
6

Waffle Chicks

These Chickpea Falafel Waffles represent a new format for the traditional Eastern Med street food, forging a different pathway to deliver its signature flavors in a savory spin on classic breakfast/brunch waffles. Chickpeas serve as the base of the batter, pulsed in a food processor with olive oil, parsley, flour, baking powder, salt, cumin, coriander, garlic and egg whites. Once released, golden brown, from the waffle iron, the "fawaffles" are topped with a dollop of Greek yogurt, diced tomatoes and fresh parsley. These creative waffles straddle the line so expertly between expected and unusual that they should successfully tempt customers to a new taste experience for weekend mornings.

"While this recipe may not be as light and fluffy as a traditional waffle, it follows through as a wholesome, crave-worthy, filling, healthy meal that is easily customizable," says Madison Jacobson, assistant marketing manager for the Dry Pea & Lentil Council and the American Pulse Association, likening the chickpea-centric texture to a spiced hushpuppy. "Creativity is the key to enticing consumers to try new things—particularly with wellness menu items, which may unfairly carry bland, boring or less-indulgent connotations." She points to further applications for the batter, suggesting its use as a deep-dish pizza crust, a crouton substitute for salads, a vegetarian version of Scotch eggs or even a taco shell.