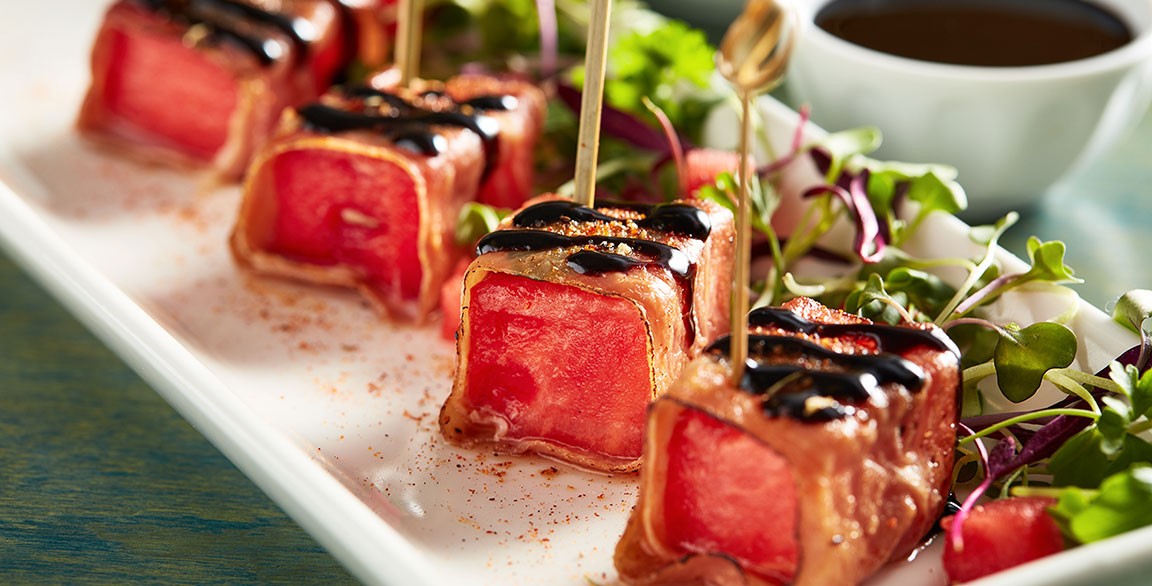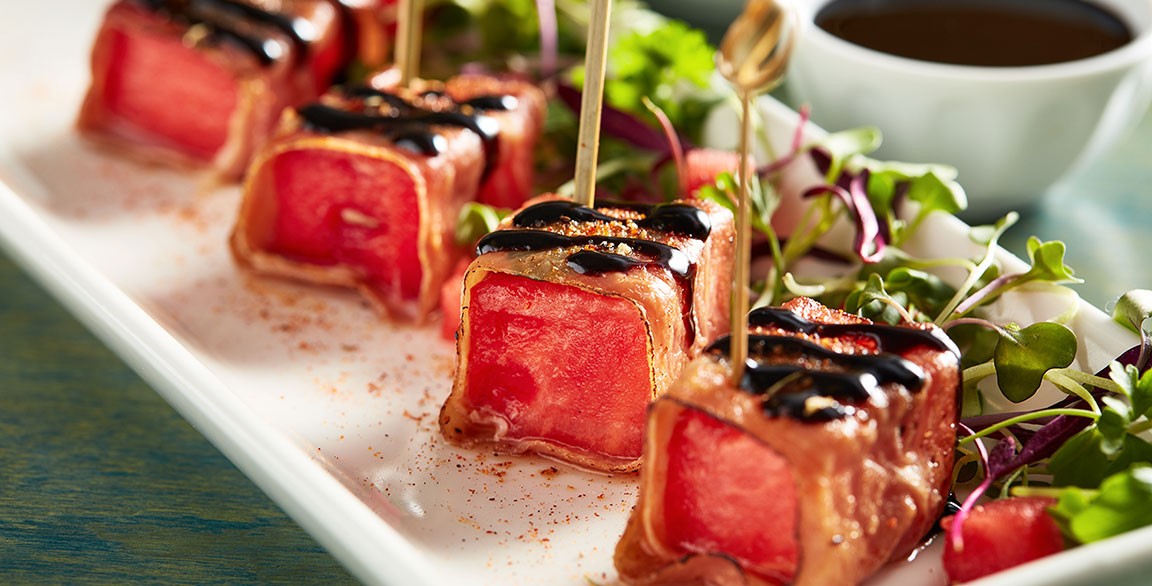 Crispy Prosciutto Watermelon Poppers
Recipe courtesy of Chef Pam Smith, RDN
Sponsor: National Watermelon Promotion Board
Serves: 24 hors d'oeuvres
Ingredients
1 ea Watermelon, ripe, rind trimmed off
4 oz Goat cheese, softened
1 Tbsp Citrus spice or lemon zest and black pepper
24 very small Fresh basil leaves (tear, if needed)
12 thin Slices prosciutto
1 Tbsp Extra-virgin olive oil
2 Tbsp Balsamic syrup
1 tsp Creole seasoning
3 Tbsp Finely minced fresh herbs, finely minced (such as mint, flat leaf parsley, or basil)
1 ea Lemon, zested
Directions
Cut 24 perfect 1 ½-in cubes of watermelon. Lay out on paper toweling to dry.
In a small bowl, combine the softened goat cheese with the citrus spice and mix well. Place goat cheese mix in a pastry bag fitted with a small round tip.
Scoop a small pea-sized hole in each watermelon cube using a tiny spoon. Pipe goat cheese mix into the holes in the melon cubes. Place a basil leaf on the top of the cheese on each piece of watermelon, and then refrigerate the cubes for 15 minutes.
Lay out the prosciutto slices on a cutting board and cut slices in half lengthwise. Place a filled melon cube on one end of half a prosciutto slice. Roll and tightly wrap, using the prosciutto to hold in the goat cheese. Chill for at least 30 minutes.
When ready to serve, remove the watermelon "poppers" from the refrigerator. Heat the olive oil over medium-high heat in a nonstick skillet. Add the watermelon cubes in batches to sear the prosciutto and warm through. You may also place them on a sheet pan and broil to crisp the prosciutto.
To serve, place the "poppers" on a plate and drizzle with the balsamic syrup. Place a bamboo pick in each cube and plate for service
Sprinkle with the Creole seasoning and garnish with fresh herbs and lemon zest.
Project Management: Summit F&B
Photography: Carlos Garcia // Food Styling: Peg Blackley & Bree Williams