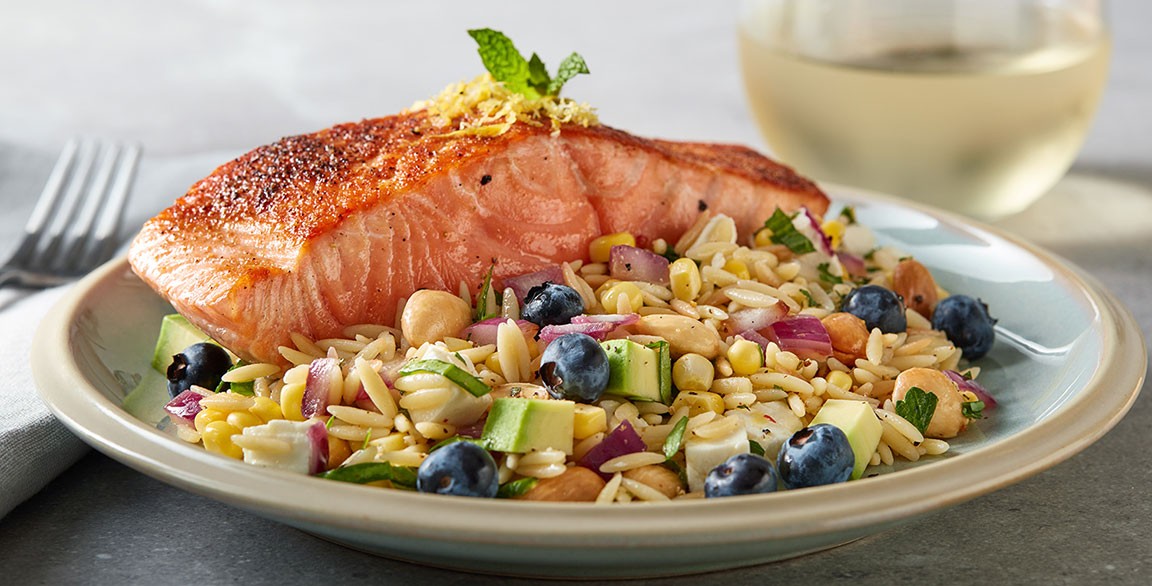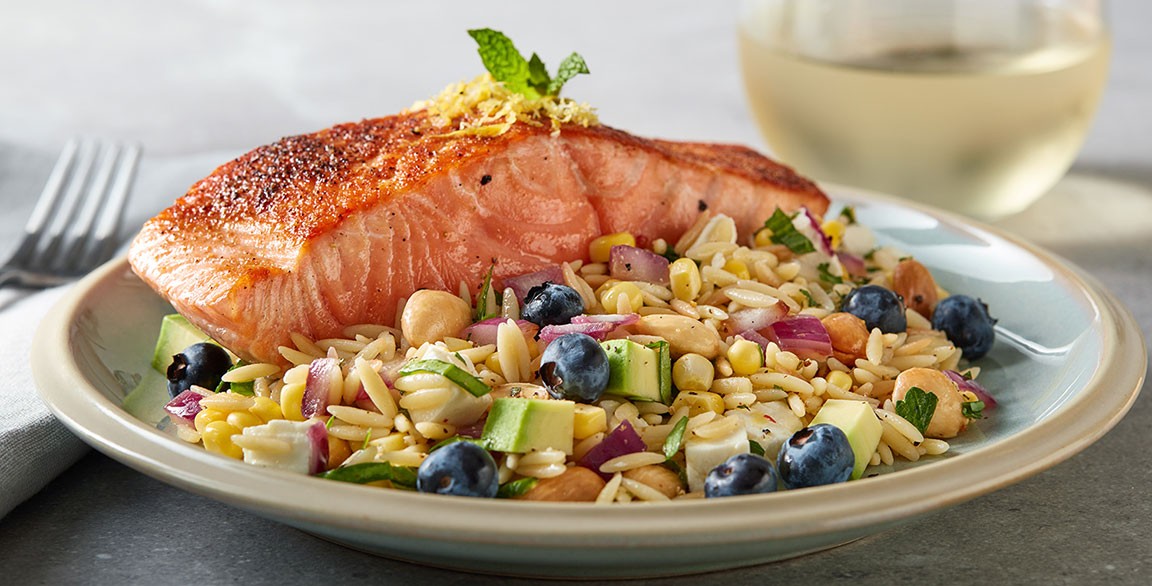 Toasted Orzo, Baby Spinach, Sweet Corn, and Best Berries Salad with Citrus-Seared Salmon
Recipe courtesy of Chef Pam Smith, RDN
Sponsor: Barilla
Serves: 24
Ingredients
6 cups Barilla Orzo
3 Tbsp Creole seasoning, plus more as needed
3 qt Reduced-sodium chicken stock
1 1/2 cups Finely diced red onion or shallot
2 Tbsp Minced garlic
24 ears Yellow corn, husked
1 1/2 cups Sherry vinegar
3/4 cup Fresh squeezed lemon juice
6 Tbsp Dijon mustard
2 to 4 Tbsp Honey
6 Tbsp Citrus Spice, plus more as needed (see Chef Notes)
2 ¼ cups Extra-virgin olive oil
12 cups Fresh spinach, chiffonade
3 cups Small dice grilled red onion
1 1/2 cups Minced fresh herbs (cilantro, chives, flat-leaf parsley and/or mint)
7 1/2 cups Small dice feta cheese
3 cups Marcona almonds
24 (6-oz) Salmon fillets
6 Ripe avocados, diced
6 pints Blueberries or best berries of the season, rinsed and drained
As needed Fresh cilantro sprigs
Directions
Toast the orzo in a dry pot over medium heat until toasty brown and fragrant. Add 2 Tbsp Creole seasoning, the stock, onion, and garlic and bring to a boil over medium-high heat. Adjust the heat to a simmer and cook for 8 to 10 minutes, until just tender but still al dente.
While orzo is cooking, cut the kernels from the corn. Transfer the kernels to a large colander with a base and set in sink.
Remove the orzo pot from the heat and pour the orzo over the corn, allowing any additional liquid to drain through the kernels. Drain well and let cool to room temperature.
In a bowl, whisk together the vinegar, lemon juice, Dijon mustard, 2 Tbsp of the honey, remaining 1 Tbsp Creole seasoning, and citrus spice blend, and then drizzle in 2 cups olive oil while whisking to emulsify. Adjust seasoning and honey, to taste.
To assemble the salad, combine the orzo and corn mixture, baby spinach, grilled red onion, herbs, 6 cups of the Feta, 1 1/2 cups of the almonds, and the vinaigrette. Taste and adjust seasonings, if needed. Cover and refrigerate.
For each serving: rub a salmon fillet with citrus spice or Creole seasoning. Heat a nonstick pan to very high heat, add 2 tsp olive oil, swirl pan to heat oil, and then add seasoned salmon fillet to pan. Sear on both sides; place pan in a 375 degree F oven until done.
Plate some orzo salad. Garnish with avocado, berries, cilantro sprigs, and some more feta and almonds. Top with the seared salmon.
Chef Notes
If you don't have Citrus Spice, you can use lemon zest from 6 lemons, with 2 Tbsp kosher salt and 1 Tbsp freshly ground black pepper to taste.
Project Management: Summit F&B
Photography: Carlos Garcia // Food Styling: Peg Blackley & Bree Williams