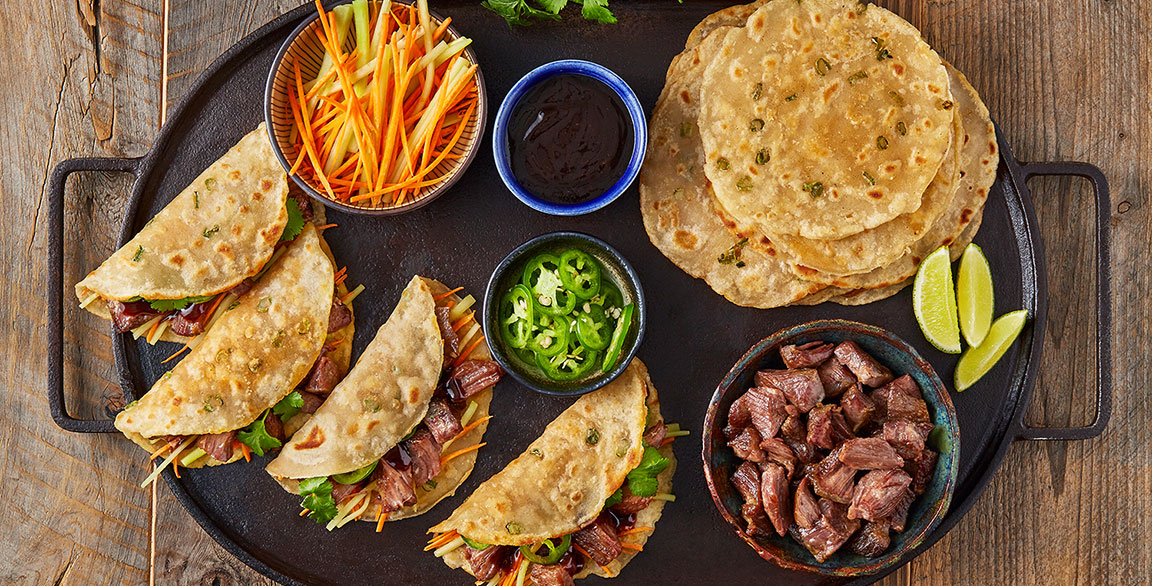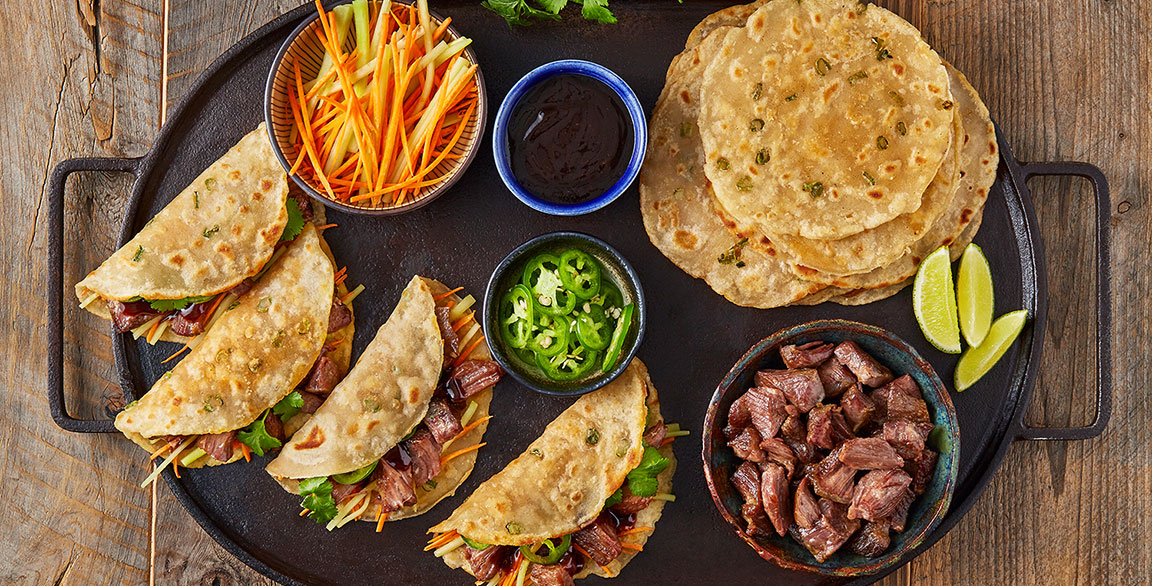 Australian Goat Bulgogi Tacos
Recipe courtesy of Chef Jessica Tomlinson
Sponsor: True Aussie Beef & Lamb
Servings: 12
Ingredients
Braised Goat
6 1/2 lbs goat neck meat, diced
1 Tbsp kosher salt
2 tsp black pepper
1/2 cup canola oil
1 lb onions, rough chop
2 Tbsp minced garlic
1 Tbsp minced fresh ginger
1 tsp red chile flakes
1/2 cup soy sauce
1/2 cup orange juice
2 cups water
Scallion Pancakes
2 cups flour
1 ¼ cups boiling water
1/4 cup sesame oil
1/2 cup scallions, thinly sliced
1/4 cup canola oil
As needed kosher salt
For assembly:
2 oz carrots, julienne
2 oz cucumber, julienne
1 tsp lime juice
¼ tsp kosher salt
2 each scallion pancakes
4 oz braised goat, warm
2 tsp hoisin
6 each jalapeños, sliced
2 tsp chopped cilantro
Directions
For the braised goat: Place the goat in a large mixing bowl. Toss with the salt and pepper to evenly coat.
Add the oil to a rondeau set over high heat. Add half the amount of goat to the pan and sear on all sides for 1 to 2 minutes to get a good crust on the outside.
Place goat in a deep hotel pan. Repeat cooking the remaining goat.
Add the remaining braised goat ingredients.
Cover with foil, place in a 300 degree F oven and braise for 2 ½ hours.
For the scallion pancakes: Place the flour in a mixing bowl along with the boiling water. Mix well until fully incorporated; let dough rest for 30 minutes.
Divide the dough into 1-oz portions, roll out to ¼-in thin rounds. Brush with sesame oil and place 1 tsp of scallions on dough; roll up and roll out again to make a scallion pancake.
Place some canola oil in a sauté pan, place scallion pancake on pan, and cook each side for 2 minutes. Remove from heat and sprinkle with salt.
For each serving: In a small bowl, toss the carrot, cucumbers, lime juice, and salt together.
Evenly distribute the vegetable mixture into 2 scallion pancakes. Top with warmed braised goat. Garnish with a drizzle of hoisin and top with the jalapeños and cilantro.
Project Management: Summit F&B
Photography: Carlos Garcia // Food Styling: Peg Blackley & Bree Williams