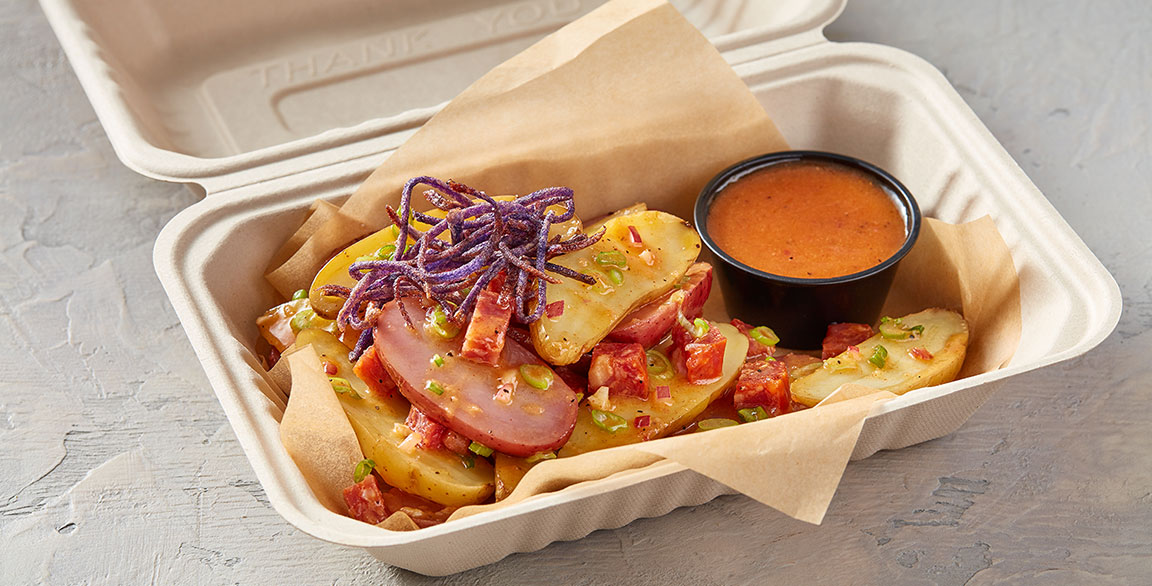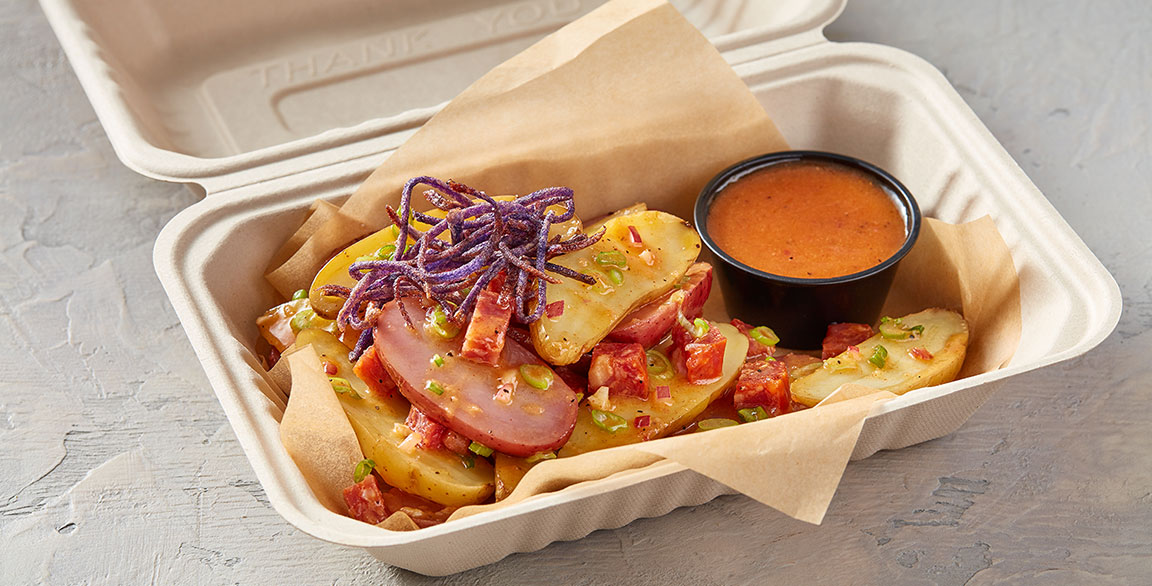 Warm Idaho® Potato Chorizo Salad
Recipe courtesy of Chef Jessica Tomlinson
Sponsor: Idaho Potato Commission Servings: 4
Ingredients
Confit Potatoes
1 lb red and white Idaho® fingerling potatoes
1 oz garlic cloves
½ tsp kosher salt
1 cup canola/olive oil blend
Vinaigrette
½ cup reserved oil from cooking potatoes
1 oz red onion, minced
¼ cup red wine vinegar
½ tsp Dijon mustard
1 tsp honey
½ tsp paprika
¼ tsp ground cumin
1 tsp kosher salt
½ tsp ground black pepper
Purple Potato Chips:
1 ea Idaho® purple fingerling potato
For each salad:
1 lb confit potatoes
¼ cup vinaigrette
2 oz Spanish chorizo, ½-inch dice
¼ cup scallions, thinly sliced
Directions
For the confit potatoes: Cut the potatoes in half lengthwise and place into a half hotel pan. Add the garlic cloves, salt, and oil to the potatoes and mix evenly to fully combine. Cook in a 300 degree F oven for 1 hour. Remove potatoes from cooking liquid, reserve oil, and set aside.
For the vinaigrette: Add 1/2 cup of the reserved oil to a small mixing bowl. Combine with the remaining vinaigrette ingredients and whisk until combined. Cover and reserve.
For the purple potato chips: Thinly slice the potato on a mandoline and fry in a 350 degree F fryer for 2 to 3 minutes, until crisp. Remove and drain.
For assembly: Combine the confit potatoes, 3 tablespoons of the vinaigrette, the chorizo, and scallions in a medium mixing bowl. Gently toss to fully coat potatoes in the vinaigrette. Stack tall in a serving bowl. Garnish with the purple potato chips. Drizzle with the remaining 1 tablespoon vinaigrette.
Project Management: Summit F&B Photography: Carlos Garcia // Food Styling: Peg Blackley & Bree Williams