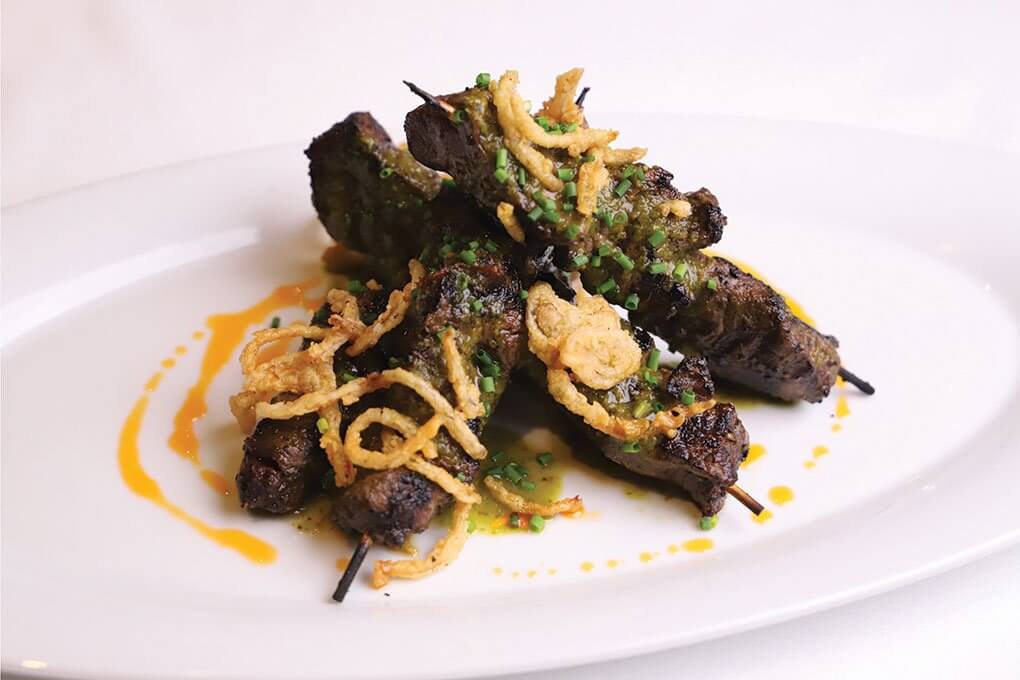 With more consumers embracing the idea of snacks, shareables and appetizers as a convivial way to dine, attention must be paid to satiety and craveability. For many diners, that still translates to a meat-centric experience. On the flip side, those diners looking for smaller portions will peruse the snacks menu for that perfect, smaller, delicious meaty bite. These four restaurant brands knock it out of the park with their meat-centric apps. One of them cleverly capitalizes on its signature breadsticks, resulting in a "game changer" for the chain. Another finds success through reimagining a short rib entrée into a best-selling appetizer. Steak on a stick works wonders for a modern steakhouse, and our fourth MVP leverages the genius behind billionaire's bacon.
Snack Attack
It's a tricky endeavor, innovating around an iconic menu item. Italian-American fast-casual concept Fazoli's took a chance and knocked it out of the park with its Breadstick Sliders. In fact, Rick Petralia, R&D Chef, calls them a "game changer" for Fazoli's. "Our guests come to our restaurants because they are craving breadsticks, so we gave them another reason to crave them," he says. "We leveraged the trend of targeting nontraditional dayparts and snacking in a way that was very fitting for our brand."
Guests can choose from three types: Smashed Meatball (with marinara, mozzarella and basil pesto), Spicy Italian (capicola, Genoa salami, mozzarella, pepperoncini, Parmesan-peppercorn sauce) and Pepperoni Pizza (with marinara and mozzarella). These snack-sized sandwiches star slider buns made with dough from Fazoli's famous breadsticks. They're brushed with garlic butter, baked and then filled with the different ingredients.
"We wanted to make sure that these breadstick snacks had the same garlic, buttery flavor as our breadsticks," says Petralia. "At the same time, we wanted the flavors to be nuanced. For example, the meatballs in the Smashed Meatball Breadstick Slider provide a lot of umami with the beef and Parmesan cheese notes. The mozzarella adds the perfect amount of cheese pull and creaminess, while the basil pesto adds unexpected flair. The marinara rounds it all out and makes it the best meatball sandwich you've ever had, despite its size. Most importantly, the buttery slider bun adds crunch, unctuousness, garlic, and the perfect amount of saltiness."
The sliders were so successful as a limited-time offering, they're now on the core menu. "We have added a Snacks & Shareables section to our menu, and we continue to look for ways to develop the line," says Petralia. As part of that extension, Fazoli's will be testing a Pepperoni BLT Breadstick Slider, Chicken Parmesan Breadstick Slider and Smoky Bacon Breadstick Bites with Gouda dipping sauce.
Bringing Home the Bacon
It's hard to make bacon even more beloved and craveable, but Billionaire's Bacon does just that, dialing up the flavor experience through a mix of sweet, salty and spicy. Also known as "pig candy," candied bacon or millionaire's bacon, the version at sports-bar chain Twin Peaks features thick-cut hickory-smoked artisan bacon baked with brown sugar, red chile flakes, black pepper, smoked paprika and cayenne. Slow-roasting yields a candied, crispy bacon. "You get the initial taste of salty, smoked bacon followed by a great sweet-heat crunch from the candying process," says Executive Chef Alex Sadowsky. "As you keep eating, you hit little pockets of crunchy caramel mixed with a hit of black pepper or the red pepper flakes. It's addicting, and we have guests that come in for it."
Twin Peaks first introduced the bacon in the Billionaire's Bacon Burger, which also features Sriracha pimento cheese, bacon mayo and bacon-beer mustard. "The excitement continued when we added it to our Hunter's Meat & Cheese Board," says Sadowsky. Guests can also enjoy the Billionaire's Bacon in the newly rolled out Wedge Salad and as a Bloody Mary garnish.
A Play in Contrasts
Empanadas are glorious street-food stars that deliver a savory, rich experience inside a crisp, snackable format. In the hands of Executive Chef Clay Conley, the Short Rib Empanada at Buccan, an upscale-casual global café, refines that experience with complex flavor play. He first braises short rib until meltingly tender, with red wine, garlic, rosemary, thyme, onion, celery, carrot and veal stock. It's folded into empanada dough and fried until crisp, then served with a bordelaise sauce, a drizzle of aji amarillo aïoli and salsa criolla, made with red onion, red pepper, extra-virgin olive oil, cilantro and vinegar.
"The short rib empanadas are a play in contrasts: texture and temperature, fat and acid," says Conley. "The dough is crispy, and the meat inside is rich, velvety and juicy. The aji amarillo and the salsa criolla add heat to cut through its richness. This dish definitely provides a full-mouth sensory experience." The magic here lies in the combination of comforting and familiar, with seriously delicious flavors.
Steak on a Stick
The Grilled Beef Tenderloin Skewers at Council Oak Steaks & Seafood are a menu standout, pointing to an emerging trend in "toothpick meat," which has been showing up on trend-forward menus. Chef de Cuisine Francisco "Cisco" Pomalaza serves the filet mignon in the fun format of skewers—perfect for happy hour—and marinating the beef in a bright, garlicky chimichurri vinaigrette. After marinating, the meat is grilled, seasoned with salt and pepper, skewered and then garnished with shallots.
The offering is a part of the fine-dining hotspot's newly unveiled Social Hour menu, alongside other upscale bites like: BBQ Kurobuta Pork Belly with sweet kimchi glaze and parsnip chips; Grilled Brioche & Mushroom Toast topped with crème fraîche and Manchego; and Fried Green Tomato Caprese Stack layered with burrata crème.
"It's rare to see filet mignon on a happy hour menu," says Cisco. "This is the dish on the Social Hour menu that represents us the best, since we're a steakhouse." But to lean into the seafood side of the fine-dining concept, Cisco is developing a surf-and-turf version that adds chunks of king crab, embracing chimichurri's versatility on seafood and steak applications. "Chimichurri goes great on seafood and steak," he says.