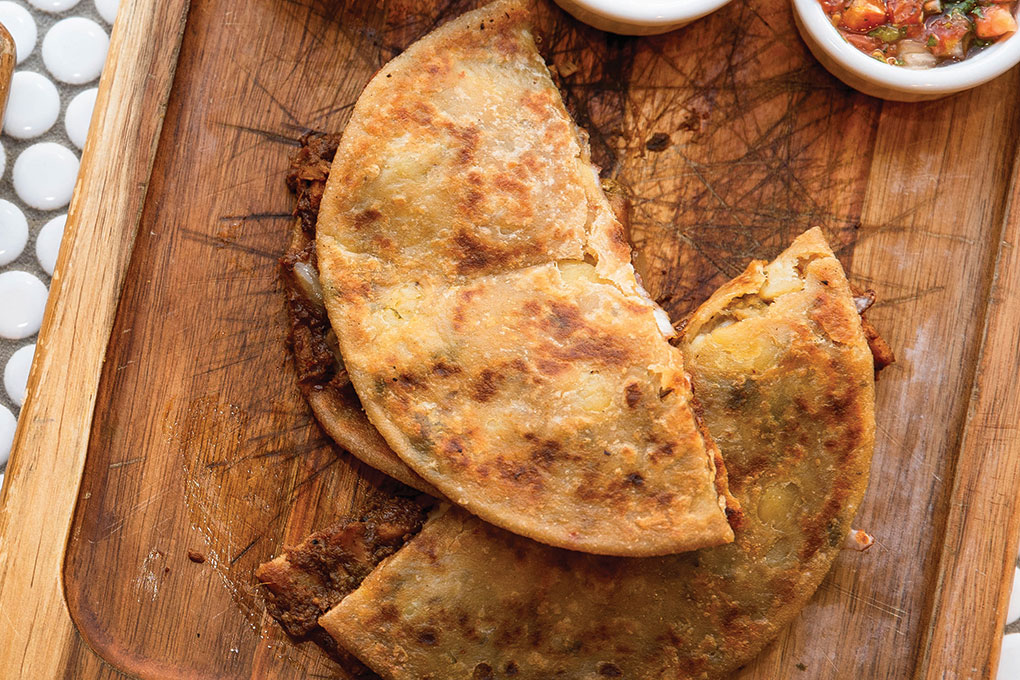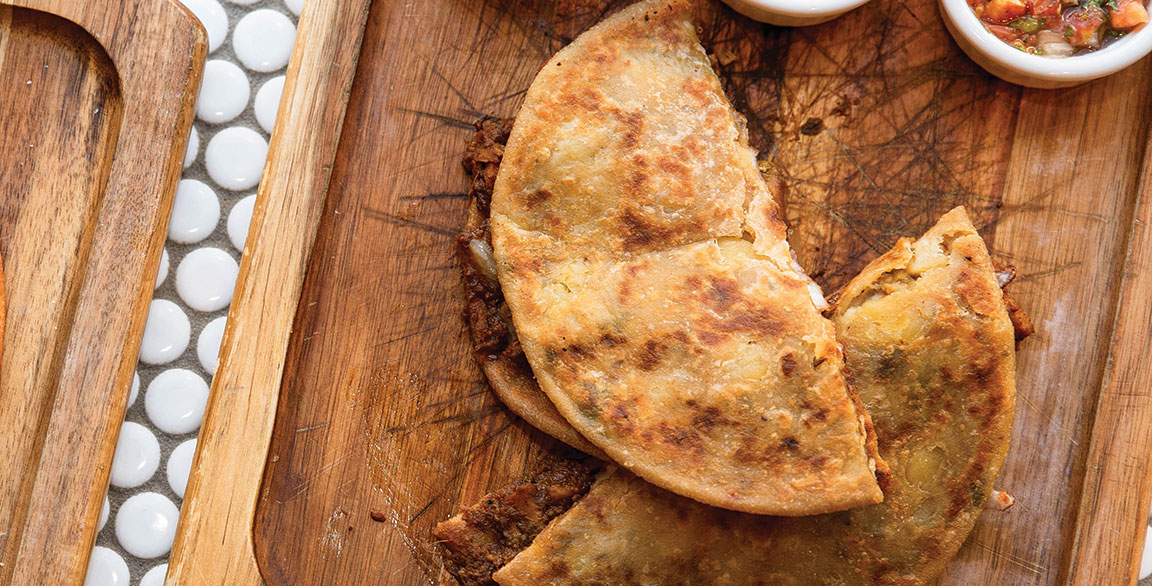 When looking for menu items to invest in this year, quesadillas bring a lot to the table. They're familiar, customizable, comforting and craveable. And their portability ups the appeal. Opportunities for innovating this Mexican menu stalwart are rooted in new cross-cultural flavor introductions and creative applications—all executed without losing sight of the flavor fundamentals inherent in this griddled classic. Attention to detail on the flavor execution of the quesadilla is paramount to success, as this can offer exponential benefits to the overall eating experience. In the following five areas of exploration, we offer a focused methodology, deconstructing each element and providing ideas on where to take this fan favorite.
1

Carriers

Pliable flour tortillas are a quesadilla mainstay and rightfully so. But exploring alternative unleavened flatbread carriers can drive menu interest. Options include the Indian paratha and roti, Chinese bing, Colombian arepa and El Salvadoran pupusa.
Tandoori Chicken Quesadilla: Paratha loaded with chopped tandoori chicken, smashed Yukon gold potatoes and Jack cheese
Salvadoran Quesadilla: Pupusa stuffed with Salvadoran-style chicharrón (finely shredded seasoned pork), cabbage relish and mozzarella
2

Oils & Fats

A proper quesadilla should be evenly browned, with a crispy surface showing the natural bubbling/flaking born of the cooking process. Oiling your griddle or flat press is key. Impart a signature taste by using a small amount of flavored oil, schmaltz, ghee, clarified butter or old-school vegetable oil in the pan, or spread a light slathering of softened butter on the exterior surface of the tortilla. Couple this practice with ensuring a medium to medium-high heat, allowing time for both the outside and inside to cook evenly.
Hot Apple Jack Quesadilla: Flour tortilla loaded with sautéed, diced Honeycrisp apples, caramelized onions, baby spinach and cheddar and Jack cheeses; griddled with hot chile oil
Brisket Buster Quesadilla: Flour tortilla filled with pulled brisket, Muenster cheese and barbecue aïoli; griddled with schmaltz
3

Fillings

Balanced and complementary layers of flavor are a must for a best-in-class quesadilla. Start with the most impactful ingredient: cheese. Use a symbiotic ratio of cheese to filling so that the overall moisture doesn't inhibit an optimal gooey cheese pull or crispy exterior. Smaller cuts of meat and produce are critical for achieving the cohesive blending of ingredients. Take care not to overstuff the tortilla.
Summer Crab Quesadilla: Flour tortilla filled with crabmeat, fire-roasted diced green chiles, golden corn kernels and Oaxaca cheese strings
Shroom Boom Quesadilla: Flour tortilla loaded with roasted diced portobello mushrooms, arugula pesto and Brie
4

Folds

The classic half-moon technique is the standard: griddled and cut into four triangle wedges. But there is also the hexagonal Crunchwrap style made popular by its creator, Taco Bell, as well as a quarter-fold stacked technique (cut halfway up the middle of a tortilla, spread filling on each quarter and then fold each quadrant over each other) popularized on TikTok. Consumers eat with their eyes, so presentation matters.
Italian Quesadilla: (quarter-fold) Flour tortilla stuffed with chopped Genoa salami/pepperoni, chopped romaine, olive tapenade and fontina cheese
Southern Charmer Quesadilla: (half-fold) Flour tortilla filled with chopped fried green tomatoes, shaved ham and pimento cheese
5

Exterior

So much attention is given to flavoring the inside of the quesadilla that chefs may overlook the value of flavoring the outside, too. Finely grated cheese applied directly to the quesadilla while griddling produces an irresistible crust. A judicious sprinkle of sea salt, spices/seasonings, vegetable/fruit powders or chopped fresh herbs applied immediately after griddling is a beautiful way to add topical flavor, texture and signature visuals. These elements impart culinary credibility and menu interest.
Sweet Cashew & Paneer Cheese Quesadilla: Paratha loaded with chopped salted cashews and grated paneer cheese; dusted with mango powder after griddling
Steakhouse Quesadilla: Flour tortilla filled with chopped ribeye steak, crispy shoestring potatoes and Boursin cheese; sprinkled with Merlot sea salt after griddling