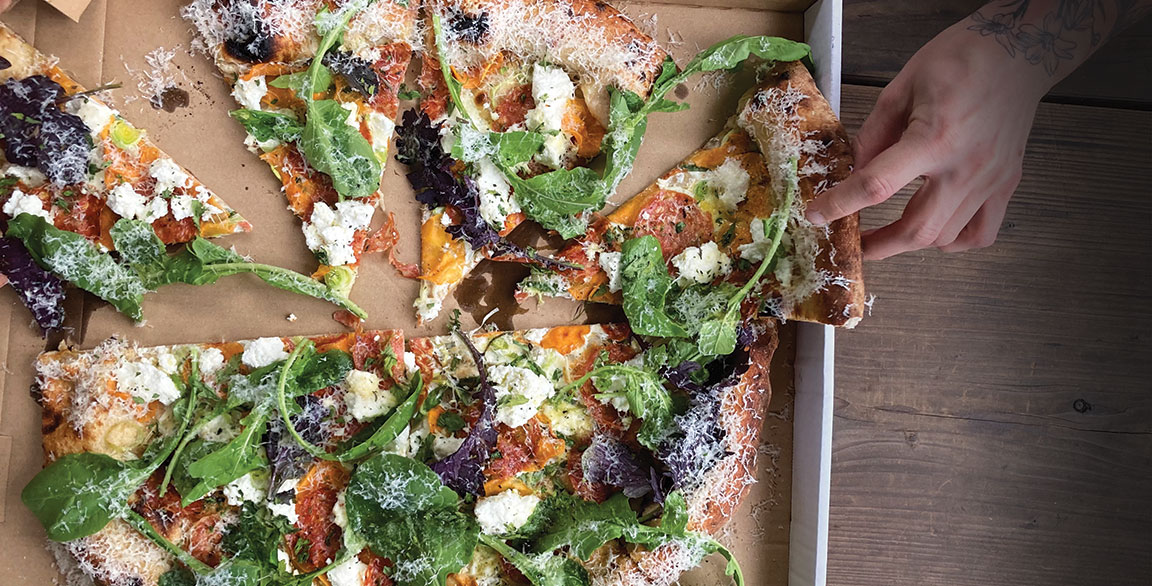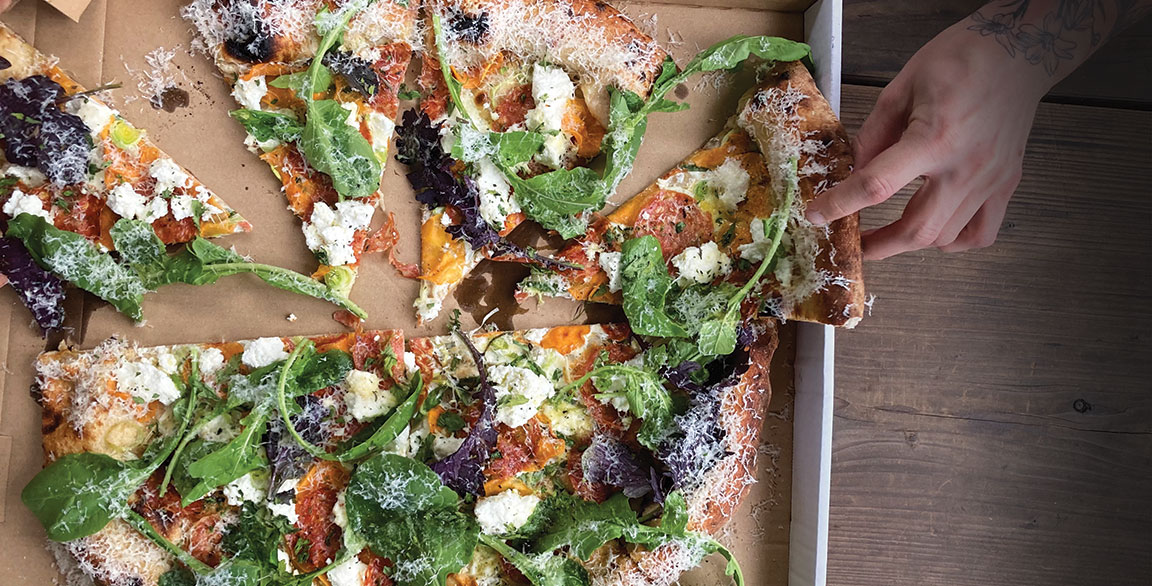 By Mike Kostyo
April 13, 2021
Since 1905, when New York's Lombardi's Pizza debuted as the first U.S. pizzeria, the humble pie has served as a culinary canvas for just about every idea, flavor and topping imaginable. It has both influenced and reflected American cuisine in numerous ways. Significant trends within the pizza category, such as the chain pizza wars of the 1980s ("30 minutes or less!"), the rise of California-style pizza and the demand for today's artisan pies, allow us to track broader dining trends and consumer preferences.
Of course, pizza continues its long reign as America's favorite food, according to Datassential, a status confirmed by the fact that consumers were reaching for pizza more than any other food as the country went into lockdown last year. This demand prompted many operators to branch out into the category for the first time as they sought out a "pandemic pivot" that would lead to success, or at least survival. Innovation through ingenuity and tenacity has resulted in signature pizza concepts.
After losing his day job when stay-at-home orders were first issued in March 2020, chef/owner Craig Murli launched June's Pizza, a to-go operation run out of a shipping container in Oakland, Calif. Wanting to leverage the strong pizza culture of his youth in Connecticut while infusing a little bit of California's health-driven "hippie culture," Murli offers only two varieties each day: a simple Margherita and a local produce-driven showcase.
Hits include a wild mushroom offering with funky fungi like lobster mushrooms, maitakes and striking yellow chanterelles. Ingredient combinations illustrate sophisticated flavor play—from soft-cooked eggs, black truffles and red mizuna to local persimmons and peppery greens.
"It has exceeded my expectations in every sense of the word," says Murli about the response to the concept. Indeed, the pizzas are often sold out only 15 minutes after phone reservations open each day.
AMERICAN PIE
For more than a century, U.S. chefs have been redefining classic Italian pizza, giving it a definitive American identity. Today there are dozens of regional styles found across the country, from the long-established ones (like New York-style and Chicago deep dish) to the recently-trending (Detroit-style continues to pop up in new markets across the country and was arguably the go-to on-trend option for new pizza purveyors over the last year).
A few other regional pizza stylings that are lesser-known nationally could become the next big breakout. One poised for greater recognition is "Colorado mountain pie," a unique creation that is often sold by the pound, piled high with an abundance of toppings loaded into the center of an extra-thick crust that is sweetened with a little honey in the dough.
Invented by Beau Jo's, which has several locations in Colorado, this style has expanded throughout the state. Denver's Hops & Pie, a brewery and artisan pizzeria, menus a version that features a bit of beer added to the dough for a more flavorful, flakier crust. Ingredients and toppings include duck confit and blueberry-barbecue sauce, depending on the day.
Kristen Brabrook, executive pastry chef for Washington, D.C.'s Ghostline, created an eclectic style of pizza for its new multi-concept delivery-focused venture. Her D.C. Deck pizza features a "thinner crust that crisps and chars in the deck oven, a flavorful blend of cheese, and a robust and herbaceous sauce," Brabrook says. The pie is finished with a brushing of garlic-infused olive oil on the crust edge. Multiple varieties are available, including the newly created signature District pizza, which features pulled pork, pickled onions, braised collard greens and sweet-and-tangy mumbo sauce, a local favorite.
Globally Inspired Pizza
Experimenting with out-of-region specialty pizzas is one innovation tactic. Another is to up the ante with a global spin, tempting diners itching to travel abroad or nervous about cooking with flavors and ingredients from Latin America, Asia and beyond. To meet these need states, think of a pizza crust as a platform for a broad range of globally-inspired sauces, meats, cheeses and other toppings, from a Middle Eastern shakshuka-inspired pizza to a Korean barbecue pie.
Anthony Scardino, a chef, consultant and educator who uses the moniker "Professor Pizza" and is a World Pizza Champion, offers up an "extra credit" pizza each weekend at his eponymous virtual kitchen. Built on grandma-style pies (thin and square, baked in an oiled black steel pan, yielding a deep-fried texture), Professor Pizza operates out of Full Shilling Public House on Chicago's North Side.
Scardino is often inspired by global cuisines, and his offerings run the gamut from an elote pizza to a Cubano pie to a Sicilian/banh mi mash-up with Vietnamese sausage, chicken liver pâté, pickled vegetables, jalapeño, cilantro, scallions, chile-infused Kewpie mayo and nuoc cham. Each pie is delivered with instructions for finishing the pizza with included garnishes like fresh dill or a piping bag of whipped feta for the Greek-inspired gyros pie.
Another mid-pandemic opening, New York's Kimika, combines Japanese and Italian influences in its fried pizzette fritte pizzas. Varieties include a Mortadella Pizza with stracciatella, pistachios and miso cotto (hot miso), as well as an over-the-top Lobster and Uni Pizza with 'nduja, confit tomatoes, yu choy (similar to bok choy) and miso-garlic confit.
In San Antonio, beloved local Tex-Mex concept Mi Tierra launched a virtual pizza kitchen last summer called Zapata's Pizza. The menu includes Parrillada Pizza, a meat-lovers' feast, featuring both beef and chicken fajita meat, plus carnitas, grilled onions and peppers, and a chile relleno flameado (an entire chile relleno stuffed with gooey melted cheese) all piled into the center of the pie, with a ring of pepperoni to finish.
Healthier Pizza
While most comfort foods tend to be good for the soul, but bad for the waistline, many nutritionists confirm that pizza can be a part of a healthy diet, with mindful attention paid to the different components. That's important, as health continues to be a top driver for dining decisions, finds Datassential research, citing that 58 percent of consumers confirm interest in seeing more healthy trends in 2021. A number of chefs are opting for an approach that features the simplicity of naturally healthy, foundational pizza ingredients.
Café Gratitude, with multiple locations in California, offers its own health-driven take on pizza with its plant-forward Chef's Flatbread Pizza "Marguerita," with heirloom cherry tomatoes, housemade marinara, basil-hempseed pesto, coconut "burrata" and Brazil nut "Parmesan," all served on an ancient grains flatbread.
For operators of health-focused concepts who want to get into the pizza game, cross-utilizing options is a cost-effective way to give consumers what they want. Go Buddha is a plant-based "food program" located in Rocky River, Ohio, with a local eatery and a national delivery arm. The brand's gluten-free bagels do double duty in the Take-Home Gluten-Free Pizza Bagel Kit, which comes with a seeded gluten-free bagel, cashew "cheez," walnut Bolognese, fresh basil, cashew "Parmesan," green olives and tomatoes.
Pinsa from Rome
At Montesacro Pinseria Romana, with locations in Brooklyn, N.Y., San Francisco, Oakland, Calif., and Portland, Ore., the secret to standing out in the crowded pizza category is to offer something authentic, yet new to many U.S. consumers: the pinsa. This oval-shaped pie features a Roman flatbread traditionally made with ancient grains, but Montesacro uses a blend of rice, soy and wheat flour to create the signature airy crust. The brand's pinsas feature unique toppings like caper mayonnaise, tuna in extra-virgin olive oil, bottarga, pecorino fondue and Calabrian hot chiles.
Pepperoni Cups
Pepperoni is America's favorite pizza topping, according to Datassential. Today, trend-forward operators are leveraging its popularity by featuring the pepperoni cup. Found in pockets of the Midwest and New York, this pepperoni variation (also called the 'roni cup or cup-and-char pepperoni) curls into a bowl shape while cooking, crisping at the edges while holding the rendered golden oil in the center.
"At my pop-up Pide Place, we chose to make our own, playing off of Turkish soujouk, an all-beef sausage similar to pepperoni," says Aaron Brooks, executive chef of the Four Seasons Hotel Miami. "As the slices curl from the intense heat of the wood-fired oven, they capture all of the deliciousness that renders." Customers are catching onto the trend, according to Datassential, with 42 percent saying they've heard of 'roni cups. Fueling this trend is pepperoni cups' Instagrammability—crispy curls with glistening drops of oil tell an indulgent, fun story.