Condiments offer a smart pathway to the introduction of modern flavor trends. It's a sound strategy implemented by creative chefs throughout foodservice, where familiar ingredients like ketchup or mayonnaise cushion bold flavors like gochujang or harissa. The thinking follows the well-known track that safe culinary adventures win the day.
That's why concepts like burgers and tacos house so much innovation—their formats are safety nets, ready to support all sorts of daring menu moves. And that's why condiments are such a great way in to modern flavor building.
Mayonnaise, ketchup, mustard, butter, dressing and so on (the list of familiar condiments is deliciously long)—all offer comforting familiarity with the potential to carry huge flavor impact.
Chefs today are challenged with a relentless mantra of: "more flavor, more complexity." Although demanding, the rewards are spectacular. We live in the Age of Flavor Innovation, where the adaptation of emerging and fringe flavors is faster than ever. Where the eagerness by diners to try global mash-ups and eclectic builds is stunning.
Where new American menus dig into any flavor system they want—not with reckless abandon but with thoughtful execution. But all of this works best when consumer comfort level is not discarded. Familiarity and trust lay the foundation for trial. Bolder flavors and exciting combinations drive that trial and energize restaurant brands.
Pesto mayo, though, is not enough. We even need to peer around the corner beyond Sriracha-spiked ketchup. What's next? What's the secret sauce in craveability?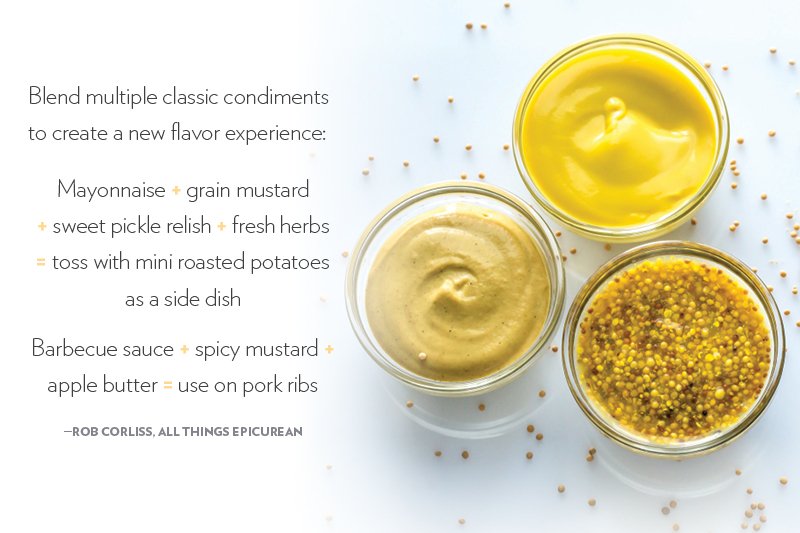 As a forward-thinking execution example, Sparrow & Wolf in Las Vegas introduces the red-hot ingredient of 'nduja through a recognizable condiment: dressing. Its Butcher Wings are tossed with burnt tomato and 'nduja vinaigrette.
Ando, David Chang's takeout-only sandwich and salad shop in New York, serves the Pork & Pickles sandwich, spiked with a Korean Dijonnaise. And five-spice mayo carries flavor forward in the fried-chicken banh mi at Starbird Chicken, a fast-food joint developed by San Francisco-based The Culinary Edge, a culinary concept agency.
These brands are tying their condiments to on-trend, bold flavors. They understand the seismic shift in value perception for many of today's consumers. "Value is the holy grail, but consumers are changing what they value," says Andrew Hunter, founder of Chef Andrew Hunter, a culinary development agency based in Los Angeles.
"For years, chain chefs addressed value through portion size, but that has been problematic. Today, the value perception is shifting to flavor impact." Condiments with added flavor help tremendously here. "They help fix the enormous problem that a lot of high-volume chefs face: food becoming way too similar across the board," says Hunter. Creative flavor additions to condiments add uniqueness and complexity—two important elements in modern menu design.
It Starts with Simplicity
Most of the condiments that offer the biggest gateway to menu distinction are already in the pantry. "It merits the same approach as SKU rationalization," says Rob Corliss, executive chef at fast-casual Sheridan's Unforked in Overland Park, Kan., and founder of the consulting firm All Things Epicurean. "Just like with a star ingredient, you want to use condiments in as many ways as you can—without repetition of experience."
He suggests a strategy that poses the question: How can you maximize this ingredient? "A big advantage with condiments is their inherent familiarity. Play up that mainstream popularity with a signature approach," he says. Everyone recognizes a pat of butter on a stack of pancakes.
---
We tapped Rob Corliss, chef/founder of the consulting firm All Things Epicurean, for menu strategies on how to leverage a few of today's trending flavor themes using America's favorite condiments. Read more.
---
Corliss suggests flavoring that butter with apple butter or pumpkin butter for a signature breakfast or brunch offering. Or bump up a basting glaze for grilled meat by adding red miso and tamari to ketchup. "Or tap into the produce-centric trend by adding beet powder and smashed raspberries into mustard, then use it as a fun dip or spread," he says.
Simplicity does call for quality, though. "Big drivers today are quality and transparency," says Katie Sutton, VP of culinary innovation for Food & Drink Resources, a chef-driven consulting agency based in Centennial, Colo. "Condiments with from-scratch qualities are valued. High-end mustards, traditional old-school flavors with modern touches—all making an impact today."
Transparency comes through by way of opportunities to customize with condiments. "Demand for that is so high," says Corliss. "Ketchup and mustard probably bring the best customization opportunity for items like burgers and hot dogs. Flavor them with ingredients like harissa and place them in squeeze bottles. Treat it like a salsa bar."
It Results in Complexity
The whole point here is about building flavor. It's the new expectation, being made mainstream through modern fast-casual concepts like Sweetgreen, which uses condiments to raise the bar on its offerings, such as its Spicy Sabzi Salad with a carrot-chile vinaigrette. Bubu, a Denver modern Asian bowl concept, menus an option of a carrot-mustard dressing.
"It's all about how you create complexity," says Hunter. "Think about different attributes in your ingredients and how you can complement them."
One of his go-to's is the Peppadew pepper. "It's the absolute perfect ingredient and acts as a great flavor bomb." He likes to mince the bright, vinegary pepper and add it to mustard, for example. He also adds it to mayonnaise for a sandwich "slather," along with seasoned rice vinegar.
"You can create complexity through cross utilization," he says. "Another example here is melting onions so they become translucent little pearls in the mustard. You get sweetness and depth, along with added interest—all with ingredients that you have on hand."
The pickling trend plays nicely into flavor depth, too, especially when applied to familiar condiments. "Pickling isn't just about pickles on the plate. First, pickle cooked carrots, then stir them into a condiment, like a mayonnaise, maybe with a pinch of cumin and mint," says Hunter. Touches like these also demonstrate culinary skill and attention to detail, both important cues for today's savvy diner.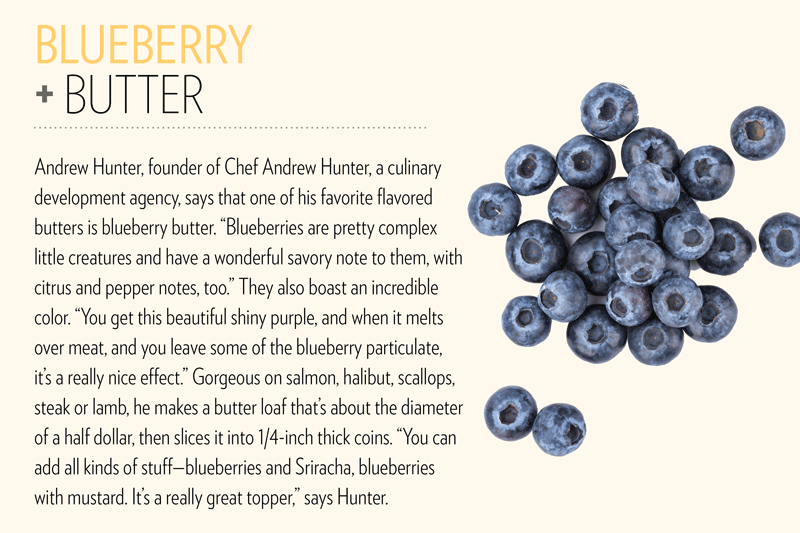 Tap into Veg-Centricity
The veg-centric trend, where vegetables are the star, with heaps of attention devoted to building up their flavor, translates beautifully into this condiment strategy.
New York's Ando maximizes the sweet and colorful attributes of carrot in its Ginger Kale Salad with a ginger-carrot dressing (baby kale, romaine hearts, marinated chickpeas, pickled spring onions, shaved carrot, radish and daikon). "Leveraging the veg-centric trend helps give condiments full flavor with all of those freshness cues diners look for," says Sutton.
Flavor building is important here, too. "You can't just add carrots, but you have to develop those flavors, either roasting or pickling them, then seasoning the condiment appropriately," says Hunter. With so many stars in the veg-centric universe—cauliflower, parsnips, kohlrabi, sunchokes—the possibilities are truly inspiring.
The Heat is On
America's love affair with heat still burns bright. Part of moving through the trend cycle at a faster rate calls for finding "new" chile peppers and hot sauces, along with new flavor partners that can balance with savory, sweet or bitter. Condiments like butter, mayonnaise and ketchup serve up the potential for partnerships with a big payoff.
"With heat, it's smart to run a new item through your LTO [limited-time offerings] cycle," says Sutton. "But some kind of global heat makes it interesting."
She likes to play with mustards, adding emerging flavors like chermoula and s'chug. "And take a look at sambals—so much opportunity for adaptation, like a pineapple sambal or a tomato sambal."
Corliss finds ketchup to be a fun platform for heat. He's recently developed a ketchup combined with togarashi and fresh lime. "It's great as a topper on a Korean slaw over a hot dog, along with caramelized kimchi and a strip of nori," he says. "It's a way to tap into the flavorful heat trend."
Familiar condiments enhanced with intriguing ingredients build a solid flavor bridge, transporting menu items from expected to exalted.