Lent, that 40-day period of reflection in the Christian calendar, is just around the corner. About one in four Americans observes Lent, represented primarily by the Roman Catholic, Anglican, Eastern Orthodox and Methodist faiths. That's a pool of approximately 78 million potential customers—many of whom look first to seafood to fill the meat gap.
How many of these millions are you netting during the six weeks of Lent? Operators are wise to look at their seafood offerings to determine if a limited-time offering (LTO) is the way to go, or even a menu refresh that hooks more of those seafood-loving customers during Lent and throughout the year.
Americans are eating more seafood, according to the National Fisheries Institute. There's also evidence throughout foodservice that points to a sea change in what that looks like. We've moved from a broiled whitefish garnished with a wedge of lemon to items like modern bowl builds, boldly flavored fish tacos and hip bar snacks of smoked fish spreads, poke nachos and deep-fried smelts. Flavor building is the name of the game.
At Greenpoint Fish & Lobster in Brooklyn, N.Y., the Tokubetsu Rice Bowl features market seafood seasoned with furikake and served with jasmine rice with tamari, cucumber, soft egg, togarashi, bonito flakes, wasabi mayonnaise and nori. Lent offers a singular opportunity to harness this modern approach to seafood at a time when demand is high, reeling in customers looking for seafood options and responding to memorable, craveable builds.
"Seafood is an everyday option for Americans now," says Jackie Rodriguez, senior project manager at Datassential. "Customers would like more fish and seafood variety on the menu."
Mediterranean Hits
José Andrés knows how to make seafood a menu hit. This Spanish-American chef, often credited for bringing the small-plates dining concept to the United States through his Jaleo restaurants, serves up boldly prepared, casual seafood dishes that leverage the culinary traditions of his beloved Spain. His best-selling dish? Gambas al ajillo, a straightforward tapa of shrimp sautéed with sliced garlic, crumbled chile de árbol and a little brandy in olive oil, served at Jaleo's five units in the Washington, D.C., area, Las Vegas and greater Orlando. "This is really the ultimate Spanish tapa," he says. "It is simple, but so delicious that everyone who comes to Jaleo has to try it." Its continued success speaks to a broader trend with good Lenten opportunity: seafood that is shareable, just a little adventurous and certainly memorable.
Andrés adds that throughout the restaurant group, one of the most popular species right now is octopus, prepared in a variety of ways. "At Jaleo we make the Spanish classic, pulpo a la Gallega [Galician-style octopus], boiled with small potatoes and pimentón. And at China Chilcano, we serve it as a ceviche with Peruvian chiles and red onion."
Salmon is a beloved menu mainstay, but making it stand out can help with Lenten promotions and year-round sales. "Of course, people always love salmon," Andrés says. "One of my favorite dishes is the Wild Alaska Salmon Veracruzana at the Bazaar in South Beach. It is a Mexican preparation that we serve with Spanish olives, capers and tomatoes. It is amazing."
Andrés calls out a single, anticipatory thrill from the realm of seafood in 2018—the use of invasive species as another way to offer sustainable choices. "To me, one of the most exciting seafoods right now is lionfish [an invasive species in the Atlantic and the Caribbean]. We serve spear-fished lionfish at Bazaar Mar in Miami," he says. "It is so delicious fried and served with tartar sauce. When you eat it, you know you are doing a small part to make our oceans a better place, and your taste buds will be happy, too."
Pollock, FTW
A more familiar fish to operators is pollock—the species most often featured in fish sandwiches offered in the quick-service segment. But even this ubiquitous, cost-friendly fish is appearing in a greater variety of applications and giving operators more options for menus.
"There's a major change happening in the industry with Alaska pollock," says Jann Dickerson, who heads national accounts at the Alaska Seafood Marketing Institute (ASMI). "There's lots of it, it's all sustainable, and new technologies allow it to be processed uniquely."
Today's processors in Alaska gut and deep-skin the catch, meaning they make a slightly deeper cut with the skin to eliminate the gray fat line underneath. "It wasn't done that way previously, and the result is two beautiful, white, tender fillets. The product is whiter, it looks better and eats better."
Additionally, thanks to newly invented cutting tools, pollock fillets can easily be cut against the bias, Dickerson says. "These new cutting tools can cut those two fillets into smaller pieces across the flesh for a beautiful, flaky texture. So when customers bite into it they see the beautiful flakiness and muscle structure. The muscles are intact, but in different pieces."
ASMI is currently working with operators in a variety of industry segments to emphasize that pollock needs not be limited to a sandwich, opening up menu innovation opportunities for Lenten menus. More applications are easier because heavy blocks of frozen fillets that take up valuable freezer space can now be divided into six cubes of the same size. The result? Operators slack out only what they need for specific applications.
"There's a great opportunity now to put a cube of frozen fillets in a hotel pan, bake, and it comes out in various pieces," Dickerson says. "You can take those pieces and add to a rice bowl or fish burrito. To take it further, products that are shaped like a diamond can get thrown on any made-to-order griddle or sauté pan, even right in front of the customer. This is all because of innovative technologies."
A Change in Mindset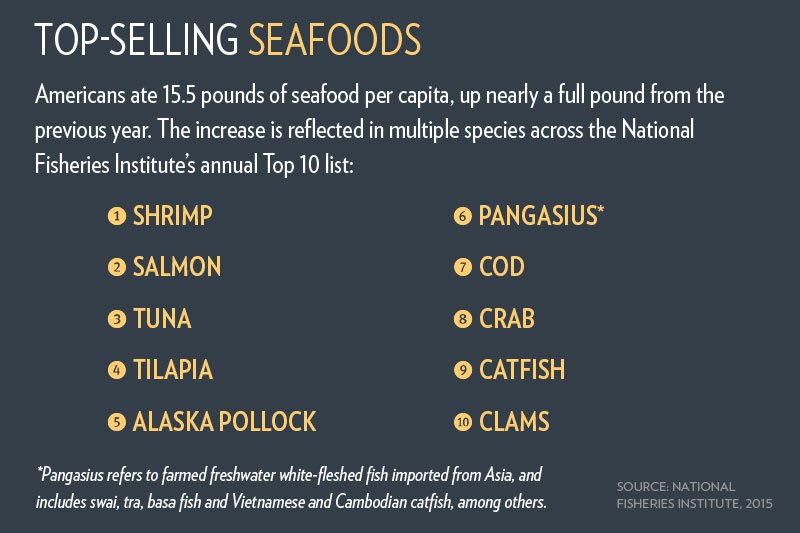 Culinary innovators who are pushing flavor boundaries and helping move seafood to the hip side of things are striving to make the flavor system the star, with the species a changeable element depending on a number of factors. Andrew Gruel, chef and CEO of Slapfish Restaurant Group, based in Huntington Beach, Calif., is a self-proclaimed "ocean-aholic." Gruel is helping redefine the seafood category by introducing fish to guests via his 10-unit fast-casual seafood concept, Slapfish. His goal is to change the way people think about and choose their seafood.
"Our menu is: 'Choose the dish, not the fish.' The fish in our taco changes all the time, as it does in our bowls and plates, due to seasonality, new data on guests' wants, availability, etc.," he says. "We can change the fish by just getting people to enjoy our tacos as a whole: the prep, the shell, the sauce, the spices and method of cooking." That strategy represents a significant opportunity for chain operators, allowing them to switch out species according to guest response and availability—all while continuing to feature invested-in flavor systems.
Upping the Fish Taco
The fish taco is an application that Datassential predicts will continue trending upward. The key is casting it in a new light. "Instead of whitefish for a fish taco, why not salmon, or maybe walleye or wahoo or grouper?" asks Datassential's Rodriguez. "Then call out those species, especially the tropical ones, because specificity really resonates with customers. Sourcing also matters—calling out 'Gulf shrimp' rather than simply 'shrimp' helps elevate the shrimp in that customer's mind."
Christopher Koetke, VP of strategy and industry relations at Kendall College School of Culinary Arts in Chicago, says fish tacos still have immense power to make a big splash on menus. "Operators have benefited from the taco renaissance that took the entire nation by storm, spurred by innovative chefs and proving forever that a taco need not always be Mexican to be savored," he says.
"Granted, fish tacos aren't new in the U.S.," Koetke says, acknowledging that, originally, fish tacos earned their popularity with patrons in Southern California, just a stone's throw from Baja. "They're now spawning delight among diners across the nation. As more and more Americans discover and fall in love with fish tacos, operators can capitalize on a veritable ocean of ways to prepare and menu them."
Koetke recently devised four beyond-ordinary fish tacos for a class at Kendall's School of Culinary Arts. They included: a grilled-shrimp taco hearkening to the islands of the Caribbean and South Seas and sporting "lime smashed" avocado and bright-tasting jicama-pineapple salsa; barramundi tacos, which not only capitalize on a sustainable fish that's growing in popularity, but lean Asian with pickled daikon radish, carrot and sesame-soy-yogurt sauce; hot-smoked salmon tacos channeling a New York deli's lox-and-a-schmear by tucking cucumber, tomato, onion and a dollop of Serrano-spiked sour cream with flaky hot-smoked fillet inside a grilled-corn tortilla; and for children's menus, tuna-melt tacos with aged Vermont cheddar. But the flour tortilla isn't the only twist: A flavorful drizzle of spicy Greek yogurt elevates this spin on a comfort classic.
Fish Market(ing)
Despite some industry innovation, Mike Buononato, senior VP of Creative Food Solutions, a foodservice consultancy in Chicago, won't be happy until he sees more operators following suit.
"I'm seeing a lack of product development in the fish category," he says, specifically in the fast-food fish-sandwich area. "There is absolutely a demand for fish sandwiches, but the standard offering that has really been moving the needle for the masses in the category since the 1950s is stale in terms of innovation."
Buononato says that the best way to appeal to Millennials is to offer familiar, but different. "Familiar would be beer-battered cod, which has seen an uptick in menu mentions. But beer-battered haddock is nicer, and it's the preferred species that you get in London," he says. "The Boston area has always pushed cod, which is denser and moister with slightly more fishy flavor. Haddock is drier and flakier, which lends itself perfectly to battering and frying. So it's a reimagining of a classic without going too far."
Buononato offers another solution—if you can't catch a new fish, at least grant that fish a new story. "The story accounts for about 20 percent of the product's sale success. Ten years ago you could come up with marketing terms like 'all natural,' which is a B.S. term, but it had power. It was marketing," he says. "Today, there has to be product quality, and the stories have to validate that. What I remember from a vacation 10 years ago are the food and those around me: the taste, smell, sight, all captured in one experience. So if you can tie an emotion to it, that's key. It's all one degree away from normal, but that one degree can be the story."
Lent offers a big bump in demand that can help test the waters for new seafood offerings, or launch a successful strategy that keeps flavor play firmly on the hook.
Rise 'n' Shine
Breakfast—and particularly brunch—is prime, wide-open real estate for constructing and offering seafood dishes. Think fish Benedicts, scrambled egg and smoked-seafood creations, an eggy grilled-fish taco, or a.m. adaptations on shrimp and grits. Fish as the protein in any breakfast/brunch dish says "perceived value," which is worthy of a higher menu price.