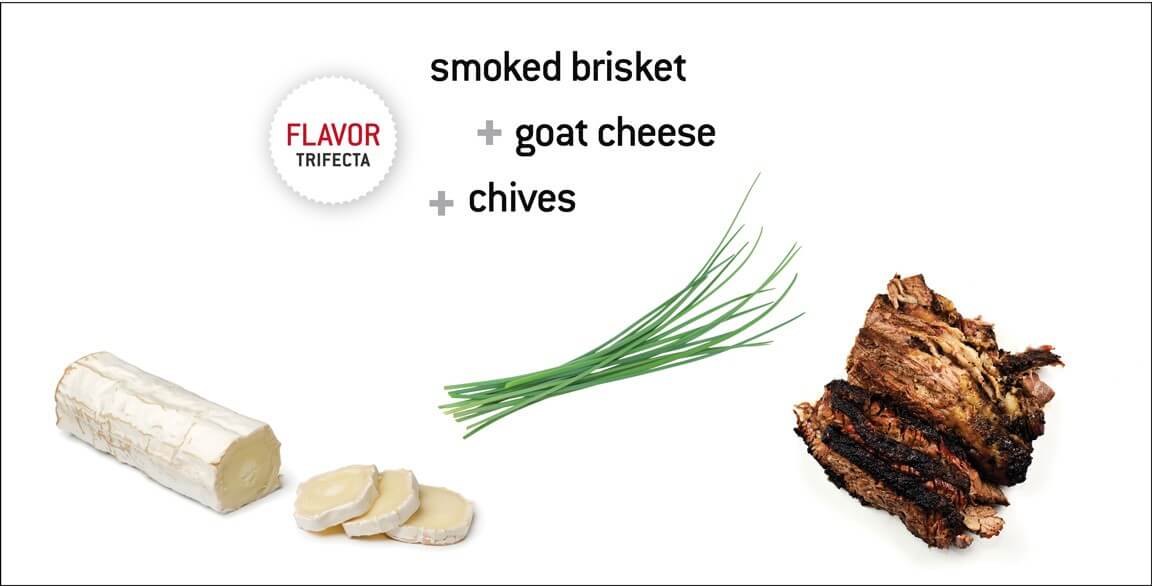 Alejandro Benes is the director of culinary development for Wood Ranch BBQ & Grill, an American concept based in Westlake Village, Calif. The restaurant, with 17 locations across California, is known for good barbecue, among other things. Some of its hits include the Ethan's Brisket Sandwich, with Swiss cheese, Carolina slaw, pickles and Thousand Island dressing, served on a toasted brioche bun. Another is an entrée of Wood Ranch Tri Tip, served with original barbecue sauce.
We asked Benes to share a trio of ingredients that works beautifully when together. He came back to us with smoked and rubbed brisket, sharp goat cheese and chives, whizzed into a creamy, flavorful mousse. "We introduced smoked brisket to the menu a few years ago," he says.
"Teaching that number of restaurants to make brisket, easily the most difficult barbecue meat to make consistently well, was quite a challenge, and we often had a good amount of brisket left over."
He used the spare brisket in pot pies, empanadas and pizzas. "The real winner emerged when I hit on using the brisket for a ravioli filling," says Benes. "I found that combining brisket, a creamy, sharp-ish goat cheese, and a good amount of chives made for a great, robust filling for the homemade pasta."
The trifecta elevated the brisket. "The brisket as a filling by itself was not terribly interesting as it was pretty much just smoky," he says. "The goat cheese tames the smoke a bit and adds a nice sharpness. The chives help to lighten the fat in the other two ingredients. The whole thing is creamy and decadent."
Benes has also used the mousse as a spread on crackers. "It's kind of like chicken liver mousse," he says. He suggests it might work as the pâté component in a banh mi sandwich, too.