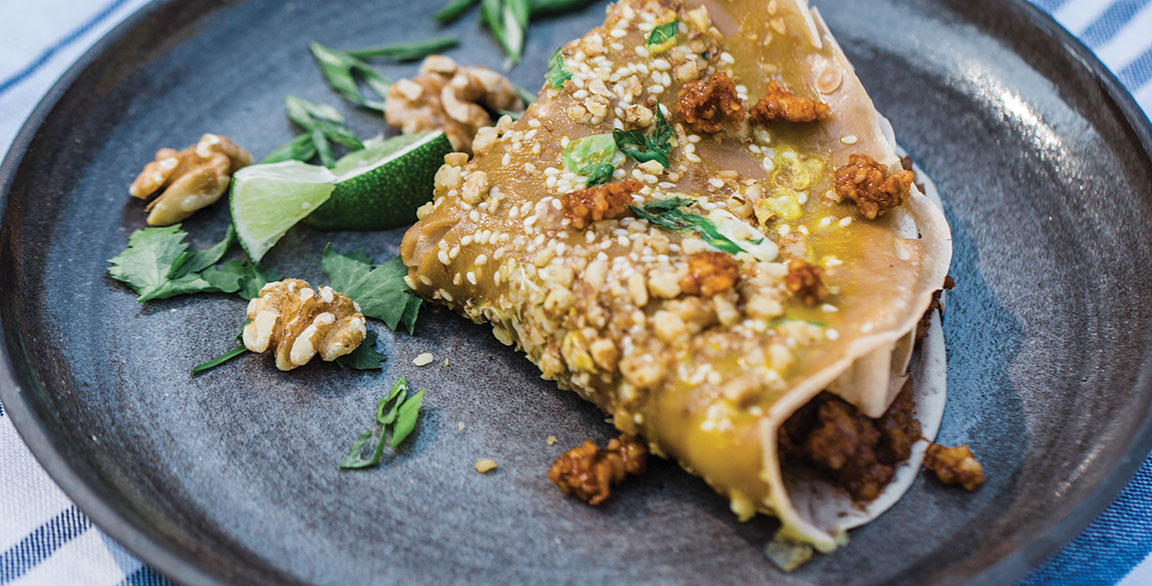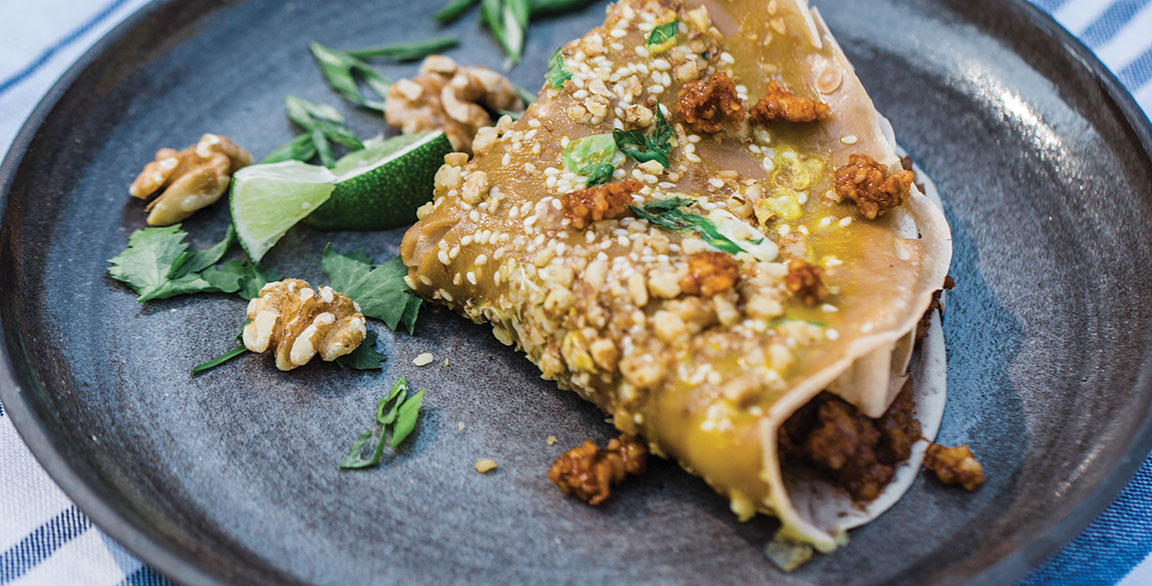 By Eliza Amari
March 3, 2020
Quick adaptation of global handhelds over recent years—the Cubano, the Mexican torta, the croque monsieur, the banh mi—encourages further innovation. In fact, it's easy to argue that this category is one of the most dynamic in foodservice. Craveable, portable, interesting builds dot the world map, often served from street carts, just waiting to be discovered and translated onto American menus. That translation is where brand distinction takes hold, moving a global handheld into a unique menu item through creative flavor touches and iterations. Commodity boards, thanks to their commitment to culinary innovation, are particularly well positioned to pinpoint opportunities in world cuisines, serving up clever, menu-ready ideas. We asked several to share trend-forward takes on handhelds from today's global hotspots.
1

Hail to the Bing

Walnuts offer a plant-forward twist to the traditional savory Chinese pancake. This California Walnut Chinese Bing stars a plant-based meat alternative: Walnuts are combined with black beans, Chinese five-spice powder and hoisin sauce until they reach a crumble texture. The crêpe base is prepared with eggs, walnut milk, water and flour, getting a flavor boost from sprinklings of scallion, sesame seeds and more walnut meat while cooking. Once cooked, the bing is filled with the crumble and a tangy marinated cabbage slaw, then topped off with a black bean and chile sauce.

"Since the recipe includes an egg, it's acceptable as a hearty breakfast on the go, as well as a great option for lunch or dinner," says Emily Nordee-Rogers, foodservice PR director at EvansHardy+Young on behalf of California Walnuts. Walnuts are not foreign to Chinese cuisine, included in many entrées, appetizers, snacks and desserts, so inclusion here isn't completely foreign.

"California walnuts are a good option for innovation in the handheld space," Nordee-Rogers says. The versatile ingredient can serve as a meat replacement for a burger patty, as well as a spread for sandwiches and wraps, such as muhammara, pesto and a savory or sweet walnut butter.
2

Cone Zone

Reimagining the egg as a modern carrier, this Egg Crêpe Cone offers operators a protein-rich and portable format that can carry any number of ingredients, moving easily into global flavor profiles and inviting flavor infusions. Served with a parchment paper wrap to assist in holding the fillings together, the crêpe "batter" simply consists of whisked eggs. This particular version boasts a veg-centric build with wilted spinach, garlic, roasted asparagus and roasted red peppers, along with baked sweet potato sticks and herbed goat cheese.

"The possibilities for handhelds are endless—especially for operators looking to add more gluten-free options to the menu," says Phaedra Ruffalo, senior director of market development for the American Egg Board. "The egg crêpe base can serve as a replacement for most traditional carriers, such as pitas or wraps. Applications like shawarma, falafel and burritos can receive a gluten-free makeover with this simple, flavorful swap."
3

Modern Jam Session

Don't be fooled by this seemingly simple menu item—this Ricotta Toast with California Prune Jam is a complex flavor build resulting in a decadent and multidimensional handheld option. Here, toast is topped with a creamy ricotta spread and a flavorful California prune jam, prepared with Chinese five-spice along with mirin and umeboshi plum vinegar, which lend elements of sweet, savory and umami. Topped with dry-roasted and salted peanuts, micro basil, Korean chile flakes and Maldon salt, this dish checks a lot of boxes in delivering high-level flavor.

"The prunes have a chocolatey quality that delivers a rich mouthfeel. When paired with the ricotta and seasonings, you get tart, salty, creamy, briny and umami flavors," says Kat Turner, chef/owner of Highly Likely Café, who created this recipe on behalf of California Prunes. The toast build also highlights how well the sweet, rich prunes combine with spice and heat
4

Green Is Gold

The ubiquitous fish taco is always primed for a flavor upgrade, and this Veracruzana Fish Taco offers just that. A purée of ripe avocado replaces some of the lard in the flour tortilla, while creating a colorful carrier for the fillings: lightly fried red snapper and Veracruz-style guacamole, with tomato, garlic, olives, capers and herbs.

"We're able to infuse the inherent goodness of avocados into the tortilla, adding a sense of permissibility and a better-for-you halo," says David Spirito, senior director of foodservice at Avocados From Mexico. "Plus, they're a beautiful green color that cues fresh, wholesome and fun. It's a creative way to deliver the premium value of avocados that diners crave in unexpected ways." He sees opportunities to use puréed avocado in other carriers, including sopes, arepas and pupusas. "We've also broadened this method outside of Mexico and Central America, and blended avocados into a vibrant crêpe batter for a pancake carrier that can flex sweet or savory, all with the goodness of fresh avocados," he says.
5

Korea Meets Vietnam

This is a satisfying handheld that capitalizes on signature flavors from Vietnam and Korea, both global hotspots. It starts with beef arm chuck roast braised in a deeply flavorful mash-up of roasted beef broth, gochujang, fish sauce, hoisin and sambal, cooked until fork tender. To assemble, French bread gets a layer of beef-liver pâté, topped with the shredded braised beef, quick-pickled cucumber, carrots and ginger. "The richness of the pâté is balanced out by the strong Korean flavors and freshness of the raw vegetables, providing a perfect fusion of Korean and Vietnamese flavors in every mouthful," says Marci Levine, director of culinary at National Cattlemen's Beef Association.

The beef arm chuck roast is considered a versatile value cut, yielding a rich, beefy flavor. But Levine notes that a range of other cuts also would perform well in this sandwich, including chuck primal cuts, a tri-tip roast, sirloin flap or coulotte roast. Operators could make other creative modifications, such as preparing a housemade roasted beef broth, varying the profile of the pâté or creating a signature pickled-vegetable blend, she says.
6

Another K-Pop

This Kimchi Quesadilla is a natural extension of the enduring fascination with Korean flavor play. "It features an unexpected marriage of Korean and Hispanic flavors, all wrapped up in a savory tortilla," says Jennifer Giambroni, director of communications for the California Milk Advisory Board, citing the creaminess of the cheese, blended with tangy kimchi. In this dish, the kimchi is sautéed with butter until caramelized and slightly charred, before being added to the melting cheddar Jack cheese on the tortilla. The cheese-kimchi combo is then sprinkled with shiso leaves and sesame seeds before being folded and served.

Arguably the ultimate comfort food, quesadillas provide a simple, but effective format to experiment with flavor combinations in an effort to create menu items that can appeal to a diverse audience. "To take this dish to the next level, chefs could consider adding a protein like steak or fish or even fresher ingredients to create a more Cal-Mex-style quesadilla," says Giambroni, also suggesting the possibility of including fish sauce or another Asian condiment to balance the cheddar Jack.
7

Sope Surprise

Mexican sopes offer a creative way to carry a variety of flavor builds—with some surprising featured players. These Roasted Sweet Potato & Apple Sopes with mustard-habanero slaw are built around a corn masa base with the intriguing addition of dry mustard powder, giving the dish warm, lingering heat. Diced sweet potatoes and Granny Smith apples are tossed with Dijon mustard, pumpkin seeds, olive oil and honey, then oven roasted. The Dijon adds a tangy undertone to the sweetness of the roasted vegetables and honey. The dish is topped with a cabbage slaw dotted with habanero chiles, balanced with Greek yogurt.

"Habanero can be intimidating to some, but can give a wonderful floral, fruity flavor," says Steve Squier, executive chef at Picaro in Saskatoon, Saskatchewan, Canada. He developed the recipe for Spread the Mustard, the marketing organization supporting Saskatchewan mustard growers. The sopes are finished with lime and "good, old-fashioned yellow mustard," he adds. Including pickled mustard seeds adds visual interest, while providing a crunchy, tangy bite.