By Katie Ayoub
September 13, 2019
Take a look at a new opportunity that combines the popularity and familiarity of hummus with, arguably, the most dynamic format in foodservice today—the bowl. Places like Naf Naf, a modern Middle Eastern fast casual based in Chicago, have helped mainstream the idea that hummus works beyond dips and spreads. Following a Chipotle-style model, guests can build bowls from an array of bases including rice, lettuce, pita or hummus. Toppings include shawarma and falafel, along with sumac onions and Middle Eastern pickles.
The presentation of hummus as the base of a bowl build is a perfect fit on modern menus. First, it celebrates plant protein—a winning move for many consumers today. The hummus bowl also boasts textural contrast, wholesomeness, and a mild flavor profile that makes it ideal for an array of toppings. There's also the inherent photographic appeal—a swoosh of hummus topped with contrasting colors and textures makes for a great Instagram post. In fact, the hummus bowl represents the natural evolution of the hummus trend here, moving it beyond the classic positioning as a dip and building off of its incredible momentum as a menu mainstay.
Michael Solomonov, one of the biggest culinary champions of authentic Middle Eastern food, has helped propel hummus bowls into the spotlight at his fast-casual spot Dizengoff in Philadelphia. He serves up five choices, including toppings like eggplant-walnut, chicken salad or a "pickle situation." Although rooted in authenticity, he cleverly broadens the appeal with familiar and friendly terms.
Hey Hummus, another Philadelphia fast casual, demonstrates the opportunity in moving hummus out of the Middle East and into more eclectic builds, opening up the possibilities across foodservice segments. It offers six curated hummus bowls. The Cauliflower Hummus Bowl is simply topped with fried cauliflower, paprika and lemon, while the Mushroom Hummus Bowl is topped with fried onions, mushrooms and turmeric. Meat makes a showing, too, in dishes like the Beef Hummus Bowl with ground beef, allspice, apricots and pine nuts.
At the aptly named Hummus Bowl in Mission Viejo, Calif., the "Hummshuka" cleverly moves the brunch darling of shakshuka into a hummus bowl. It stars hummus topped with eggs, pepper, onion, garlic and spices, cooked in a tomato sauce. Another option moves hummus into Latin flavors with a topping of spicy tomatillo salsa, avocado and cilantro.
At the base of each hummus bowl is a well executed, creamy, earthy hummus—that is fundamental to the success here, where there's a perfect balance of chickpeas, tahini, garlic, olive oil, lemon juice and salt. The silky smooth hummus provides an easy, plant-forward platform for modern flavor building, where eclectic combinations of toppings are welcome.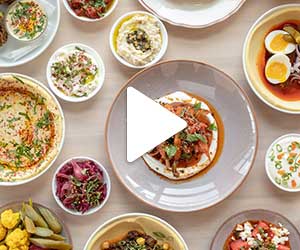 View a slideshow showcasing hummus' versatility: Smooth Moves with Hummus