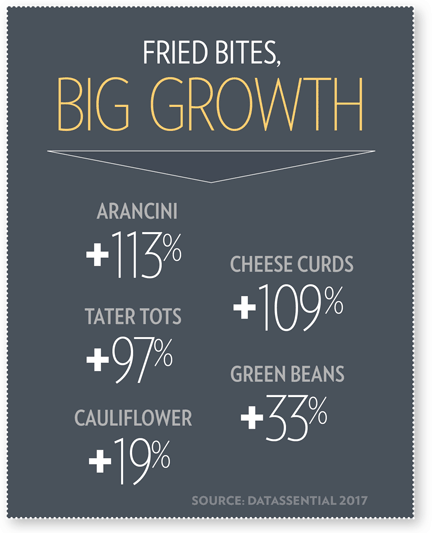 Who doesn't love a perfectly fried bite? Executed well, fried foods are textural delights that promise satisfaction with a unique sense of revelry and bliss.
Fried items fit perfectly into the snacking trend that's informing bar menus, shareables and small plates. Chefs are upping their fry game, applying flawless technique to creative dishes.
At Proxi, Andrew Zimmerman's new place in Chicago that serves up global street food, a reimagined sweet corn elote (above) is fried in tempura batter for a delicate, crispy texture. "We've blended elements of Mexican and Japanese cuisine that really come together in this dish," says Zimmerman, who is also the chef behind Sepia, an inventive American restaurant, also in Chicago. "It's the perfect fried crunchy snack before the meal."
He finishes the tempura elote with Kewpie mayonnaise, Grana Padano, Tajín and chives. This modern build showcases the opportunity in fried foods today, pulling in global flavors in fun, familiar formats.
Fry That Veg
Chefs continue to show a lot of love to produce, making the veg-centric trend one that's here to stay for a long time. Although grilling, roasting, charring and blistering coax out brilliant flavors, deep-frying vegetables makes them sinfully delicious. A skillful hand here keeps it modern.
Gott's Roadside, a fast-casual spot with four locations in Northern California, serves zucchini fries that are delicate and crispy. "The flavor profile is light, herbaceous and citrusy," says Jennifer Rebman, culinary director. "We like to use a lighter batter that is spiked with fresh herbs, including Italian parsley, dill and spearmint, and we like to showcase fresh, seasonal products. Our guests love them!"
Cauliflower is certainly stealing the spotlight today, with chefs roasting half heads as "steaks" or borrowing flavor systems from Buffalo chicken wings to Korean barbecue. Frying offers another smart way to make cauliflower snack-worthy.
La Sirena Clandestina in Chicago, John Manion's mash-up of Brazilian and American fare, serves a fried cauliflower dish. Manion first dredges the florets in a spiced tempura batter (rice flour, tapioca starch, soda water, hot paprika and cayenne) before frying until crispy. The still-hot florets are then tossed with a yellow curry aïoli, parsley and topped with scallions.
"The dish satisfies the craving for something served hot with a crunch that has a spicy kick to it," says Manion, who is also the chef behind El Che Bar, an Argentinian-American spot, also in Chicago. "Curry is one of those flavors I first tasted in Brazil when I was a kid, so it seemed natural to add it to the menu. It has also become clear to me over the years that cauliflower and curry love each other."
On The Menu
High-impact accents like creative dips, sauces and toppings have emerged as one of the most exciting markers in the modern frying trend.
Zucchini And Gruyère Fritters with tomato-paprika aïoli
—Green Street Grill, Downingtown, Pa.
Tempura Fried Green Beans with chermoula dipping sauce
—Faith & Flower, Los Angeles
Cauliflower-Chickpea Falafel with roasted pepper tapenade
—General Warren Inne, Malvern, Pa.
Duck Confit Tater Tots with Gruyère cheese, caramelized leeks, demi mayo, Champagne gastrique
—The Independent, Somerville, Mass.
Manchego Hushpuppies with saffron aïoli
—Range, San Antonio
Reuben-esque
We've seen a lot of play with the Reuben flavor system, propelled by innovation around deli favorites. Bennigan's, a heritage brand based in Dallas, added an LTO of Reuben Fritters: corned beef, sauerkraut, cream cheese and Swiss cheese, dipped in buttermilk and breaded in panko, served with a side of Thousand Island dressing.
"We created the Reuben Fritters to surprise and delight our guests with each delicious bite," says Shawn Finn, VP of international operations for Bennigan's parent company, Legendary Restaurant Brands. "The craveability starts with our tender corned beef bursting with subtle spice."
It's riffs like the Reuben Fritters that highlight fantastic menu potential in proven flavor systems—moving those craveable flavors into a fried snack is a smart strategy.
Fish Fry
Seafood and the deep fryer are old friends. Today, there's renewed enthusiasm and creativity in seafood menu development. New takes on fried seafood have become part of the new American snacking phenomenon.
At Saint Lou's Assembly in Chicago, a concept that combines old-school favorites in new ways, the appetizer of Fried Smelts demonstrates the potential for modern innovation. Tossed in cornmeal batter, then fried "to perfection" and seasoned with togarashi, the smelts are paired with a dipping sauce of chimichurri aïoli.
"The combination of the spice from the togarashi and the cooling component of the chimichurri aïoli makes a nice juxtaposition of flavors," says David Wang, chef de cuisine of both Saint Lou's and Moneygun, a small-plates sister concept. "Smelts were something that I ate all of the time growing up, so I took that inspiration and combined it with the traditional breading style found in the South, but made sure to keep it light and airy for copious amounts of snacking."
Matt Ifkovitz, executive chef of City Tap House Penn Quarter in Washington, D.C., also looks to the South for frying inspiration. His Maryland Blue Crab & Corn Hushpuppies are served with citrus rémoulade and honey-thyme butter.
"Traditionally hushpuppies are simple and served as a side dish accompanying barbecue, but ours are delectable enough to stand up on their own," he says. "We use fresh, roasted, whole ears of corn to intensify the sweetness and the overall 'corniness' of the hushpuppy. We sprinkle in Cajun seasoning to give them a little kick, then we fold in fresh jumbo lump Maryland blue crab. As a throwback to how traditional hushpuppies are served, we pair ours with a honey-thyme butter. It gives our guests the option—if they prefer them on the sweeter side or the more savory side, they can have their pick."