Sweet honey brings out the earthiness of the beets in this Roasted Beet Muhammara with Pomegranate-Orange Honey and Greek Yogurt.
Chefs know that the secret is in the sauce. Or the dip. Or the spread. It's those condiments that carry big flavor, impacting all of the senses in significant—and hopefully memorable—ways. They help deliver a singular flavor experience, something that's even more important given today's competitive foodservice marketplace. Creativity is key, offering big flavor in perhaps unexpected, but enticing combinations. There are few entities better suited to help with menu distinction than commodity boards. We asked a number of them to share their best spreads, dips or sauces, keeping in mind ease of translation onto different menus, uniqueness of approach and on-trend profiles. They came back to us with inspiring menu concepts.
1 Mad for Eastern Med
As globally inspired dishes continue to move mainstream, surprising a guest has become more challenging. This Roasted Beet Muhammara with Pomegranate-Orange Honey and Greek Yogurt (pictured above) is exotic enough to spark intrigue among even the most savvy diners. Roasted beets provide a base of earthiness to the dip that, when blended with toasted walnuts, green onion, orange-blossom honey and a combination of spices, delivers big flavor while also catering to health-conscious consumers. Garnished with a dollop of Greek yogurt, drizzled with pomegranate-orange honey and sprinkled with za'atar, the dish is served with pani puri, a traditional Indian street-food crisp that makes it ideal for a shared plate. "Each bite is filled with delightful textures and flavors when scooped with a crisp-fried pani puri," says Chef Kathy Casey of Kathy Casey Food Studios, who developed this recipe for the National Honey Board. "Many meat lovers will dig into this dip not knowing just how veggie-forward it is and walk away fully satisfied." Casey suggests a number of flavorful cross-utilizations such as a spread in a globally inspired sandwich—layered in a crunchy baguette, topped with thin-sliced garlic-marinated roasted lamb, pickled onion, and a cilantro/mint herb salad, for example.
2 Banh Mi Benedict
In this riff on a Vietnamese banh mi, a rich and spicy Sriracha hollandaise subs in for the jalapeño slices—all while keeping the promise of an eggs Benedict. Drizzled over a poached egg atop the classic banh mi components, the Sriracha hollandaise takes this popular sandwich to a new level. "It delivers on the expected heat, but in a silky, smooth sauce that spreads through every bite of the sandwich and ties all the flavors together," says Phaedra Ruffalo, senior director of market development for the American Egg Board. Classic hollandaise adds decadence with its rich tartness, but it can also serve as a blank canvas for adding other flavors, she says. "One's imagination is the only limitation for creating different flavor profiles—think fresh herbs or perhaps a Latin profile with smoky chipotle pepper or lime-cilantro, or give it a North African spin with ras el hanout, dukkah or s'chug."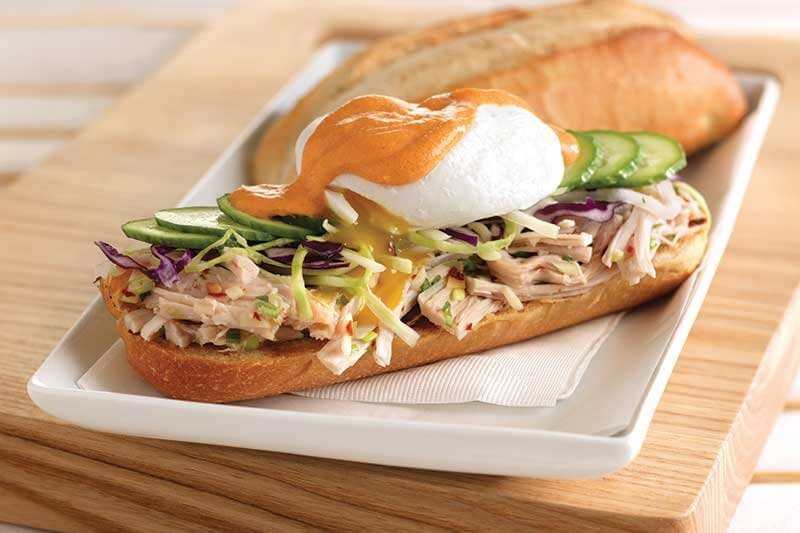 AMERICAN EGG BOARD
3 Chimichurri, Enriched
Chimichurri is the perfect example of a sauce borrowed from global cuisines that is now used in a variety of authentic and innovative dishes. Inspired by the classic Argentinian herb sauce for grilled meats, this avocado chimichurri features the fresh-tasting combination of parsley and cilantro with garlic, oil, roasted poblano peppers and chile flakes, but steps up the flavor and mouthfeel with creamy avocado. "Avocado chimichurri sauce has the bright flavor that chimichurri sauce is known for with the nutty richness from the avocado, and it's blended for a smooth, saucy texture," says Dave Woolley, consulting chef for the California Avocado Commission. Topping a lemon-avocado oil-marinated flank steak, the function of the sauce stays true to its origins in this form, while highlighting both another use of the versatile avocado and an innovative variation of this sauce. Chefs can easily transform this into a spread, thickening it with more avocado and using it on sandwiches, or as a base layer on flatbreads.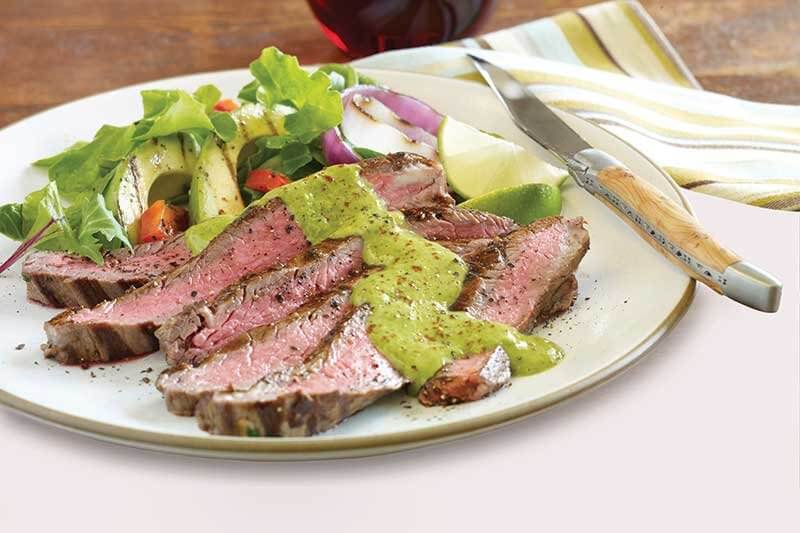 CALIFORNIA AVOCADO COMMISSION
4 Straight Shooting
Already well known for its role in chutneys and salsas, mango can provide a number of on-trend opportunities for other sauces, dips and spreads. In these eye-catching Succulent Shrimp Fresh Mango Shooters, the sauce presents itself in the form of a sweet, sour and savory mango purée of ripe mango, lime and sea salt. The sauce brings a velvety tang to the fragrant shrimp, sautéed with roasted peppercorns, fennel, garlic and ginger. In building off this base sauce, Isha Njie, chef with FLIK Hospitality Group, who developed this dish for the National Mango Board, points out the sauce's versatility, and suggests pairing it with brisket as a mango barbecue sauce, or with crab cakes as a habanero-mango sauce. "It can also be used as a healthy condiment for pancakes or waffles, and when mixed with olive oil and rice vinegar, it makes a fantastic mango salad dressing," says Njie.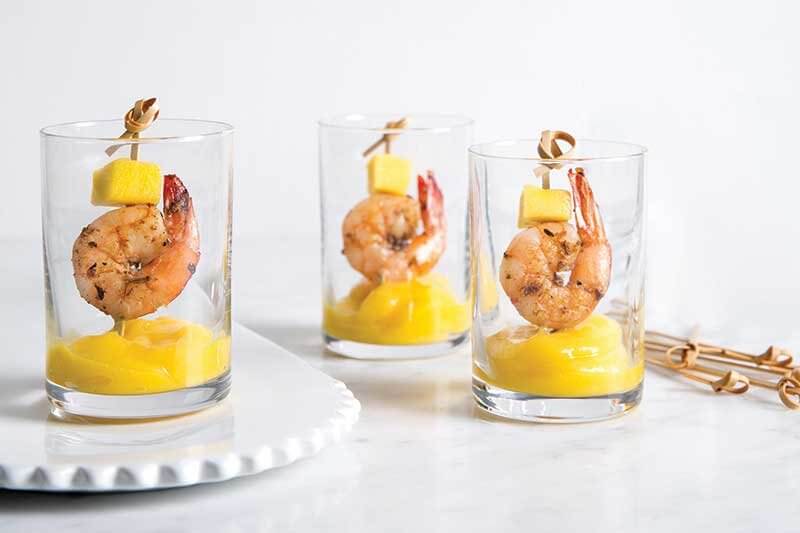 NATIONAL MANGO BOARD
5 A Cracker of a Dish
Perhaps among the most classic of shareable dishes, cheese dips will likely (and hopefully) never go out of style. This Three Cheese Dip with Cheese Cracker Crust, from Kyle Bailey, chef of Sixth Engine in Washington, D.C., is a luxurious blend of California Monterey Jack, Swiss and cream cheese, with green onions and hot sauce for a kick. The Monterey Jack offers a mildness that balances the sharpness of the Swiss, while cream cheese completes the profile with a soft, spreadable texture. Crispy cheese crackers are crumbled over top for a surprising savory crunch. Baked in a skillet until melted throughout and toasted on top, the dip is finished with crumbled bacon and served hot with toasted pita crackers. "The cheeses used in this dip are mild and versatile, making it an easy addition to any segment of the menu," says Jennifer Giambroni, director of communications for the California Milk Advisory Board. "The dip can be served with a variety of foods, making it great for all-day snacking on a menu."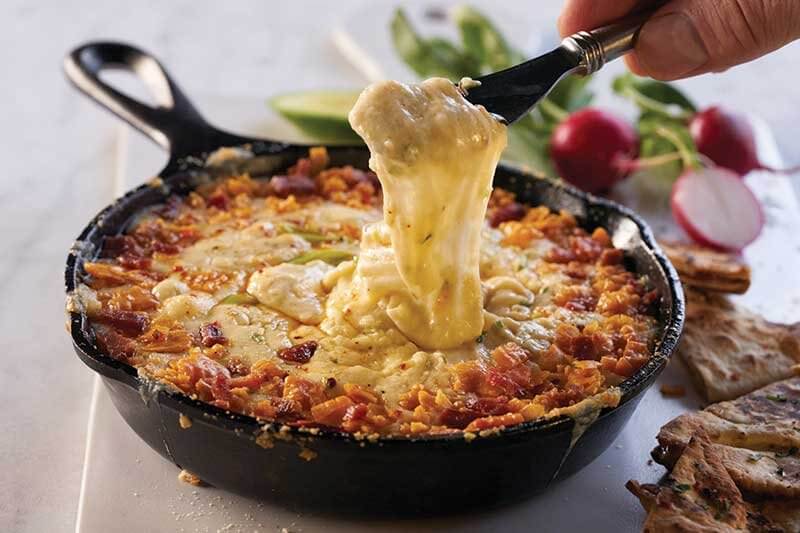 CALIFORNIA MILK ADVISORY BOARD
6 Blue & Bold
New avocado-based dips and dressings are presenting themselves in cool, creamy and clever applications. This Buffalo Chicken & Avocado Blue Cheese Sandwich delivers major flavor, thanks in large part to the avocado/blue-cheese dressing. It's prepared by blending avocado and blue cheese dressing until smooth, then adding crumbled blue cheese and diced avocado for texture. Spooned over the fried chicken tenders tossed in hot sauce and layered with a carrot and celery slaw, the sauce introduces a rich, tangy mouthfeel. "The dressing adds creamy coolness to balance the heat of the Buffalo chicken. Using fresh avocados as a base for the sauce perfectly complements the bold flavors of blue cheese and Buffalo," says Mark Garcia, director of foodservice marketing for Avocados From Mexico. For cross-utilization, he suggests "thinning the avocado-blue cheese sauce with a bit of buttermilk to make a fabulous salad dressing, or serve it as a dip with crudités or wings."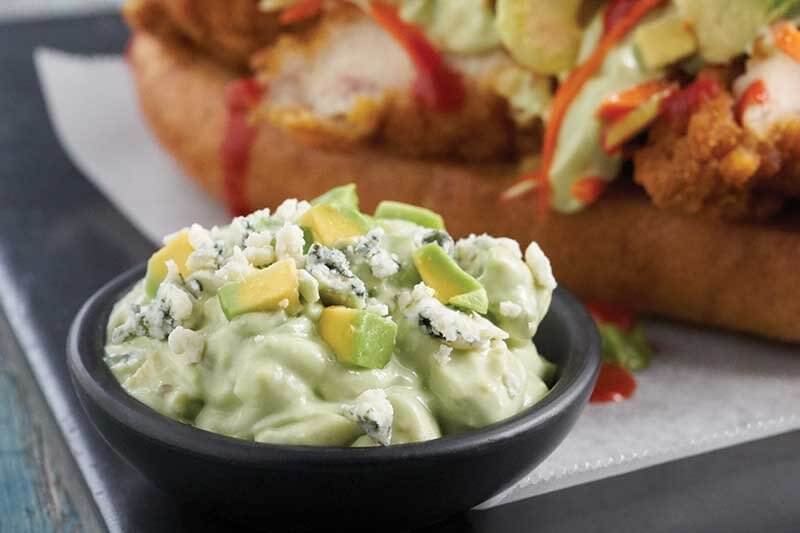 AVOCADOS FROM MEXICO
7 Plum Wonderful
Savory jams elevate the sauce game, intriguing with complexity and clever flavor combination.Here, a curried onion-plum sauce prepared with sautéed green onions, plum preserves, mango chutney and warming curry powder is served over juicy strips of flat-iron steak, offering a different flavor experience to the diner. "Combining the curry powder with the plum jam and mango chutney, and finishing it with a bright squeeze of lime, creates a sweet and savory sauce that truly enhances a beef steak," says Laura Hagen, senior director of culinary for the National Cattlemen's Beef Association, a contractor to the Beef Checkoff. This sauce could be used as a dip for an appetizer kabob, a jus for a steak or roast beef sandwich, or reduced to create a glaze for a beef roast or spread for a burger. Hagen notes that the beauty of enhancements such as sauces and dips lies in the versatility—both in their application and in their modifications in texture, consistency and flavor.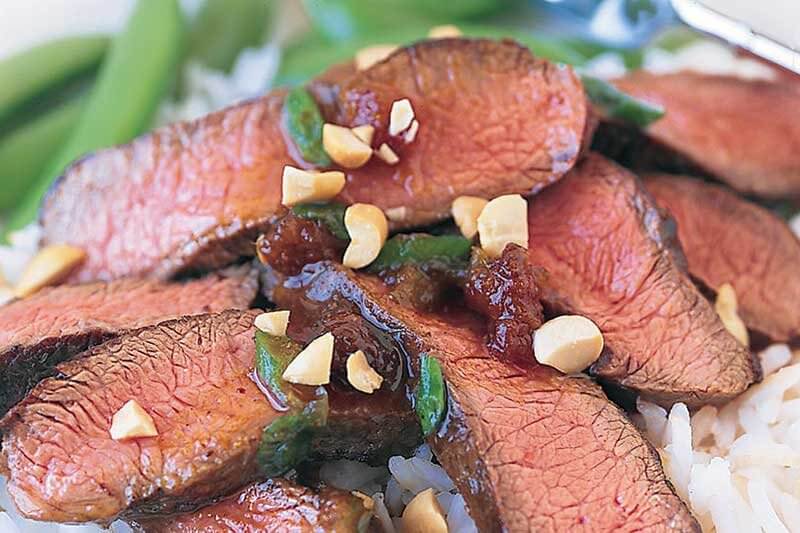 NATIONAL CATTLEMEN'S BEEF ASSOCIATION
8 Planting Flavor
In all dips, spreads, and sauces, texture and consistency are key. This California Walnut "cream" can serve as a wonderful thickener—without the need for dairy or gluten. It's made from a 2:1 ratio of raw walnuts to water, blended until smooth. "It takes on a paste-like consistency that can be mixed into sauces the same way one would use a dairy cream or roux, but is completely vegan and plant-based," says Juliet Greene, consulting chef for California Walnuts. The walnut "cream" has a rich velvety texture and a lightly nutty flavor profile, making it an ideal substitute for milk or cream in many recipes—even beyond sauces and dips. It works beautifully in creamy mushroom soups, as the filling (sweetened) in profiteroles, or in a rich spinach dip. As diners increasingly seek new plant-based menu items and dairy alternatives, this use of walnuts offers a versatile solution for modern-day culinary applications.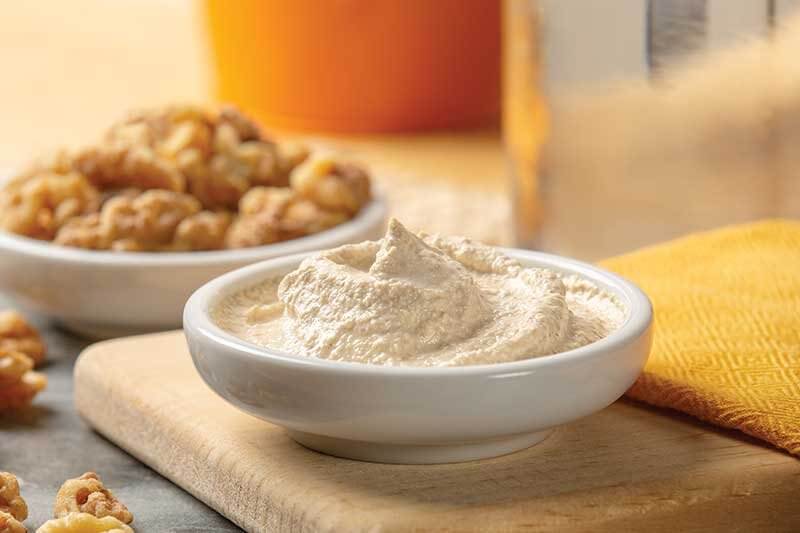 CALIFORNIA WALNUTS
9 Pesto Play
The winning combination of pesto and tomato—albeit with a modern spin—shines bright in this Roasted Alaska Cod dish. Here, a hearty pesto prepared with kale and macadamia nuts is highlighted by sweet tomato jam. The pesto is utilized both in roasting the fillet and as a fresh sauce topping the finished dish. The jam, prepared with vine-ripened tomatoes simmered with shallots, brown sugar, balsamic vinegar and honey, serves as a balancing garnish. "The tomato jam brings a sweetness to the plate that is perfectly accompanied by the boldness of the kale pesto," says Erik Slater, who developed this dish on behalf of the Alaska Seafood Marketing Institute. Slater is chef/owner of Seward Brewing Company in Seward, Alaska, and a member of the Alaska Seafood Chef Alliance. "Sweet and jammy meet garlicky kale," he says. "It's a familiar pairing of pesto and tomato, but taken to another level that brings the subtle flavors of cod to life."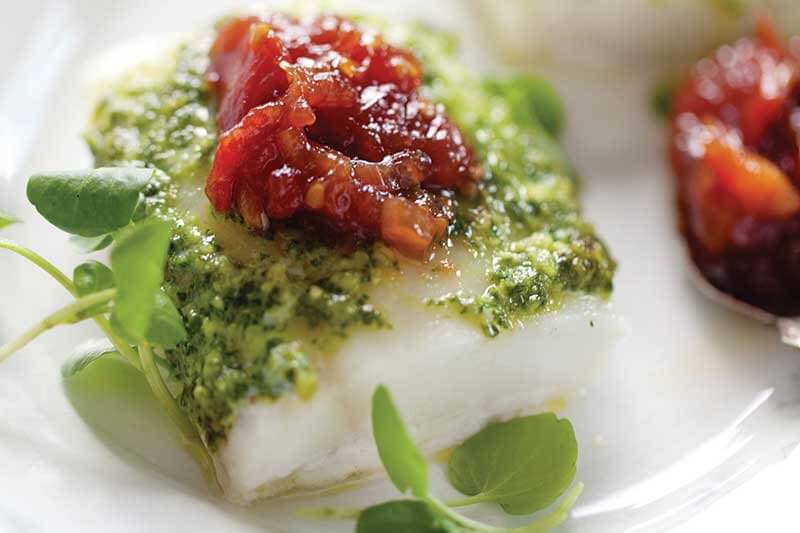 ALASKA SEAFOOD MARKETING INSTITUTE