SPONSORED CONTENT
The world of salads has expanded in the last few years, demonstrating creative, flavor-forward builds. Blueberries can help light the pathway toward menu differentiation. "Blueberries are compatible with a broad range of flavors, like sweet/savory and traditional/global," says Andrew Hunter, culinary consultant for the U.S. Highbush Blueberry Council.
This versatility makes them a great foundation for unique and flavorful salad dressings that can take a salad from boring to bold. Plus, 65 percent of consumers state taste as the number-one reason they like blueberries, so leveraging and intensifying the blueberry flavor through vinegars and purées delivers what consumers want.*
"Whether you're building a regional American salad or a globally inspired one, blueberry-centric dressings work to enhance those flavors while delivering the wholesomeness and familiarity of a truly American fruit," he says.
Add a Premium Touch
Elevate housemade dressings with a blueberry vinegar. "Successful cooking is about creating layers of flavor," says Hunter. "Using a blueberry vinegar helps build flavor." To create your own, here is his method. He suggests starting out by making a gallon—you'll be surprised by how fast it goes!
Soak dried and sweetened blueberries in a vinegar of your choice.
Label, date and refrigerate for 24 hours.
Strain the blueberries and use the blueberry vinegar as a component in a dressing or marinade.
Chef Tip: Add fresh blueberries to the vinegar for a little while to create pickled blueberries, which work great in salads or bowl builds.
Build a Flavorful Foundation
For a versatile blueberry vinaigrette, Hunter suggests using dried, sweetened blueberries for the base. From there, the possibilities are endless.
Simply add the blueberries to your liquid of choice, let them infuse, then build the vinaigrette by puréeing and adding to an oil & vinegar combination. Once emulsified, add your top notes like lemon zest and fresh herbs.
To add further complexity, Hunter suggests playing up the profile of the salad. "If it's an Asian salad, for instance, I might add ponzu and mirin. You can easily enhance the profile of your salad through layering flavor combinations," he says. "Always gently heat the infusing liquid so it absorbs better."
Try these unique combinations starring blueberries:
Red wine, heated to cook off alcohol
Red wine vinegar or balsamic vinegar
Dry sherry, heated to cook off alcohol
Bourbon and sugar
Ginger juice, lemon and sugar
Hunter adds, "One of the great things about blueberries is their natural pectin. This gives a homemade dressing body and viscosity, so no thickeners are needed—making your salad even cleaner and healthier."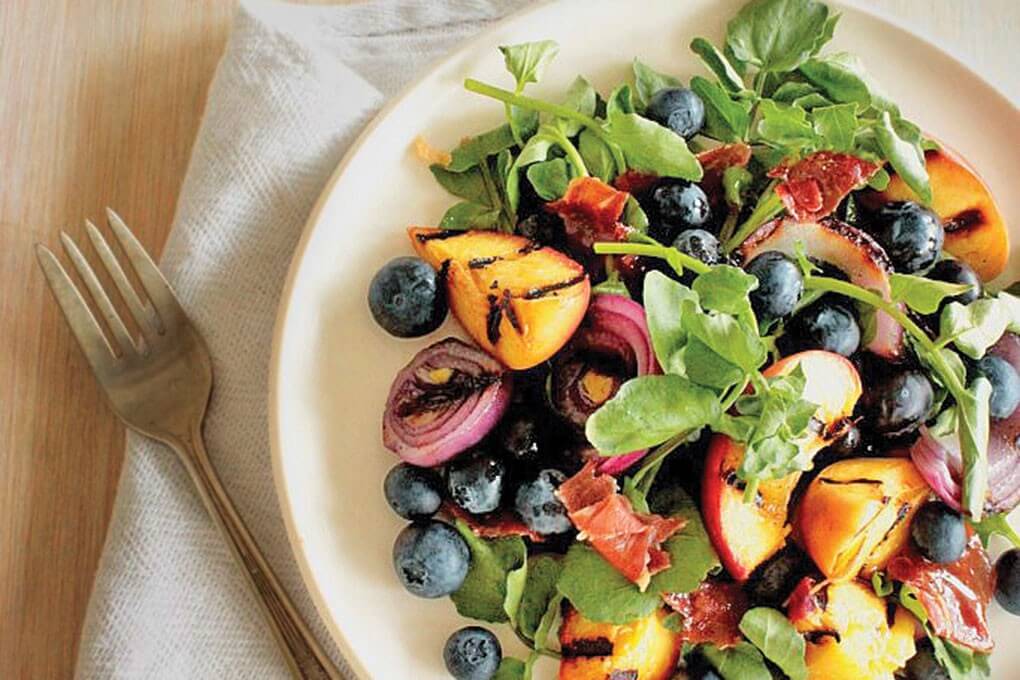 Pop of Color
"Blueberries add a different color component," says Chef Hunter. "They're not too far out there, but different enough that they introduce a bit of creativity and intrigue to a salad." And with their natural health halo, they also help telegraph freshness and wholesomeness. Here, a colorful Grilled Peach and Blueberry Salad is dressed with a honey vinaigrette and finished with a counterpoint of salty prosciutto.
* U&A Study conducted by SMS Research on behalf of the U.S. Highbush Blueberry Council, 2017