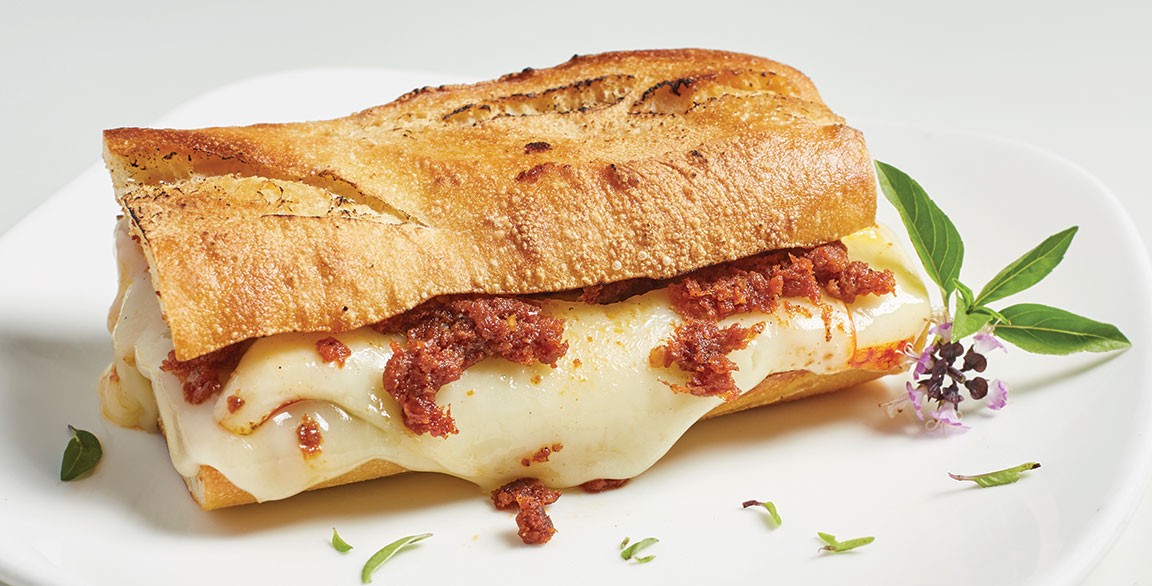 By Eliza Amari
October 25, 2020
In a world full of good intentions, a little bit of wickedness has to creep in now and then. And really, how can food that is comforting and satisfying be anything but good for the soul? If ever there was a time for melted, fried, crispy, battered, rich, indulgent fare, it's now. That logic is driving much of the comfort-centric menu development today, so we asked a few commodity boards to share builds that not only ring those crave-factor bells, but stay in the modern lane, driving forward with exciting flavor combinations and interesting textural elements.
1

A MODERN MELT

This 'Nduja Grilled Cheese is a terrific example of how culinary creativity can change up a classic while preserving the characteristics that make it timeless. Spicy, spreadable 'nduja sausage paired with a blend of high-quality Wisconsin mozzarella and Muenster cheeses guarantees a sandwich that melts to gooey perfection.

The Calabrian sausage spread lends a punchy, spicy flavor, while nutty Muenster and milky mozzarella cheese melt together beautifully, complementing the heat. "Both whole-milk mozzarella and Muenster cheeses have mild flavors, and their creaminess when melted makes them the perfect companion for toning down the spicy heat of the 'nduja," explains Amy Theiding, culinary and consumer marketing manager at Dairy Farmers of Wisconsin, the organization representing the state's dairy farmers. "Both cheeses are semi-soft, slightly springy and melt to a dream. Low-moisture, whole-milk mozzarella becomes stretchy and elastic when melted, giving this sandwich a wonderful mouthfeel."

With the comfort-food boom continuing to drive diners' decisions, this sandwich hits the sweet spot between familiarity and innovation. Theiding knows that operators are seeking ways to upgrade their staple recipes, like grilled cheese sandwiches. "Specialty cheeses provide easy and delicious ways to elevate the dining experience," she says, noting that Wisconsin cheesemakers offer other innovative cheese flavors, like smoked, creamy Gouda and bacon cheddar, both of which deliver big flavors without piling on additional ingredients.
2

A NEW TAKE ON PICKLES

Offering a modern, global take on fried pickle spears, these Deep-Fried Pickled Green Mango Spears with a tamari-sesame dipping sauce make for an enticing shareable. Green mangos, with their firm and crisp texture, are particularly suited to pickling, and in this recipe, wedges are infused with the Japanese flavors of a tamari-rice vinegar brine. The sweet-sour spears are then deep fried to crispy perfection and served with a rich dipping sauce that brings Eastern Med flavors into the mash-up with a mixture of tahini, sesame oil, sesame seeds, rice vinegar, tamari, chile-garlic sauce and green onion.

"Pickled green mangos aren't quite as sour as a typical pickle, but they have a subtle sour punch after pickling," says Tamra Scroggins, director of culinary for Los Angeles-based Grill Concepts, who developed this recipe on behalf of the National Mango Board. "This dish would be a great addition to a bar menu," inspiring possibilities for use both as an elevated garnish or a shared plate.
3

SAVORY-SWEET PERFECTION

These Hash Brown-Cheddar Latkes with honey-stewed apples kick up the crave factor, blending sweet, savory, salty and crispy all in one hearty offering. For this all-day breakfast dish, hash browns, cheddar cheese and eggs are combined into a batter for a clever latke-style waffle, topped with apples that have been sautéed until softened and then mixed with nutmeg, honey and salt. The dish is finished with sour cream, scallions and a trickle of honey.

"The savory appeal of the crunchy hash browns and melted cheddar is offset perfectly by the natural sweetness of the honey-stewed apples," says Catherine Barry, director of marketing for the National Honey Board. "Sour cream, scallions and a drizzle of honey add further complexity for a taste and texture bonanza in every bite."

Easily customizable, this latke-meets-waffle would be an ideal foundation for build-your-own menu offerings paired with a variety of topping options, such as bacon, hot honey and items that drive the flavor toward sweet or savory, depending on time of day and personal preference.
4

POP TO THE TOP

Craveability sometimes comes in an unexpected package. Consider this play on a conventional jalapeño popper: toasted walnut halves enveloped in a jalapeño-goat cheese mixture, gently floured, dipped in tempura batter and fried. "The components of the crispy Tempura Jalapeño-Goat Cheese-Wrapped California Walnuts offer a burst of excitement, layered with a unique flavor profile that delivers with every bite," says Emily Nordee-Rogers, foodservice PR director at EvansHardy+Young for California Walnuts. "The tempura batter gives each bite a light, crispy goodness that makes it sing. You can say it almost has a healthful indulgence, since it has more complexity than a traditional jalapeño popper and is made with wholesome California walnuts."

The upscale poppers can be drizzled with a tangy chile-walnut crema (blended walnuts, sour cream, chile powder, cumin and lime) and nestled into a fall spin on gazpacho. The chilled soup, featuring tomato, Granny Smith apple, pomegranate seeds, cucumber, honey and jalapeño pepper, contrasts well with the goat cheese-wrapped walnuts.
5

HOT FOR TOTS

Potato tots are an irrefutable comfort food superstar. Using them as an element in a layered dish is a fun way to leverage their familiarity and create signature builds, as seen with this shareable, Chili Verde Potatoes. A layer of Idaho potato tots provides a crispy, crunchy base that is topped with a traditional Colorado green chili made with charred Hatch chiles, jalapeño peppers, tomatoes and onions with bites of boneless pork loin and spiced with ancho and chipotle chile powders, cumin and paprika. Finished with a fresh pico de gallo and topped with fried flour tortilla strips, the dish provides a craveworthy flavor experience.

Potato tots are easy to use, offer great texture and perform reliably, says Adam Moore, chef/founder of Chicago-based Flashpoint Innovation and culinary consultant for the Idaho Potato Commission. He suggests other comfort-centric builds starring the tot, such as a poutine. "Instead of french fries, Idaho potato tots make a great foundation. In sauced applications, they tend to hold their crunch longer, too, especially when fried a bit longer than for non-sauced dishes."
6

BATTER UP

Hushpuppies are considered by many as the OG of melty, fried, craveworthy starters. Here, Avocado and Corn Hushpuppies feature intriguing elements in the batter, standing out with unique characteristics while keeping the integrity of the familiar format. They star a classic batter that's been enriched with creamy avocado and fire-roasted corn kernels. The result is a crispy, fried exterior over a tender, fluffy interior with sweet and smoky bursts of juicy corn kernels. Cool, tangy Avocado Tartar Sauce offers a creamy counterpoint, replacing most of the conventional mayo with avocado, delivering healthy fats and a soft green color.

"Flavors and formats that are anchored in classic comfort can bring a sense of familiarity and happiness to the table, especially in today's landscape," says David Spirito, senior director of culinary and foodservice for Avocados From Mexico. "This homestyle favorite made with an avocado twist is the perfect modern take on a nostalgic dish."

He points out the versatility of the tartar sauce, suggesting that it works nicely over fried seafood dishes, like Maryland-style crab cakes, and that the hushpuppy batter takes on heat from chile peppers well, adding that dimension of spiciness that so many diners look for today.
7

FLOUR POWER

Peanut flour is the star of the show here, used in the tempura batter for these crispy purple cauliflower bites. Served over mafé, a West African peanut-based sauce, they offer an intriguing African-Asian mash-up.

This veg-centric dish pops with color and plays the mild earthy flavor of the purple cauliflower against the pleasing rich peanut flavors. The peanut flour in the batter levels up the tempura, adding crispiness and enhancing umami notes.

"Peanut flour is naturally gluten-free and a great source of plant-based protein, nutrients and fiber," says Keegan Treadaway, marketing and communications manager for the National Peanut Board. "It's a great addition to batters and baked goods where chefs may want to boost protein or add peanut flavor without using conventional peanut butter." Beyond the nutritional benefits, Treadaway notes the flour's versatility. "It can lend depth of flavor to beer-battered applications and would work great as a batter for wings, which could then be tossed in a spicy pepper jelly for a playful 'PB&J Wings.'"