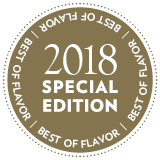 While it's a homespun, nostalgic favorite, banana cream pie isn't often seen on dessert menus anymore. But at Benny's Chop House, it's a housemade staple.
"It is a classic, and done well, there is no better dessert," says Mitchell Schmieding, Director of Operations. Benny's Banana Cream Pie starts with a housemade graham-cracker pie crust. The custard filling comes next, featuring a mixture of natural banana compound, pastry cream and perfectly ripe banana slices.
The banana compound gives the pie an extra dose of banana flavor, while the pastry cream lends a smooth, velvety texture and gives the custard weight, allowing the slices to hold their shape. Once the filling has been spread over the cooled pie crust, a generous, fluffy layer of whipped-cream topping provides a creamy flourish.
Schmieding describes the flavor layers: "crisp, sweet crust with a crunch, yet not too chewy; a delicious, velvety pastry cream with a delicately sweet banana flavor; and a light bite of fresh bananas, topped with a brilliant, mildly sweet whipped cream."
Caramel-glazed bananas on the plate provide a final dose of sticky sweetness. Thoughtfully prepared, this popular pie resonates with Benny's patrons, thanks to its craft touches and nostalgia factor.
"We have tried to change this dessert but cannot," says Schmieding. "It is now part of the Benny's brand."