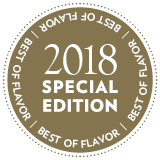 At The Ruin Daily, a self-described "all-day boozy deli," the philosophy is that "life is too short for sh*tty sandwiches." In that spirit, the Buffalo Chicken Melt goes for maximum effect, making the most of the ever-craveable flavor system of Buffalo wings.
Executive Chef Mario Manzini builds the sandwich with Parmesan-crusted sourdough bread, slathers it with mayonnaise, then packs in a cheddar-Swiss-fontina cheese blend and roasted chicken covered in buttery Buffalo sauce.
Continuing the Buffalo theme, it's garnished with celery barigoule (a Provençal vegetable braise) and served with ranch sauce for dipping.
"This sandwich is really great, because it's spicy, savory and cheesy—so really all of the best things," says Manzini. "It's a hit because it's familiar with a twist. It's cheesy and comforting, and the Buffalo chicken and ranch dipping sauce make it uniquely craveable."
This sandwich is a clear fan favorite. "The Buffalo chicken is a familiar flavor combination, smashed in between grilled cheese, which makes it impossible to resist," says Manzini. "We sell so many of them at lunchtime, and prep for a ton every day."