Sauces have always offered a playground for chefs. A free-spirited place that encourages creative flavor building. Sauces are the silver bullet, armed with craveability, uniqueness and, of course, flavor. Their role in plate composition isn't new, but the opportunity today sees chefs leveraging the culinary might of sauces and wielding it in unique and memorable ways—all with the strategy of building a flavor impact that knocks their guests' socks off.
Matt Harding, director of culinary and corporate executive chef at fast casual Piada Italian Street Food, based in Columbus, Ohio, made a signature aïoli for the Wagyu Strip Loin Bar Bites created at a culinary immersion hosted by True Aussie Beef & Lamb. He flavored the aïoli with brown sugar, tomato paste and chile powder. The seared Wagyu sits atop the sauce, which is served over sweet, crispy tostones.
"The aïoli ties this dish together—literally. It has a tactile stickiness that keeps the meat anchored to the tostone," he says. "In terms of mouthfeel, it adds creaminess and richness, and its fat attaches to the juices in the steak, making them linger on the palate. There's a little kick from the chile powder, which supports the Maillard reaction, and the brown sugar complements the natural sweetness of the grass-fed Aussie Wagyu beef."
The flavors in the aïoli are carefully considered, adding huge flavor dimension to the dish in an unexpected way—that's the formula for success today.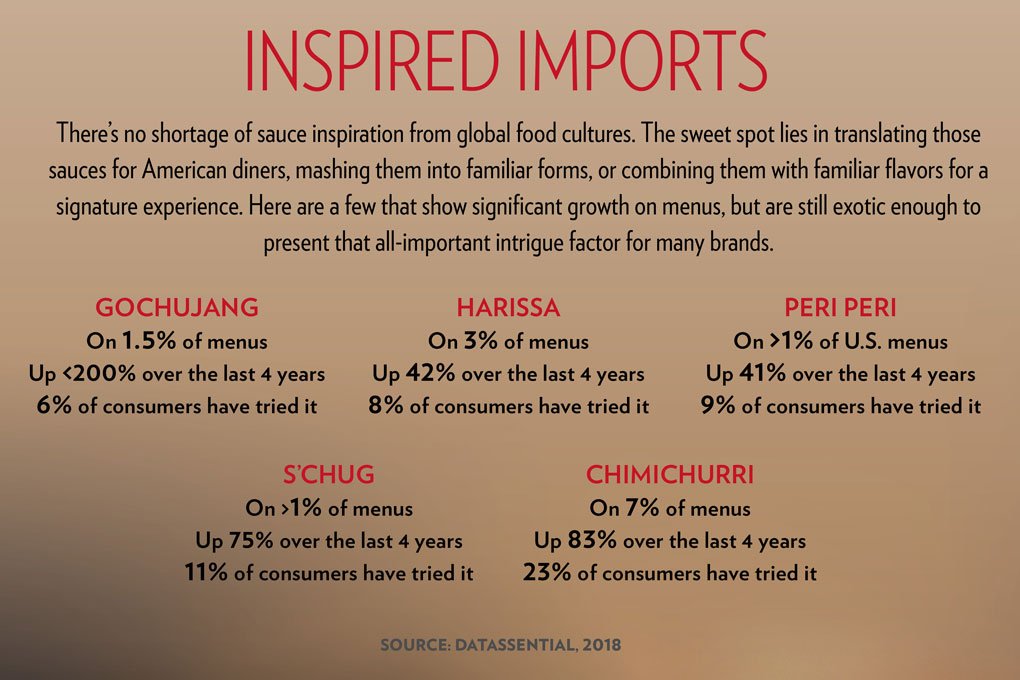 Kung Pao Now
Kung pao sauce brings a lot to the party—it's salty, spicy, vinegary, funky, sweet. This version of the original Sichuan sauce is now making moves outside of Chinese-American menus and its typical pairing with chicken. Poised as the next Buffalo sauce in the flavor-forward world of veg-centricity, chefs are leveraging its familiar and craveable profile in creative, indulgent vegetable sides and shareables.
At The Plimoth, a New American eatery in Denver, the Kung Pao Carrots & Fairytale Eggplant are served as a starter with peanuts and a stone-fruit sweet-and-sour sauce.
The Local in Naples, Fla., a farm-to-table concept, features Kung Pao Avocado: panko-breaded avocado served over organic brown rice, bell pepper, onion, cilantro and cashew, topped with a kung pao sauce.
Kings Dining & Entertainment, based in Boston, changes up the trending Buffalo cauliflower with its Kung Pao Cauliflower: fried cauliflower smothered in kung pao sauce and tossed with pineapple, peppers and crushed peanuts, then served with a creamy wasabi sauce for a big hit of heat.
On The Menu: Savvy sauces
Zucchini Schnitzel with roasted peach harissa, sesame, pickled peaches, mint
—Zahav, Philadelphia
Lamb Chops with a sweet pea salsa verde
—The Loyal, New York
Tabbouleh Crusted Flounder with tahini tartar sauce and shiraz salad
—Sarma, Somerville, Mass.
Steak & Potatoes: Grilled chimichurri-marinated steak, potato hash, cilantro-jalapeño hollandaise, chimichurri, fried egg
—Chapter One, The Modern Local, Santa Ana, Calif.
Bringing The Heat
Heat is usually delivered through sauces, of course, ensuring a signature experience while satisfying a collective—and almost obsessive—hankering for hot. This passion for heat makes it a smart choice for sauces. The fun lies in choosing the chile pepper or spice, along with all of the other components on the plate.
At Sawgrass Marriott Golf Resort & Spa in Ponte Vedra Beach, Fla., Joe Natoli, executive chef, uses local chile peppers to bring the heat. His Local Farmers BLT offers house sourdough sandwiched around bourbon pork belly, a Lake Meadow Naturals fried egg, heirloom tomatoes and a datil pepper aïoli. As hot as the habanero but with a fruity overtone, the datil pepper is grown in Florida, lending a local narrative to the BLT.
"Our team harvests the peppers from Bee Hill, our property's micro garden, which then go into the aïoli," says Natoli. "The combination of the hot pepper and farm-fresh eggs creates a creamy sauce with a spicy kick that really elevates the flavors in the dish."
Arbella, a globally inspired cocktail bar in Chicago, serves Korean fried chicken tenders as a bar snack, paired with a sweet-and-spicy sauce made with soy sauce, demerara sugar, sweet chile sauce, rice vinegar and habanero. "The coating of the dish is very simple. The chicken tenders are rubbed with a homemade garlic paste and lime juice, then coated in corn starch to keep the dish gluten-free," says Joe Doose, general manager. "The Korean Fried Chicken is the most popular dish on the menu. The sauce is a key factor—it gives a nice balance to the chicken with sweet, salty and spicy notes."
Global Tastemakers
The universe of sauces is vast, but a common thread that binds trending versions today is an exuberant exploration of global flavors and ingredients, tying them together with things like seasonal produce and familiar sauce bases.
At Soogil, a contemporary Korean restaurant in New York, chef/owner Soogil Lim cleverly pairs an American comfort food—roast chicken and root vegetables—with an adventurous spicy fermented shrimp sauce. "The sauce has a spicy, salty and sweet flavor, getting its heat from gochugaru, a Korean chile powder," says Lim. "When cooked with chicken, the amount of salt from the fermented shrimp gets reduced and enhances its sweetness." The pairing is unexpected, but delicious, adding intrigue to a classic American entrée.