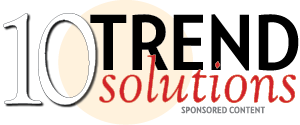 There will always be diehard fans of blistering heat, those who love the challenge of a ghost pepper wing sauce or a Carolina reaper-laced taco. But for the most part today, there's a collective hankering for heat with balance. Heat with nuance and complexity.
Sriracha's success over the last decade demonstrates that well, leading with spiciness tempered with a bit of funk and savoriness. And even in this landscape dotted with trending chile peppers and sauces that bring complexity—guajillo, harissa, sambal and so on—there are still many consumers who want a more subtle experience. But they don't want to trade down on flavor. They're looking for mild, but developed heat, maybe paired with textural elements.
Ken Toong, executive director of auxiliary enterprises for University of Massachusetts (UMass) in Amherst, Mass., is ideally suited to analyze consumer preferences of younger generations. He and his culinary team are tracking an evolution in heat preference. "Heat used to be a one-punch experience, like habanero," he says. "Now, they look for more complex flavors."
Rob Corliss, executive chef at fast-casual Sheridan's Unforked in Overland Park, Kan., and founder of the consulting firm All Things Epicurean (ATE), weighs in, too, underscoring the importance of a sound strategy when it comes to heat delivery. "Look at the overarching heat trend," he says. "What's the way in that makes sense for your concept? Know your customer and that will help shape your direction."
Here are a few ways to deliver that modern heat while keeping craveability firmly in the crosshairs.
The Acid Test
Acidic ingredients temper heat really well so reach for delicious, bright components to pair with hot sauce or chile peppers, like pineapple, lemongrass, pomegranate vinegar, pickled vegetables, like onion or radish.
Fat is Good
Fats help dispel the molecules in hot foods, lending a rounder mouthfeel instead of such a sharp, intense one. There's also something to be said for the crave factor, which gets dialed up when fat meets heat. Look to ingredients like crispy batters, yogurt, fresh cheese and coconut milk to help neutralize some of that sharpness.
Savory for the Win
One of the greatest markers of modern flavor trends is an embrace of umami. Partnering ingredients rich in savory qualities that linger and draw out other flavors is a great strategy with heat, building that craveability and elevating the complexity of experience. Of course, soy sauce is a natural here, but look beyond that to emerging ingredients like gochujang and XO sauce to tamp down heat without completely masking it.