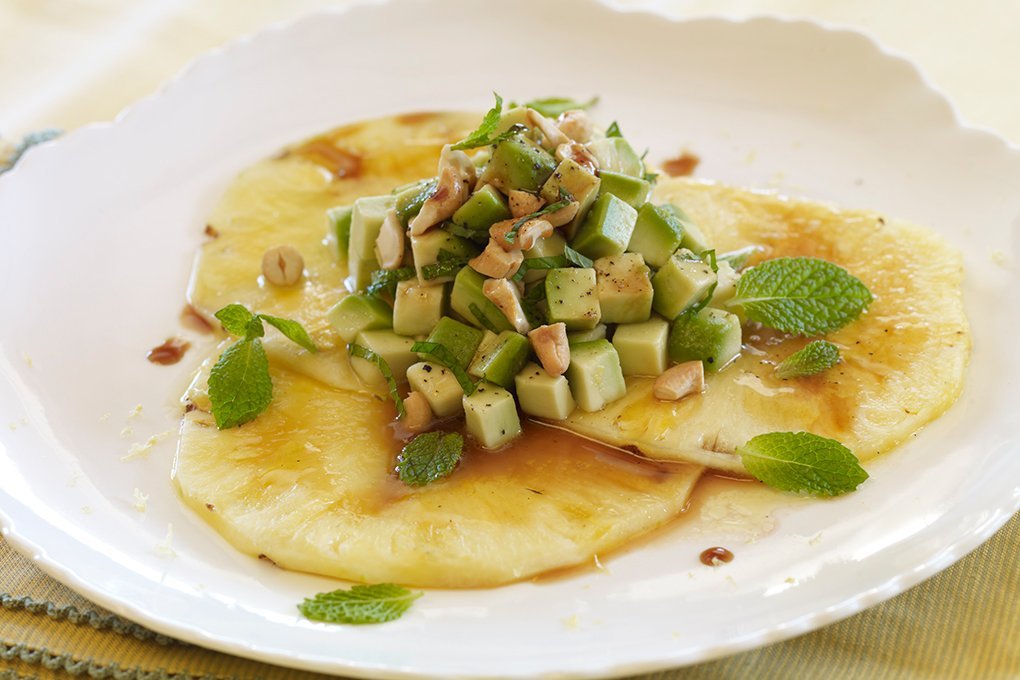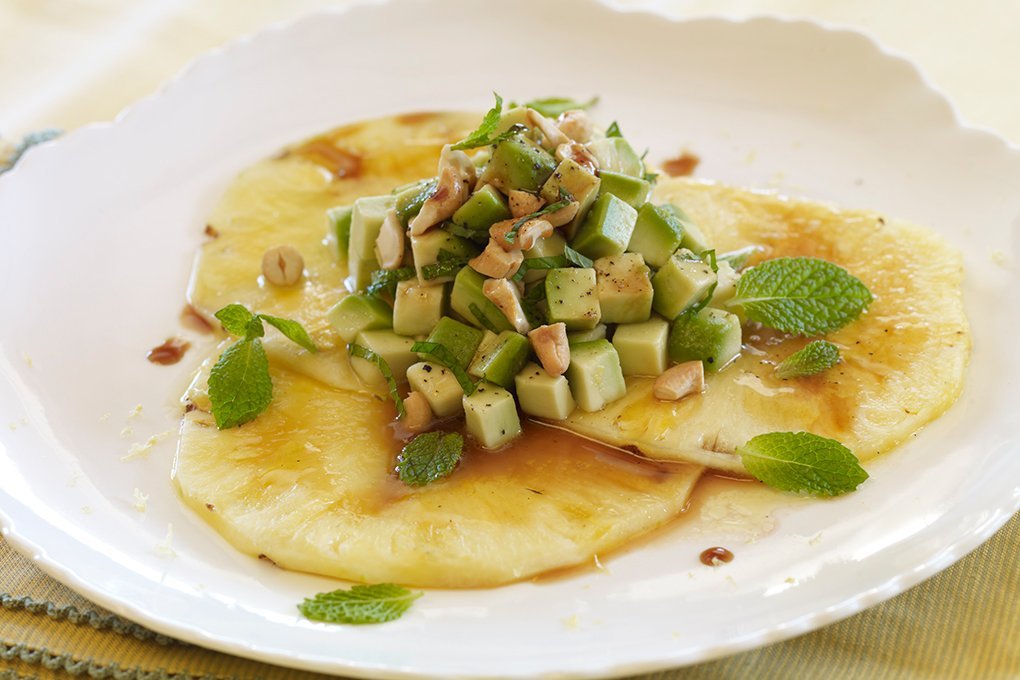 In this recipe, thin slices of golden pineapple are topped with rich chunks of avocado and drizzled with a fruity pomegranate vinaigrette. An excellent menu option for vegetarian menus.
INGREDIENTS
2 fresh avocados peeled, pitted, diced, see note
1 pineapple peeled, cored, and thinly sliced on mandolin
1 lemon finely zested, then juiced
2 tablespoons mint chiffonade
1/4 cup cashews toasted, then chopped
Salt to taste
Pomegranate Vinaigrette (Yield: 1/2 cup):
2 tablespoons red wine vinegar
1 tablespoon pomegranate molasses
6 tablespoons olive oil
Salt and pepper to taste
INSTRUCTIONS
Pomegranate Vinaigrette:
Mix together pomegranate molasses and red wine vinegar in a blender. Gradually drizzle in the olive oil to emulsify. Add salt and pepper to taste.
To Assemble:
Place diced avocado in a large bowl. Dilute the lemon juice with a little water; add to the avocados along with the lemon zest, mint, and a pinch of salt. Carefully toss the mixture to coat the avocado.
Place 3 thin slices of pineapple on each plate. Reserve rest of pineapple for another use. Top each plate of pineapple slices with ¼ of the avocado mixture. Drizzle each salad with some of the pomegranate vinaigrette. Sprinkle each with about 1 tablespoon of the chopped cashews.
Serve.
RECIPE NOTES
Large avocados are recommended for this recipe. A large avocado averages about 8 ounces. If using smaller or larger size avocados adjust the quantity accordingly.
Recipe by Nora Pouillon, Chef/Owner, Restaurant Nora (Washington D.C.) with the California Avocado Commission