The Flavor Experience is a singular event in foodservice, exploring flavor as a crucial menu strategy while bringing together thought leaders, colleagues and friends in a three-day celebration of trends, insights and inspiring sips and bites. Presented by BSI Conferences, Inc., in partnership with Flavor & The Menu, this celebration, held each August in Newport Beach, Calif., features speakers, roundtable discussions, breakouts and tastings that explore the menu opportunities built on flavor.
Chef Jet Tila, Food Network star and expert in modern Asian cuisine, served as emcee for the fourth straight year—addressing attendees in his entertaining and straight-shooting manner. In his opener, Tila shared a few trend insights. Among them, food as medicine will continue to grow, reinforcing the idea of functional foods as part of the health and wellness movement.
He also underscored the importance of Instagram, where savvy menu development will take a dish's social media presence very seriously. Throughout the conference this year, that ability to reach younger generations—both Millennials and Gen Z—was at the forefront. Attendees looked into the future, getting a sneak peak at food and beverage trends that will impact their menu development for the foreseeable future.
Street Cred
Gerry Ludwig, corporate consulting chef for Gordon Food Service and Flavor & The Menu contributor, shared his trend-packed tour of street-level research over the course of the conference, breaking down trends as differentiating opportunities. His insights, with plenty of in-market examples of high-level execution, included innovation in the morning daypart, caviar as a premium garnish in modern, casual fare, and stone fruit as the next star in veg-centric dishes.
On breakfast, he said the trend sees menu development that pulls ideas from dinner and lunch into the morning hours, and calls out the continued superstar status of eggs. "Don't have a 'been there, done that' attitude about egg toppers," says Ludwig. "There are so many great ways to incorporate them, from fudgy-yolked to loose scrambles and beyond."
Plant-forward in Action
In this toolbox session, moderated by Katie Ayoub, managing editor of Flavor & The Menu, a chef panel discussed menu-ready ideas starring plant-based ingredients, along with in-market plant-forward dishes and how they're performing. Jeremy Bringardner, corporate executive chef for fast casual Mendocino Farms, talked about appealing to the "Lululemon mom," one of the drivers for the Calif.-based concept's new—and successful—Impossible Taco Salad. Steve Sturm, senior VP of food and beverage for Firebirds Wood Fired Grill, shared the ideation behind the brand's new Cauliflower Steak Frites, adding it to the menu to mindfully increase their plant-forward options.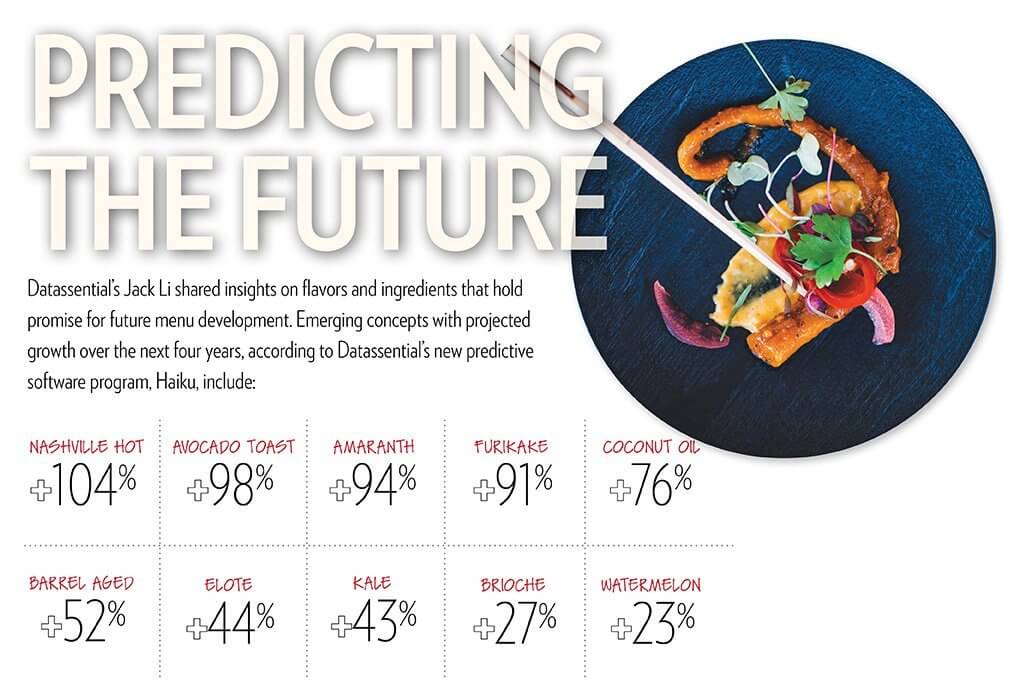 Cocktail Craze
Attendees enjoyed a lively tour of national cocktail trends, presented by Brian Masilionis, director, national accounts and Allen Katz, director of mixology and education, both with Southern Glazer Wine & Spirits. They called out opportunities from innovative cocktail programs across the country, including cocktails fortified with wines, like Sauvignon Blanc in a gin cocktail, or adding Cabernet Sauvignon to a rum drink. Another growing trend is "soft cocktails," which sees restaurants positioning nonalcoholic drinks as grown-up, complex options, along with low-alc versions, encouraging sessionable sipping.
Non-alc Grows Up
A deep dive into the big opportunity in adult-oriented nonalcoholic beverages was presented by chef and mixologist Kathy Casey, Food Studios/Liquid Kitchen, Maeve Webster of Menu Matters and Flavor & The Menu's Cathy Nash Holley. Topics ranged from glassware, ice, garnishes, texture—all of which elevate the non-alc occasion beyond iced tea and lemonade. As an example of a mixology-minded approach, Casey offered booze-free versions of cocktails her team served at the evening reception.
Cocktail Drivers
David Commer led an engaging panel, looking at cocktail trends that will impact consumer behavior over the next few years—everything from flavor complexity (barrel aging, smoke) to a blurring of categories (rosé cider, beer cocktails). Four key takeaways:
Quality and substance are more important than ever
Targeted drinking occasions are emerging (natural, healthier)
Embrace and celebrate diversity
Increase guest connectivity by being a part of their experiences
Inspiring Beverages
Attendees got to drink in the trends—on display in both non-alc and boozy beverages. Examples included:
Smoked Peach Lemonade
Vietnamese Honey Iced Coffee Cocktail with a shot of amaro and a dash of black walnut bitters
Ukiyo: Suntory Toki Japanese Whisky, Aperol, yuzu purée, spiced ginger syrup, fresh lemon
Mezcal Isleño: Mezcal, splash of club soda, fire-roasted pineapple and mango purée with hibiscus infusion, fresh lime, pickled Fresno chiles and mangos
Crimson Garden: Beet purée, Sipsmith Gin, fresh lemon, rose syrup, tonic, lemon verbena, flowers
Coconut-Jalapeño Limeade
Strawberry & White Balsamic Old Fashioned: Strawberry purée shrub, Knob Creek Rye Bourbon, with freshly muddled orange and Bordeaux cherry, topped with Aztec chocolate and grapefruit bitters
Flavor Icon
Gerry Ludwig, corporate consulting chef at Gordon Food Service, was awarded the prestigious Flavor Icon award, which was unveiled as a new feature of the conference to give recognition to an individual whose work has made an impact in the foodservice industry, furthering the advancement of flavor-forward menu development.
As a keynote presenter at the conference for the past decade, sharing his street-level menu-trends research, Ludwig has become revered for his trendspotting acumen and forward-thinking insights in translating menu trends to a larger audience. His passion for both flavor and the foodservice industry is evident through his shared knowledge of thorough trends-based research and his genuine desire for menu success in all aspects of the industry, making him a deserving recipient of the inaugural Flavor Icon award.
What's Next?
"Millennials have changed the way we look at portions, service style, how we think about food, and they've brought tech to the table. How do you serve them?" posed Maeve Webster, president of Menu Matters, a lead consultant for the foodservice industry. Her session, "Where Do We Go from Here?," gave an insightful capture of the changing landscape of foodservice players, from chef casual and food-forward convenience stores to retailer restaurants and micro-menu operators.
Flavors in Action
At every opportunity, the food during the conference inspired and delighted attendees. Examples included:
Raj Era: Turmeric and curry marshmallow, garam masala crumble, tamarind-ginger chocolate sauce
Aussie Lamb Shashlik with Z'Houg Tehina, topped with quinoa, pea and mint tabbouleh
Sea Buckthorn Panna Cotta with mango, raspberry, coconut
Lobster Sope: Smoked chile butter sous-vide lobster, savory black bean purée, crispy chorizo crumbles, pickled cabbage salad, citrus-avocado crema and tamarind-ancho salsa on a sope shell
Black Pepper Watermelon Carpaccio Toast, blow-torched with crispy capers, queso fresco, avocado