Let's reflect on the days when the portobello mushroom emerged onto the scene, supplanting the button mushroom on menus. Do you remember how long it took the portobello to move through the trend cycle? To gain familiarity with consumers? It slowly and deliberately shifted beyond fine dining about 15 years ago. It didn't hit ubiquity for a good five years more. Now, reflect on Sriracha. Or quinoa. Or kale. They moved through the cycle at a steady clip, going from relative unknowns to virtual pantry staples in about two years. That rapid cycling through trends is the norm now, setting a snowball pace of menu innovation.
The challenge lies in making sure that the trend cycle is not a hamster wheel. Perhaps it's better to treat it like a pace car, making sure your menu is keeping up with the ever-changing flavor preferences of your diners. Choosing which trends to explore needs to take into account brand strategy. Of course, it also needs to be tempered by the reality of SKU management.
"Companies need to make sure they're thinking strategically," says Kara Nielsen, sales and engagement manager, USA, for Innova Market Insights, as well as a long-time restaurant trends expert, based in Oakland, Calif. "Some just think in terms of limited-time offers, but it's helpful to have strategies on how you want to fit into the trend cycle—starting with where your brand fits in the trends landscape. You need an aligned strategic mission."
A higher-level view also helps the menu-innovation process at the chain level. It's not about adding Sriracha or kale or quinoa onto your menu. Their rocket-speed journeys through the trend cycles signal broader trends. Sriracha's success is about modern heat. Kale's correlates with health and wellness. Quinoa's larger driver is the interest in ancient grains and nutrient density. And all of that springs from the well of consumer desire—specifically, Millennials' desire. The emphasis that Millennials place on certain values drives modern trends. So, flavor innovation today is a requirement, but the challenge combines back-of-house practicality and intuitive brand fit.
Staying on Message
Crystallizing a brand's narrative is key, of course. But it doesn't preclude changing up the menu or pushing the envelope. What a brand is today doesn't prohibit building a new pathway to tomorrow. Having a strategy in play is crucial in defining and broadening a brand's vision. "Start with what the brand is about and where can it go. Where is the line?" asks Nielsen. "What is your appetite for innovation? Communicate it in the context of your brand to help your guests figure out what it is and decide if it's for them. If you put gochujang on the menu without context, you won't get credit for it."
Village Tavern has been serving up casual American pub fare for more than 30 years. Headquartered in Winston-Salem, N.C., this 10-unit concept touts both value and scratch cooking. Mary Grace Viado, corporate executive chef, recognizes the need to innovate to attract younger guests—all while managing SKUs and keeping longtime guests happy. The brand used to appeal primarily to Boomers. Like many restaurant concepts, Village Tavern went after the Millennial diner. The menu started evolving 10 years ago, and now they're capturing that key demographic. In 2015, Village Tavern changed its tagline from "steaks, seafood, burgers and pizzas" to "scratch kitchen and craft bar." With that shift in marketing message, Viado has tried to align the menu to reflect that more modern sensibility. She tracks flavor trends and wants to embrace as many as she can. But the realities of running an efficient professional kitchen, as well as catering to loyal guests who bring with them expectations, slow down that adaptation. "You shouldn't stop innovating because you're afraid to lose guests," says Viado. "You can't be afraid to pull menu items to make way for new flavors and new dishes, but you can't jump on every trend. You have to stay true to your promise." That's a precarious balance that requires a deft menu strategy.
A recent menu rollout showcases how she does it. Viado added the Asian Glazed Shrimp Noodle Salad, currently only offered at the Charlotte, N.C., location. To make way for it, she took off the Caprese salad, which wasn't performing all that well. The new salad, with soba noodles, mixed cabbages, peppers, snow peas, carrots, onions, peanuts and cilantro, is doing exceptionally well—now.
She actually tried to put the salad on the menu back in 2007, but it didn't sell. "We tweaked it a little and tried again. The strategy is about test, test, test. It's ongoing R&D, testing the waters, adding trending flavors, trying again," she says. With this salad, she also energized her kitchen staff. Presentation on the noodles requires precision tongs, a new technique for her team. "It's how you get them excited and keep them engaged in the brand," says Viado. New kitchen techniques—even as straightforward as mastering the twirl of noodles with tongs—help keep kitchen staff engaged.
A large part of her strategy sees replacing stale items with more interesting dishes that have more technique behind them. "It's not just about a flavor trend," she says. "It's about a premium experience through higher-level dishes. Millennials have higher expectations and want bolder flavor combinations." For instance, she recently added a smoked salmon appetizer, starring a filet of salmon smoked in-house and topped with a rum glaze.
Brand integrity dictates the boundaries of the innovation playground. "Not every trend or flavor is right for every concept," says Rob Corliss, executive chef at fast-casual Sheridan's Unforked in Overland Park, Kan., and founder of the consulting firm All Things Epicurean. "If Sriracha isn't right for your brand, pull out and look at the overarching heat trend. What's the way in that makes sense for your concept? Know your customer and that will help shape your direction. Don't be reactionary. Instead, formulate a culinary strategy."
Jamie Carawan is VP of food and beverage innovation for Twin Peaks, part of the Front Burner restaurant group, headquartered in Dallas. Twin Peaks is a gastro lodge, and he says the vision for the brand is to offer up more inventive fare than found at a typical sports bar. Part of his strategy when joining the company just over two years ago was to improve its core menu items, like chicken wings. The restaurant focused on customizable options, expanding to nine sauces and two new dry rubs. "We want to push the boundaries of what people expect, but we also want to stay in our lane," he says. "You can't be all things to all people—especially when you're trying to manage how many menu items and SKUs you have." He says that Twin Peaks benchmarks itself against Yard House, an upscale sports bar that touts "great food" and "classic rock" in its tagline. "I want their guests to come to me. That's who we're after."
Innovation in Action
The idea of managing SKUs is certainly not new, but clever strategies for maximizing high-impact ingredients across the menu are important to stay in step with today's accelerated trends cycle. "Don't overextend your kitchen, and be smart about the products you bring in," says Carawan. "Make them work hard for you while capitalizing on flavor trends." For instance, instead of sourcing line-ready goods, like biscuits, switch over to biscuit dough, he suggests. "It's more versatile, so you can use it for more than one menu item," he says. That biscuit dough can, of course, take the shape of biscuits, but it can also top a savory pie, or turn into a mini biscuit for a bar-bite application. "We also changed our fresh patties to fresh ground beef. We roll them into balls and smash them on the flattop," says Carawan. "Our burgers don't look perfect anymore, which, when you think about craft food, is what you want. It also lets us use the meat for other menu items, like chili or happy-hour sliders."
One of the new wing sauces at Twin Peaks is a jalapeño butter sauce— jalapeño marmalade, butter, lime juice, fresh jalapeño and green Tabasco sauce. To maximize use of the marmalade, he also includes it on a cheese board. "It's a good investment when you can bring in a trending flavor and use it in creative ways. Our wings are now our No. 1 seller," says Carawan. "Our guests can tell that a lot of love has been put in there."
Unforked's Corliss follows a menu strategy of relying on an ingredient's equity. "Look to those flavor platforms that have maintained relevance and can be used elsewhere," he says. He leveraged the popularity of the Hail the Kale Salad, a consistent top-six seller. "We took that love and staying power and turned it into a kale pesto for a mushroom taco," he says. "We made a connection point to the taco because of the kale salad." It's not about recycling ingredients. It's about maximizing SKUs in smart, trend-forward applications.
Like Village Tavern's Viado, Corliss also addresses the pain point of bringing along your core customer as you try to introduce new flavors and forms. As with many restaurant concepts, Unforked has been tracking the modern seafood trend and strategizing on how to tap into it. "We started with shrimp tacos," says Corliss. "Then we added the shrimp to our summer gazpacho, testing the pain tolerance with menu prices. Next, we menued seared ahi tuna tacos. Instead of our regular $4, they were $8. There was no pushback." The strategy here was about anticipating expectations and comfort levels, then adjusting the menu as successes mounted. "We then launched our version of an ahi poke bowl, but we couldn't have started there," he says. "We went from shrimp to seared to raw. We're now looking at lobster, brought in cooked. We haven't perfected it, so we haven't done it yet, but it's on our radar."
Viado tracked the skillet trend, wanting to find the right fit on Village Tavern's menu. She recently rolled out the Braised Meatball Skillet with housemade meatballs, Tuscan tomato sauce, burrata and organic stone-ground grits. "We had to bring in Italian seasoning and burrata for this item, but we thought it was worth it," she says. "The skillet hits all of the things we want to hit today." To make way for it, she removed other items that were "labor and ingredient intensive," like Cubano sliders and St. Louis ribs. The skillet dish is only in the Charlotte, N.C., location now, but is selling incredibly well—and helping to position the brand in a trend-forward posture.
The Long Game
One of the keys to staying relevant and attracting new customers is through a long-term flavor strategy. "Your menu is where you live in the moment," says Corliss. "A culinary strategy and how you look at flavor trends is how you ensure your future."
Implementing new ideas can often move slower than the trends cycle, particularly in casual dining. Being strategic about where to focus innovation efforts is a smart way in, says Nielsen. "Have a place on your menu that always changes. Pick a part of the menu that you want to play with that works with your brand. Maybe it's a rotating line of dips, sandwich condiments or beverages. Or a guacamole or queso section with different flavorings and toppings." The idea is to find a way to be nimble by building into the system a mechanism for changing out flavors. Your customer will know to look there for more adventurous fare.
That strategy also helps build up your longtime guests' stamina for innovation. "It's always about forward thinking while trying to please existing customers," says Viado. "But you have to get out of the bubble. You can't stop innovating because you're afraid that you'll lose guests. You need the buy-in of your servers and your cooks, and you need to educate your guests."
Corliss says that a great way to both energize your staff and bring in on-trend flavors is through special menus. "Make it occasion-based, perhaps around a plant-based theme like Earth Day," he says. "Or choose a brand milestone for a special menu insert." And tapping into seasonality can be as easy as switching out a tomato on a burger. "At Unforked, we'll sub in local heirloom tomatoes when they're in season across menu applications. We don't create a whole new menu around them, but just add marketing efforts to promote it," says Corliss.
Consumers today have a seemingly insatiable appetite for what's next. Implementing savvy flavor strategies can help keep them coming back for more. "To stay competitive, we have to keep trying new dishes, upping the ante," says Viado. "We have to seek out trends and interpret them for our brand. That's how we win."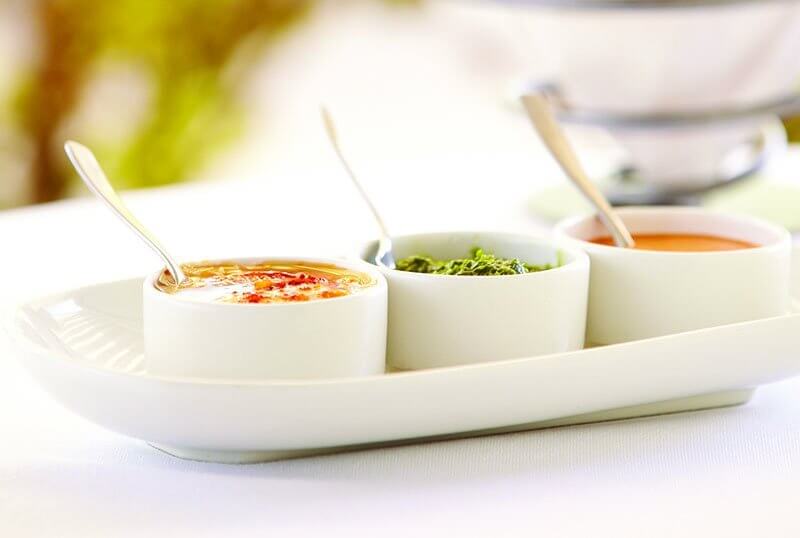 Case Study: Pico de Gallo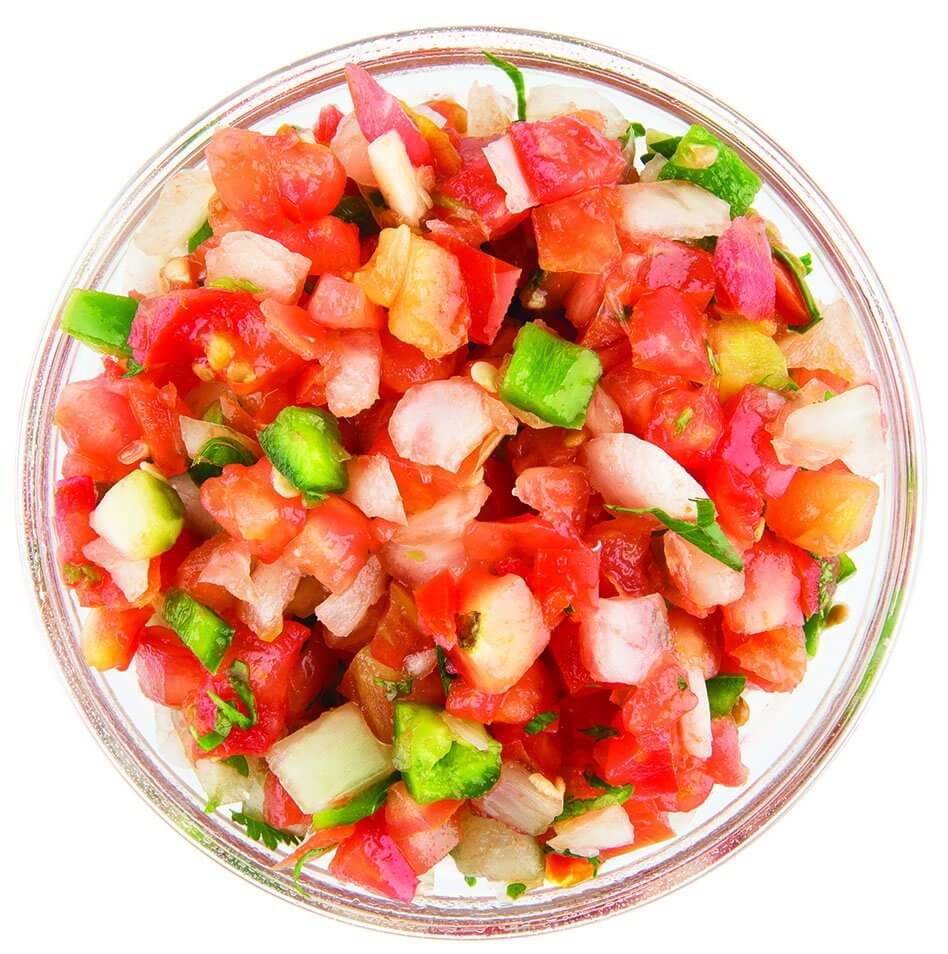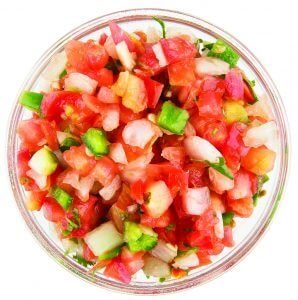 The secret sauce in a successful cross-utilization tactic is using the SKU across the menu without triggering flavor fatigue. Pico de gallo offers a great case study in how to leverage a high-impact ingredient without making it look like you're cleaning out the pantry.
We use pico in our tacos, and we also garnish our green chile soup with it. It doesn't feel like the same product as it's used in an entirely different context. And we still get that pop of fresh, big flavor that we want in each application.
Jamie Carawan, VP of Food and Beverage Innovation, Twin Peaks
Pico de gallo is a topping on a number of our tacos, but we also cross-utilize it by blending it into our summer gazpacho. There's a familiarity of flavor, which is great, but not the exact same experience.
Rob Corliss, Executive Chef, Sheridan's Unforked and Founder, All Things Epicurean
5 Ways to Maximize On-Trend SKUs
by Rob Corliss
Analyze and focus on the bigger macro-trend influence of a flavor or ingredient. Consider how the trend driver aligns with your operation instead of focusing on the specific flavor or ingredient.
Maximize a new flavor or ingredient for multiple menu or LTO cycles, introducing it in creative new ways and formats across your menu versus jumping to the next "it" trend.
Run a successful LTO flavor or ingredient for multiple years (three or more), at its cycle time/season, leveraging the proven consumer appeal instead of creating new LTOs each cycle.
Turn the equity you have from one existing star flavor or ingredient on a core menu item into a new menu creation on a different menu category or with an LTO feature.
Showcase seasonal items to maintain brand relevancy. This is a natural opportunity to change out or enhance less desirable SKUs and perpetually optimize new seasonal flavors. Use that new seasonal ingredient to test the elasticity of your menu and to gauge consumer reactions to price and new flavor experiences.