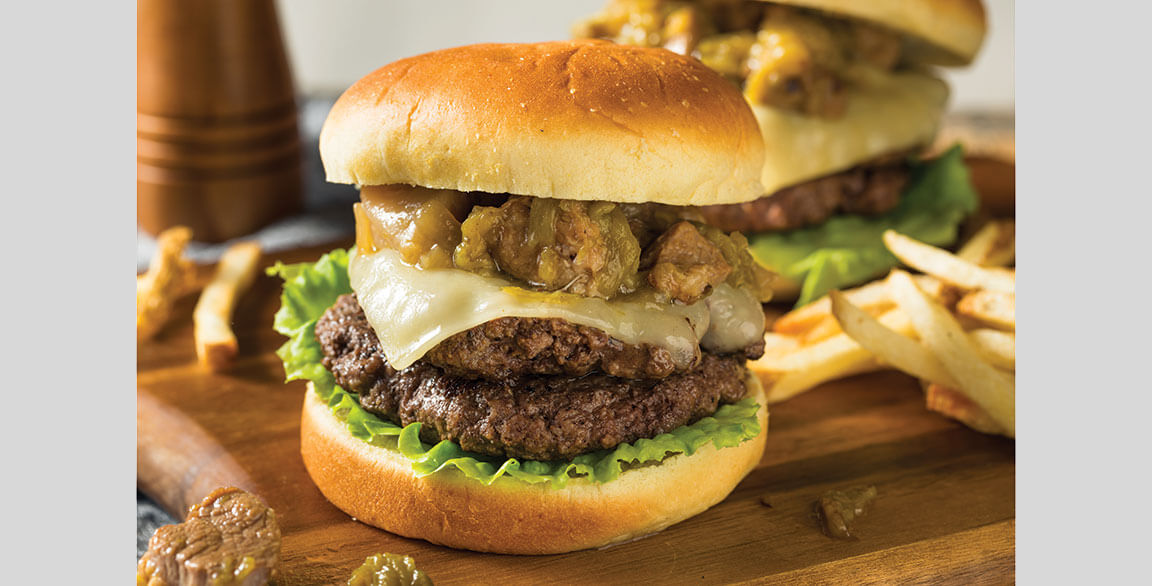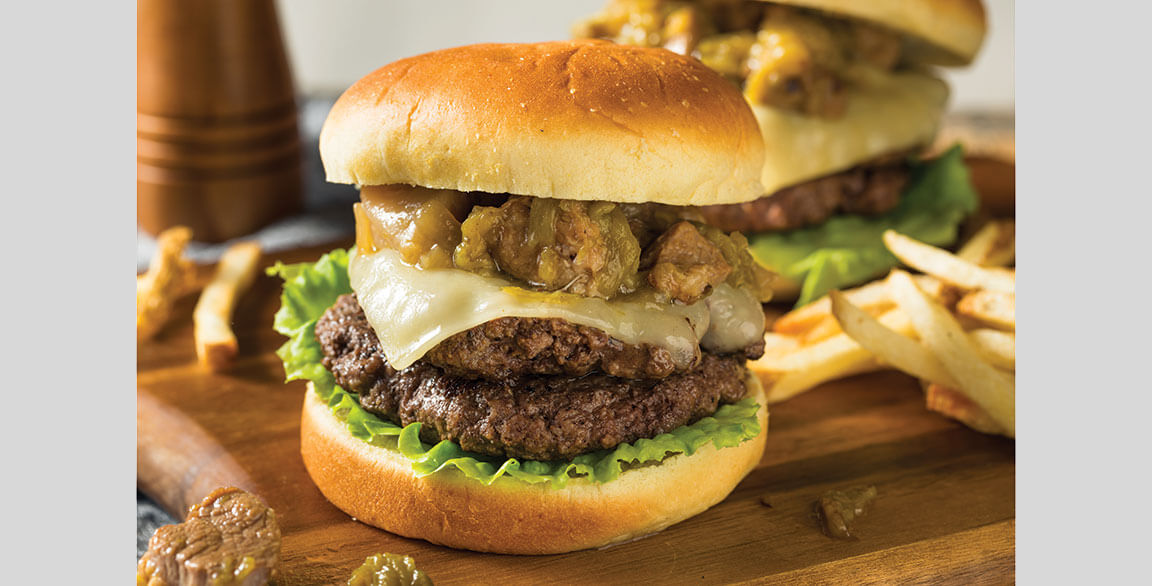 By Rob Corliss
October 5, 2021
No matter the hero in the stew—beef, chicken, lamb, fish or plant-based—the flavors are always well developed, exquisitely slow-cooked and rich with comfort. Chefs can capitalize on the hominess and intensity of flavor that make a good stew memorable, then bend the dish toward their own menu in creative renditions. Here, we present six paths into the familiar format, creating an elevated stew or braised dish inspired by this comfort classic.
1

Beef Stew

Beef is a hard-to-beat, slow-cooked menu classic, packed with both flavor and consumer appeal. Leverage its popularity by layering unexpected ingredients to create modern twists.
50/50 Tacos: A duo of coffee-braised beef chuck and portobello mushrooms finished with cocoa powder and chipotle; served in warm white corn tortillas and topped with pickled banana peppers and queso fresco crumbles
Alehouse Brisket Roll: Beer- and beef broth-braised brisket flavored with tomatoes, onions and garlic, finished with whole-grain mustard and brown sugar; sliced and served on a pretzel roll with creamy cabbage slaw
2

Pork Stew

Braised pork reliably delivers a versatile lineup of flavorful delicacies. Give them a Latin sensibility to create dishes that merge the familiar with the unexpected.
Maple-Apple Pork and Eggs: Chunks of pork butt braised with chicken broth, apple cider, apple wedges, onions and ginger; topped with a fried egg and a drizzle of hot maple crema
Enchilada Pork Peppers: Bell peppers stuffed with chunks of citrus- and red chile sauce-braised pork butt; topped with shredded Jack cheese and crushed tortilla chips
3

Chicken Stew

Whether bone-in or boneless, braised chicken is a downright delectable centerpiece. Build on its craveable comfort by introducing bold flavors to appeal to sophisticated tastes.
Chicken Verde Torta: Boneless chicken thighs slow-cooked in salsa verde gravy, topped with refried black beans, avocado slices and Chihuahua cheese, stuffed in a telera roll and griddle pressed
Jammin' Chicken: Jerk-marinated chicken pieces browned and slow-simmered with coconut milk, chicken broth, red bell peppers, pearl onions and jalapeño; finished with mango purée
4

Lamb Stew

Lamb is a dependable showcase for impressive, satiating flavor. Turn up the culinary adventure by putting it front and center when crafting inventive new variations of mainstream offerings.
Easter Bowl: Braised boneless lamb shoulder slices, mixed greens, roasted potato wedges, asparagus tips and pickled onions; served with creamy lemon-chimichurri sauce
Rancher Chili: White bean chili topped with shredded red wine-braised lamb shank, a spoonful of the reduced braising liquid, feta cheese crumbles and frizzled onions
5

Fish Stew

Braised fish provides a lighter, yet full-flavored profile to stew-style offerings. Pair it with functional ingredients to connect with wellness-minded consumers.
Forbidden Fish Burrito: Tomato-sazón stewed tilapia fillet, black rice, charred bell peppers and onions, romaine lettuce ribbons and grated pepper Jack cheese wrapped in a large flour tortilla
Caramel-Cod Ramen: Fillet of cod braised in a broth of ginger, dashi, soy sauce and sugar; served with ramen noodles, bean sprouts, steamed baby bok choy and a dollop of red pepper butter
6

Vegetable Stew

More consumers are on the hunt for flavorful vegetable-centric dishes that offer unique textures with the hearty satisfaction often found in meat-based braises. Tap into the popularity of plant-forward fare by menuing flavorful, craveable braises starring produce.
Pepper Jelly Wax Beans: Yellow wax beans stewed and glazed with hot pepper jelly and minced peaches
Marrakesh Poutine: French fries and cheese curds smothered with braised root vegetable gravy; sprinkled with ras el hanout