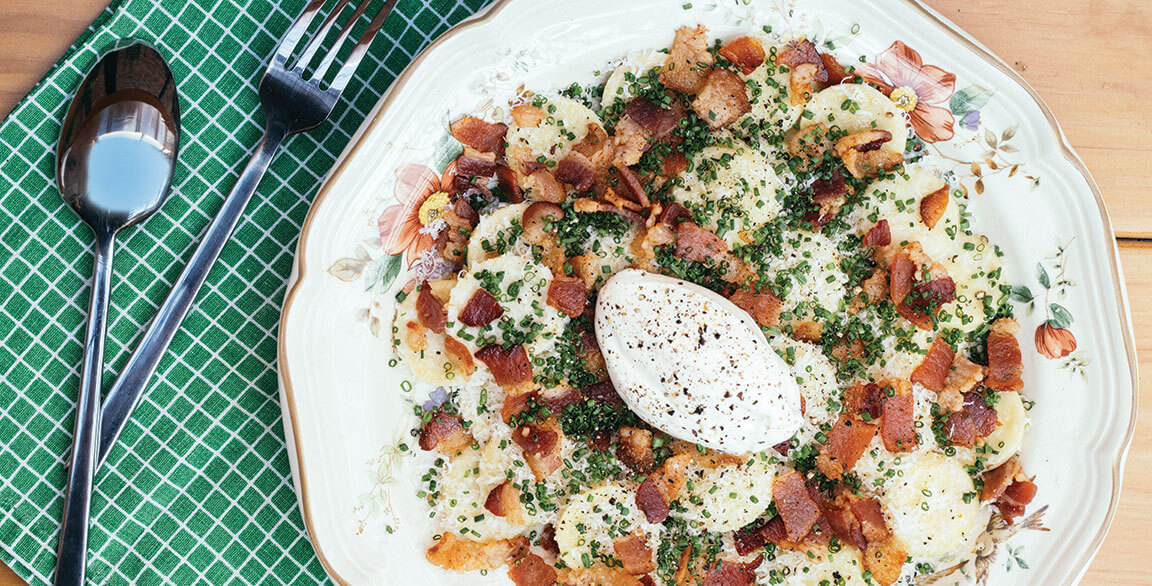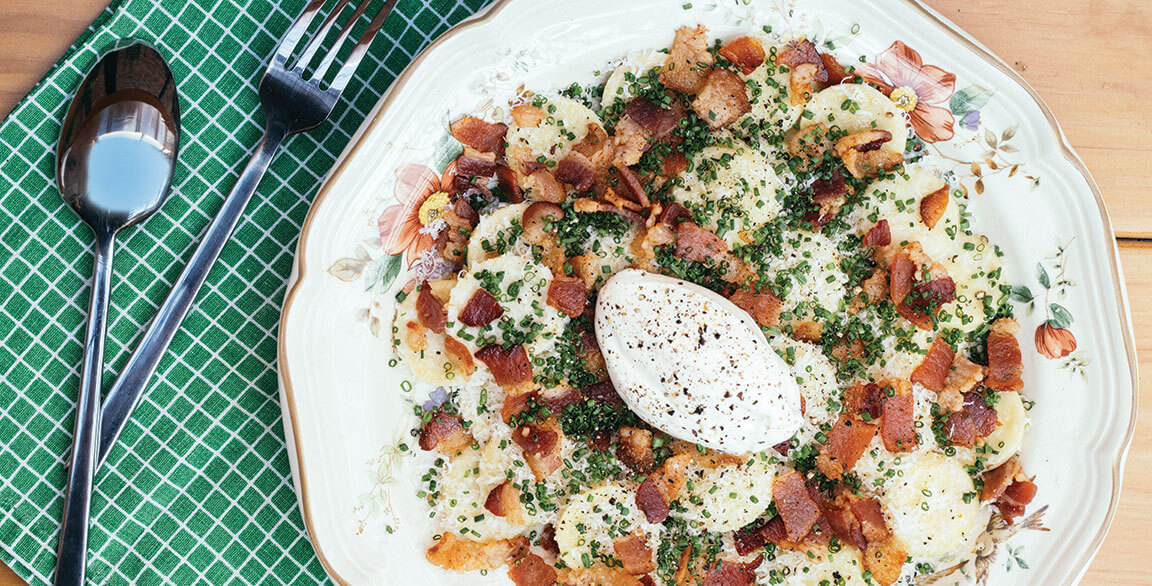 By Mike Kostyo
September 15, 2021
Cheesemonger Vanessa Tilaka Kalb had long envisioned establishing a small shop one day. Four years ago, she and husband Thomas found themselves inspired to go all the "whey" to launch Agnes Restaurant & Cheesery, which opened its doors this year in Pasadena, Calif., picturesquely situated in a large, historic stable built in 1922. With the success of global brands like Eataly and smaller concepts like Joan's on Third in Los Angeles, the pair knew this idea of combining a marketplace with a restaurant was ripe for success. "Guests are loving the idea of being able to grab a cheese plate and a glass of wine and also being able to take these home if they really enjoy it," says Vanessa.
At the thoughtfully curated Cheesery, Vanessa finds customers eager to learn more about cheese in general, while also expressing interest in organic, grass-fed and biodynamic options. Meanwhile, on the restaurant side, Thomas' updated comfort-food menu keeps cheese in the spotlight but without being hidebound to a theme. For example, there's the Loaded Baked Potato Ravioli featuring spins on the traditional fixings with ingredients like crispy pancetta, broccoli relish, chives, crème fraîche and cheddar.
With Agnes, the Tilaka Kalbs have taken to heart a maxim that many chefs hold near and dear: Everything is better with cheese. Indeed, according to Datassential, there are a handful of ingredients and descriptors that can be added to a dish that will reliably increase their scores in menu concept tests. These include "bacon," "crispy" and "cheese." It's no coincidence that there are more items featuring cheese on major restaurant chain menus than any other ingredient, reports Datassential. With such an abundance of cheesy options on menus today, chefs are working harder than ever to create standout dishes.
Cheese
bored
It took a pandemic and a year of quarantine restrictions to unexpectedly inject new life into one of the most socially focused menu items: the charcuterie and cheese board. Many chefs seeking that all-important pandemic pivot developed new takes on over-the-top boards, responding to customer demand for cheesy comfort foods and fun options to mark special occasions at home. Patrons ordered them in droves, often showing off the decadent, artfully arranged boards on Instagram and TikTok.
Gillian Rozynek believes today's consumers love charcuterie boards so much that they're ready to see them move into a segment where they are rarely found: quick-service restaurants. On that faith, she founded Kured, a Boston concept that she likens to the "Chipotle of charcuterie." Diners at the shop move along the service line, selecting items to build a custom box or a smaller, novel, handheld cone. Customers can select various cheeses from among nearly a dozen options: manchego, Brie, truffle cheddar and Gouda are the most popular. They also choose meats (from a range that includes everything from duck salami to Ibérico chorizo) and extras (such as clover honey, sesame crackers and fresh apricot purée) to assemble a personal, meal-worthy board. Online ordering is also available.
The to-go cones were inspired by examples Rozynek discovered when studying in Madrid. "Each day after school, I would walk to the Mercado de San Miguel and grab a paper cone filled with salami bites or fresh-cut prosciutto," she says. Kured's cones, along with its charcuterie boards, are also available in curated options, such as the Spanish-inspired "Madrileño" and the Italian "Leaning Tower of Salami" (cones), as well as the "Basquiat" and the "Banksy" (boxes).
Royznek isn't the only one who is thinking beyond the appetizer menu when it comes to cheese boards. At Broder Øst, a Nordic-inspired breakfast and lunch restaurant in Hood River, Ore., the Swedish Breakfast Bord is a mainstay on the morning menu. In addition to inclusions like a soft-boiled egg, Danish rye bread and smoked trout, there is an ever-changing array of hard and soft cheeses, including gjetost, the sweet, Norwegian cheese made by caramelizing whey.
Going Global Is Gouda
There are few countries around the world that don't have at least one or two cheeses to call their own (or hundreds, if you are France). Swapping in some of these globally inspired options in place of a more traditional cheese is a proven approach in creating unique, trend-forward menu items: think Mexican onion soup topped with melty asadero cheese or an Italian fonduta with cubes of garlic bread dipped into mozzarella.
Manish Tyagi, chef of Aurum, a contemporary Indian bistro in Los Altos, Calif., has created a signature cheese-driven mash-up with his Spinach & Paneer Lasagna. He combines paneer with mozzarella to introduce greater complexity and maximum meltability, layering it with saag (spiced spinach). It's finished with fenugreek leaves and tomato sauce, with more cheese grated and browned on top.
"I wanted to create something different, and I grew up eating saag paneer 'dry,' not like we get at Indian restaurants in the U.S.," he says. "So, I replicated lasagna verde without the pasta sheets, but with the spinach cooked from my mother's recipe. Flavor-wise, it's exactly the way I grew up eating the dish."
Josef Centeno, chef/owner of several Los Angeles restaurants, including upscale Tex-Mex cantina Bar Amá, is showcasing the incredible range in the cheese category today, from Mexican varieties to plant-based "cheeses." For the classic queso, he developed a creamy, flavorful cheddar-almond "queso" made with a dairy-free cheddar. Meanwhile, the traditionally cheesy chile relleno gets its own update by filling the pepper with vegan cheese, morita chiles and calabacitas.
"Both personally and in the restaurants, I'm making a shift toward more plant-centric menus, offering vegetarian and vegan-friendly substitutions," Centeno says. "It's nice to make a version that can be enjoyed by people who need dairy-free choices."
Classic Cheese Play
While cheese is a go-to comfort food on its own, it's also the defining ingredient in a vast array of comfort classics, from mac and cheese to broccoli-cheddar soup. After a year in which comfort foods overwhelmingly dominated customer purchases, this is an ideal time to reinvent familiar standards and deliver exciting takes. Cincinnati-based sandwich chain Tom & Chee is playing with the iconic grilled cheese sandwich, amping up the cheese by stuffing it with unexpected inclusions, such as barbecue kettle chips for its Barbecue & Bacon option or goetta, a type of German breakfast sausage made with oats that's a local favorite, for its Westsider sandwich.
"To make cheese work and keep it exciting, you have to be imaginative and creative," says Tyler Kraemer, director of training for GSR Brands, the parent company of Tom & Chee. "You have to be willing to try new things, crazy things, unheard-of things."
When in doubt, you can always just add more cheese to any and every part of the dish imaginable. Upgrade a mac and cheese by infusing the pasta with Parmesan or Romano. Update a quesadilla by incorporating cheese into the tortilla itself.
The menu at Tillamook Creamery Dining Hall, at the company's Oregon headquarters, features an extensive list of cheese-centric dishes, but Josh Archibald, executive chef, is always looking to add more. For his update on cheese curds, which are both batter-dipped and breaded for double the crunch, Archibald figured there was no better dipping sauce for cheese than more cheese.
"In order to really showcase the curds, we developed an extra sharp cheddar-ranch dressing, which is made in-house with spices, seasonings and clean-label ingredients," he says. "The grated cheddar adds a new textural component, and the acidity from our sour cream helps balance some of the richness of the curds."
A Cheesy Ending
Cheese is no stranger to the dessert menu, but today's modern desserts are going far beyond cream cheese-based takes for finishes with greater flavor depth. Jason Ryczek, chef of Alley & Vine, a modern farm-to-table concept in Alameda, Calif., says, "There are many ways to finish a meal. Not everyone, myself included, wants something sweet." But when his conventional option, a straightforward cheese plate, wasn't selling, Ryczek began experimenting with an individual-portion variation of a dish that enjoyed success at catered events like weddings. Eventually, he landed on his phyllo-wrapped Brie stuffed with red walnuts and apricots, and finished with seasonal fruits and chewy, naturally-sweet honeycomb. While the dish features those sweet notes, it leans so savory that one customer complained about its absence from the appetizer menu. "I simply smiled and said, 'You can order it whenever you'd like. No one here will judge,'" says Ryczek.
The dessert menu at Tom & Chee features a grilled cheese doughnut that sandwiches a mild cheddar between two halves of a glazed doughnut, which is grilled with the flat sides facing out for maximum surface-area browning. Tyler Kraemer, director of training, says that he frequently offers to pay for a skeptical guest's doughnut if they don't like it. "I have not had to buy one yet," he says.
To incorporate cheese onto the menu in a more playful way, take inspiration from the supermarket snack aisle, which is filled with cheesy chips, crisps and doodles galore. Stephanie Izard, Chicago-based Girl & the Goat chef/owner, is well known for her love of Cheez-It crackers. In fact, she even celebrated her wedding with a four-tiered Cheez-It cake that went on to inspire retail variations.
She offered one through online marketplace Goldbelly earlier this year, as well as a Cheez-It Crunch Cake with cheddar caramel and cheddar caramel buttercream at her new Sugargoat bakery in Chicago.