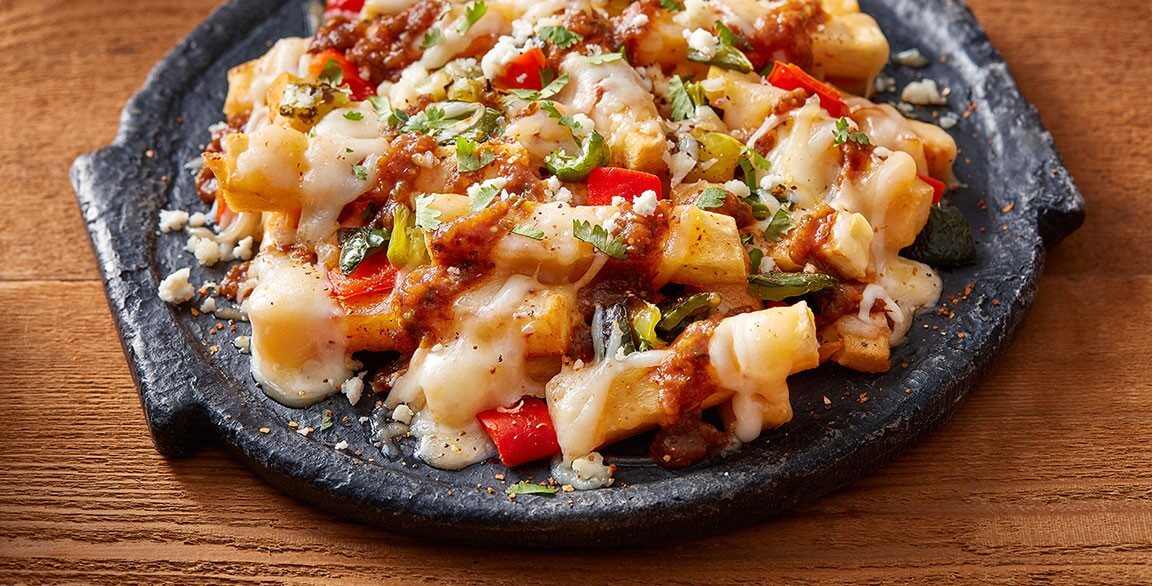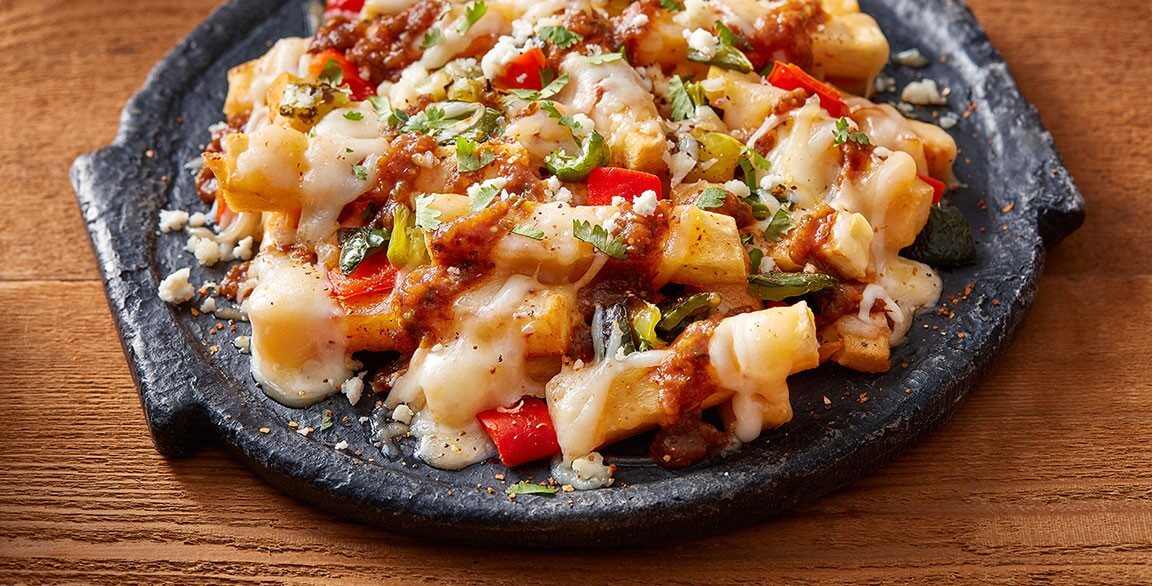 California Cheesy Yucatán Poutine
Recipe courtesy of Chef Bob Gallagher
Sponsor: California Milk Advisory Board
Servings: 6 to 7 share portions
Ingredients
Southwest Seasoning (Yield: 1 cup + 1 Tbsp):
3 Tbsp granulated garlic
3 Tbsp dried Mexican oregano
3 Tbsp onion powder
3 Tbsp smoked paprika
2 Tbsp lemon pepper
1 Tbsp ground cumin
1 ½ tsp ancho chile powder
1 ½ tsp cayenne pepper
Fire-Grilled Pepper Salsa (Yield: 4 cups):
10 oz tomatoes, cored
8 oz tomatillos, husked
6 oz red bell peppers, stemmed
5 oz Anaheim chiles, stemmed
4 oz white onion, 2-in slices
3 oz jalapeño, stemmed
1 oz Serrano peppers, stemmed
As needed olive oil
2 Tbsp Southwest Seasoning
2 Tbsp fresh lime juice
1 Tbsp chopped cilantro
As needed salt and pepper
Yuca Fries (6 to 7 portions):
5 lb Yuca (Cassava), uncleaned
Poutine (per order):
10 oz Yuca Fries, blanched
As needed Southwest Seasoning
½ cup shredded Real California manchego cheese
½ cup shredded Real California Oaxaca cheese
¾ cup Fire-Grilled Pepper Salsa, warmed to 145 degrees F
½ oz roasted Anaheim peppers, diced ½ in
½ oz roasted poblano peppers, diced ½ in
½ oz roasted red peppers, diced ½ in
3 Tbsp Real California queso fresco cheese, broken into pieces
1 Tbsp chopped cilantro
1 ea lime crown or half
Directions
For the Southwest Seasoning: Combine the spices until well blended. Cover and store.
For the Salsa: Brush all the vegetables with oil and fire roast them until charred all over. Remove the seeds from the peppers. Coarsely chop the vegetables. Purée them in a food processor until smooth. Stir in the Southwest Seasoning, lime juice and cilantro. Season to taste.
For the Yuca Fries: Rinse the yuca and cut it into 4-in pieces. Set them cut-side down and carefully trim off the skin. Cut into wedges and remove the fibrous center. Cut the wedges into pieces 3- to 4-in long and ½-in wide. Blanch them in boiling water in batches until almost fork tender, 6 to 7 minutes. Drain and cool for at least 15 minutes before frying.
For the Poutine: Fry the yuca fries at 350 degrees F until crisp and brown. Drain and season well with Southwest Seasoning.
For each order, layer 6 oz of the fries on a platter, topped by half the manchego and Oaxaca cheeses. Build a second layer with the remaining fries, the salsa, manchego and Oaxaca cheeses. Top with the diced peppers. Bake at 350 degrees F for 4 to 5 minutes, until cheese is bubbling and beginning to brown. Sprinkle with the queso fresco, cilantro and 1 tsp Southwest Seasoning. Serve with lime.
Project Management: Summit F&B
Photography: Carlos Garcia // Food Styling: Peg Blackley & Bree Williams