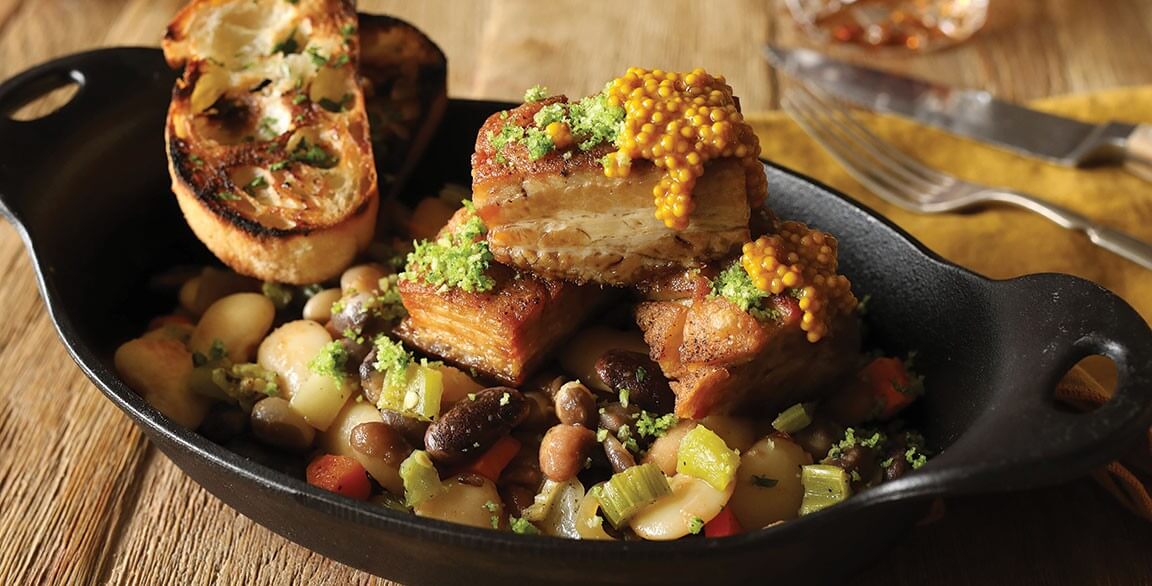 The darling of the food world right now is the vegetable. Actually, plants in general. There's certainly a lot to celebrate as chefs continue to exalt produce, nuts and legumes in ways that make them worthy of the bright spotlight. But in all of that well-placed excitement, animal proteins still command the stage.
Consider this: Tender Greens, a Los Angeles-based fast casual that serves seasonal salads, soups, sandwiches and plates, pays serious attention to the flavor development and craveability of its plant-based ingredients. As evidence, look to its Happy Vegan Salad with farro, cranberry and nuts, quinoa with cucumber and beets, green hummus, tabbouleh and baby greens in a bright lemon vinaigrette.
But meat is still a big part of the menu mix. Why? We asked CEO and president of the concept, Denyelle Bruno. Her answer is straightforward, but telling: "It remains part of the conversation because, despite being called Tender Greens, our No.1 item is our steak plate."
Tender Greens is not alone. Most restaurant brands can report that consumers continue to seek meat out on menus. In fact, 2018 saw record-high meat consumption among American consumers, according to the U.S. Department of Agriculture. But it's not wrong to say the landscape is changing, with phenomenal plant-forward menu development sprouting up and making way for an evolved way of eating.
It's a Wide World
With all of the plant-forward menu innovation, how does animal protein fit into the conversation, and how do restaurants ensure they're not leaving the vast number of meat eaters behind?
"I think a lot of R&D is naturally morphing into a menu that doesn't get a 'no' vote from a meat eater, vegetarian or vegan—there's something delicious on the menu for everyone," says Katie Sutton, consulting chef at Katie Sutton Consulting in Orange County, Calif. "But what that looks like for each brand is very different."
Fast casuals, she says, have a more straightforward pathway here. "It's all about customization and variety so it's easier to give guests the options of meat-centric or plant-centric," says Sutton. She helped create the menu at Plancha Latin Kitchen, a Latin fast casual in Long Beach, Calif., that launches in August. "We brainstormed a lot about where meat would fit into the menu, and it's got a big presence, but our ideation naturally took us more toward vegetarian options as a lot of the cultures we're representing are heavy in those ingredients," she says. The menu demonstrates a deft balance, where diners can order Chipotle Cauliflower with brown rice, black beans, chipotle cauliflower, Cuban salad, chimichurri and crispy garbanzos. They can also choose Cuban Carnitas, with "plancha" rice, braised greens with bacon, carnitas, Cuban salad, Peruvian green sauce and escabeche.
Those choices don't represent a "stay-in-your-lane" style of dining; Plancha is not necessarily looking to entice strict vegans or strict meat eaters. Instead, the restaurant's varied, modern menu reflects an important consumer shift that sees a fluidity in dining habits. Plant-forward on Tuesday, meat-centric on Wednesday. As long as it's well executed, it all plays to a broader consumer base.
Although fast casuals may have a format that's more readily accepting of customization, some restaurants are using personalization and shareability to help diners decide where their balance lies. Take a look at The Little Beet Table, a 100 percent gluten-free restaurant concept that serves American fare, with locations in Chicago and New York and two more opening soon in Chevy Chase, Md., and Greenwich, Conn.
Its menu is thoroughly modern, with dishes like Baby Carrot with carrot miso and sunflower-seed granola, or Grilled Short Rib with rice noodle, pea-shoot salad, black garlic and chile oil. Animal proteins are well represented on the menu. Guests are encouraged to order for the table, sharing plates and dipping into plant-centric or meat-centric with glee.
"The goal with our menu is to have something for everyone," says Matt Aita, executive chef. "We try to have a diverse and versatile menu, and we give the option to add protein to pretty much all of our salads and bowls, so people can mix and match to their preferences while still enjoying a really flavorful meal." That flexibility is a smart strategy in appealing to today's diner.
A Shift in Inspiration
One of the wonderful elements of the plant-forward movement has been the sheer creativity behind menu development, truly adding craveability to ingredients that used to be sidelined. Gjelina in Los Angeles, one of the pioneers here, set the bar for flavor complexity in dishes like its Charred Yellow Wax Bean with cherry tomato, Fresno chiles, basil and dukkah.
Gabriel Caliendo, VP of food and beverage and co-founder of Lazy Dog Restaurant & Bar, a Huntington Beach, Calif.-based casual-dining concept, uses that "new" model of flavor development around plant-based ingredients as a starting point for protein-heavy menu ideation.
He offers a chermoula-charred carrot as example. "If I start with wanting to feature that ingredient and those flavors, I then build from there," he says. "Before, we would always begin with the protein. That has shifted." So, he has the chermoula-charred carrot. It leads him to Morocco. "That makes me think of pomegranate molasses and couscous, and Moroccan chicken," says Caliendo. "But instead of a center-of-the-plate chicken breast, I'll dice it and toss it in a harissa-spiked sauce, then lay it over couscous with those chermoula-charred carrots. But I'll want it to fit into our concept, where the pillars are Americana, so I wouldn't serve it in a tagine. Instead, I'll probably put that in a cast-iron skillet."
The strategy sees Lazy Dog highlighting trending ingredients but cushioning them in the familiar. "I'm grounding that dish with chicken, but the inspiration is the carrot—we're building off of flavor profiles that aren't widely exposed, but relying on proteins to deliver those flavors," he says. Loosely, his formula pairs more "extreme" flavors with chicken, "middle-of-the road" flavors with shrimp, and more familiar flavors partner with proteins like lamb and Kobe beef.
"We have to ask ourselves: How far out there is this? Then we rein it in with the protein pairing," says Caliendo.
He shares his thinking behind developing a new menu item: Pork Belly N' Beans. His starting point was legumes, and he wanted to feature them in a higher-end menu item. "My filters were rustic and Americana," he says. "I wanted to develop a pork and beans dish that highlighted American producers." The dish, served in a cast-iron skillet, features Beeler's pork belly slow braised in bone broth with warm heirloom beans, topped with pickled mustard seeds, green-onion crumble, and served with grilled country toast. "It's a fun dish that is meat-focused and plant-focused—and all of it is recognizable to our guests," says Caliendo.
Stepping Up Value
Menuing smaller portions of meat is a viable strategy that a number of restaurant brands are implementing, following a "protein flip" model that decreases the protein size while increasing the plant-based ingredients on the plate. Other restaurants want to maintain portion size.
Steven Sturm, corporate executive chef of Firebirds Wood Fired Grill, based in Charlotte, N.C., describes the concept's core as "meat and sides." "Our menu appeals to meat-centric consumers, so on our core menu, our portions are unchanged," he says. But the brand is embracing veg-centric innovation. "Our primary focus now is on sides and a presentation change-up," says Sturm. That includes enticing, signature sides like Port Mushrooms, Cider Slaw and Spiced Pecan Green Beans.
At Firebirds, entrée innovation involves greater attention to flavor detail on the accompanying components. Sturm points to the summer feature of the Honey Chile Glazed Pork Chop as an example. It features a 12-ounce, hormone-free, center-cut chop, served with crispy sweet-potato fries and blistered-tomato relish. "It's a hefty portion still, but we're increasing value with attention to flavor on the whole plate," he says. For example, the tomato relish features multi-colored tomatoes cooked in an ancho-balsamic reduction. "Our strategy is about offering interesting, flavorful sides that serve as a gateway for people who want to go on a plant-forward journey."
Firebirds is also looking at maintaining portion size but changing up the cut of meat to help offset the cost of the new style of sides. "We're putting more money into sides, but we still have to hit that price point that our guests want," he says. The restaurant's spring feature of Wood Grilled Flat Iron Steak is a great example, sliced and served with roasted garlic butter, crisp Parmesan fries and a marinated cucumber salad. "The flat iron is 100 percent edible, so the value is still there when compared to a ribeye, where 10 to 15 percent isn't edible," says Sturm.
Lazy Dog is following a similar strategy, serving a 10-ounce flat iron with garlic butter and waffle-cut au gratin potatoes, green beans with an almond-walnut crumble and housemade gravy on the side. "When I go to a steakhouse, I look for interesting sides that accompany the meat," he says. "I took that approach with the waffle-cut potato gratin and the green beans—a play on green bean amandine—to increase the value proposition."
Just as with the wave of mindful flavor innovation around plant-forward menus, chefs today are paying attention to the importance of innovating around meat-centric ones.
Modern Moves
In this rapidly changing landscape, how do restaurants cater to the guest looking for a plant-forward dining experience without disenfranchising the traditional meat-eater? Nicky Kruse, senior strategist for The Culinary Edge, a food and restaurant innovation agency based in San Francisco, weighs in with five key menu strategies:
Give Produce a Meatier Role Let vegetables become the hero, really developing flavor complexity for that crave factor.
Bring Produce into Traditional Meat Formats Incorporating vegetables into traditional "meat only" formats allows animal proteins to remain front and center, but balances the dish with a plant-forward approach. The blended burger is a great example.
Double Down on Vegetables If reducing center-of-the-plate proteins seems like too big of a leap, an alternative approach is to keep the protein portion the same, but increase the amount and variety of vegetables on the plate, cooked with great attention to detail.
Up Your Small-Plates Game Consider adding a menu focused on small plates, where guests have an opportunity to try veg-centric dishes without the commitment of a full meal.
Commit to High-Quality Proteins If meat continues to play a hero role on your menu, using higher quality, humanely raised, and ethically sourced proteins can help reinforce overall value and commitment to quality.