There's something interesting happening around nostalgic foods. Yes, retro desserts and diner fare always seems to circle back into favor, but this particular wave of nostalgia is linked to younger generations—Millennials and Gen Z.
What do they have to be nostalgic about yet? It seems that a number of them hold a fascination with nostalgic fare, enjoying its throwback sensibility without necessarily throwing back to their own past experiences. With that backdrop of interest, enthusiasm is palpable for an ingredient that they are actually emotionally connected to.
Enter cereal.
Christina Tosi at Milk Bar in New York started the craze a few years back with her Fruity Cereal Milk Soft Serve that "tastes just like the milk at the bottom of a bowl of Fruity Pebbles." Now, restaurants are capitalizing on the inherent nostalgia of cereal, the vivid colors and built-in fun factor.
At Doughnut Dollies in Marietta, Ga., Anna Gatti, chef/owner, menus the Cereal Bowl Doughnut, starring a brioche doughnut with creamy, sweet cereal-milk icing (cereal milk, ground cereal, confectioner's sugar, unsalted butter and salt) and a topping of Froot Loops.
"It's a favorite year-round, and we have fun mixing it up with various cereal toppings," she says. "The cereal-milk icing is milk soaked in whatever cereal is sprinkled on top. At Halloween, we feature Count Chocula."
Operators are maximizing the emotional tie most diners have to cereal, then upping the game by featuring both the cereal milk and cereal in pancakes, cocktails, desserts and more.
Cereal Milk Mania
"I think anytime you get taken back to your childhood, those flavor experiences captivate you. Serving cereal milk with alcohol is a win-win, taking you back to your youth while giving you a grown-up experience," says Lance Sellers, general manager of Nighthawk: Breakfast Bar, an all-day breakfast place in Los Angeles.
Nighthawk made headlines recently with its clever iteration of cereal milk, adding booze to the equation. Served in mini milk bottles garnished with the corresponding cereals, its Spiced Cereal Milks include: Cinnamon Toast Crunch with spiced rum; Honey Nut Cheerios with bourbon; and Cocoa Puffs with vanilla vodka.
The Cinnamon Toast Crunch version is the most popular. "We're playing around with other cereals—Apple Jacks, Fruity Pebbles and Reese's Puffs," he says. Nighthawk also menus a Cocoa Fashioned, starring Cocoa Puffs-infused bourbon, demerara syrup, mole bitters and Angostura bitters.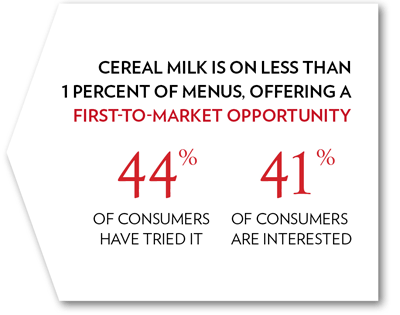 At the Meadow Neighborhood Eatery + Bar in San Antonio, Texas, owners PJ and Lindsey Edwards say they took inspiration from Milk Bar for their boozy cereal milks. "I've always appreciated the classic brunch cocktails, but we wanted to have a little fun," says Lindsey Edwards. "These cocktails bring a whimsical and childhood memory to play with an adult spin. They've been a huge hit!"
Instead of dairy milk, the restaurant features almond milk in its cereal-milk cocktails. The cereal is soaked overnight in almond milk, then strained.
The Fruity Pebbles Cereal Milk Cocktail is mixed with Giffard elderflower syrup and Bigallet China-China liqueur, while the Cocoa Puffs Cereal Milk Cocktail comes with vanilla vodka and Montenegro amaro. The cocktails are playfully served in milk bottles with a rim of crushed cereal.
Cereal Stars
Cereal Milk Milkshake: Vanilla ice cream, spiced rice milk, Apple Jacks
—Alamo Drafthouse Cinema, based in Austin, Texas
Doughnut Holes served with cereal milk
—Foxy Brown, Fort Lauderdale, Fla.
Breakfast Punch: Blend of corn whiskey, aged rum and Jamaican rum with various spices, citrus and homemade Cinnamon Toast Crunch-infused milk, clarified
—Horsefeather, San Francisco
Child's Play
Beyond boozy cereal concoctions, there are fantastically fun renditions that simply celebrate the riotous colors and childhood abandon that so many cereals bring to the table. Pancakes, waffles, French toast and doughnuts are getting on the cereal train, exploiting their rich, Crayola colors and their sweet, crispy texture.
At Lincoln Tavern in Boston, the Fruity Pebble Pancakes combine a decadent stack of pancakes with a topping of cereal milk anglaise and a tumble of Fruity Pebbles. Other menu examples include:
Fruit Loops Mini Donuts in five vibrant colors—red, yellow, purple, green and blue
—Carl's Jr., based in Nashville, Tenn.
Cornflake French Toast
—Cafe Buna, Marina del Rey, Calif.
Milk n' Cereal Pancakes: A stack of fluffy pancakes drizzled with sweet milk syrup, topped with Frosted Flakes, seasonal berries and sliced banana
—Scratch Kitchen & Meatery, Honolulu
The Shake Down
It's hard to think of a better pairing than cereal and milkshakes, especially in this age of the freakshake, where outrageous fun is the order of the day.
Burger King has recently run two milkshake LTOs leveraging the fun of popular childhood cereals. Both its Froot Loops Shake and its Lucky Charms Shake star the cereal, plus soft-serve ice cream.
At Milk & Cream Cereal Bar in New York, guests can choose from 18 cereal varieties to blend into their ice cream shake, including Honey Nut Cheerios and Lucky Charms, and then choose a topping like Frosted Flakes or gummy bears. To round out the fun, grape jelly, honey or other ingredients are drizzled on top.
At Pizza & Burger by Michael Mina, located at the iconic Fontainebleau Miami Beach in Miami, a menu of indulgent milkshakes includes the Strawberry and Cream Milkshake with vanilla gelato, milk and strawberry syrup topped with a chocolate-dipped Rice Krispies treat, graham streusel, strawberries, drizzled strawberry syrup and whipped cream. And in case guests want to "upgrade," they can add a shot of Jack Daniels.