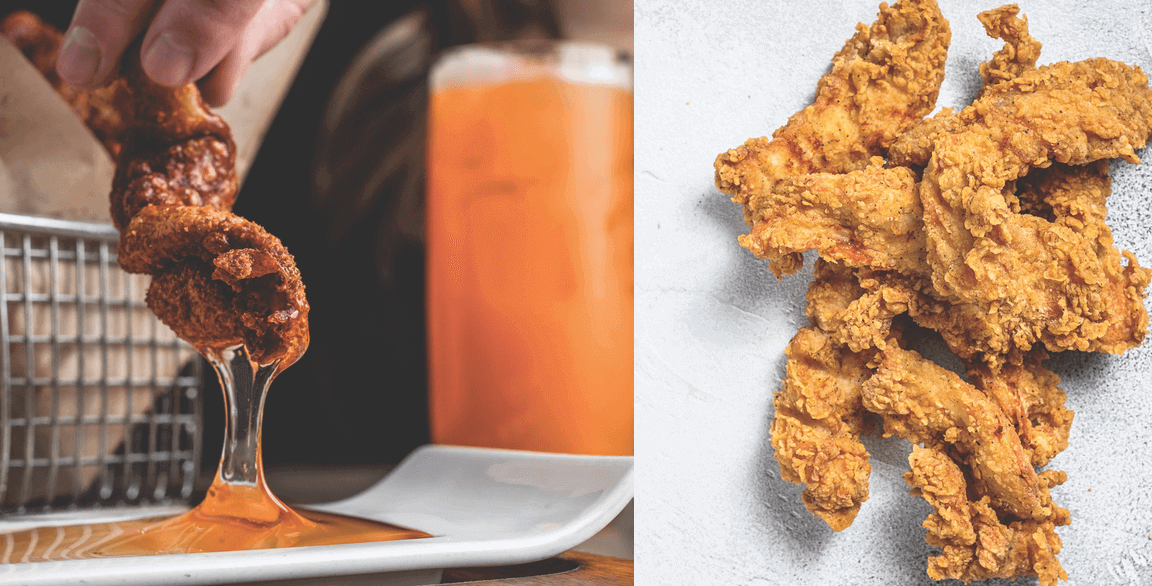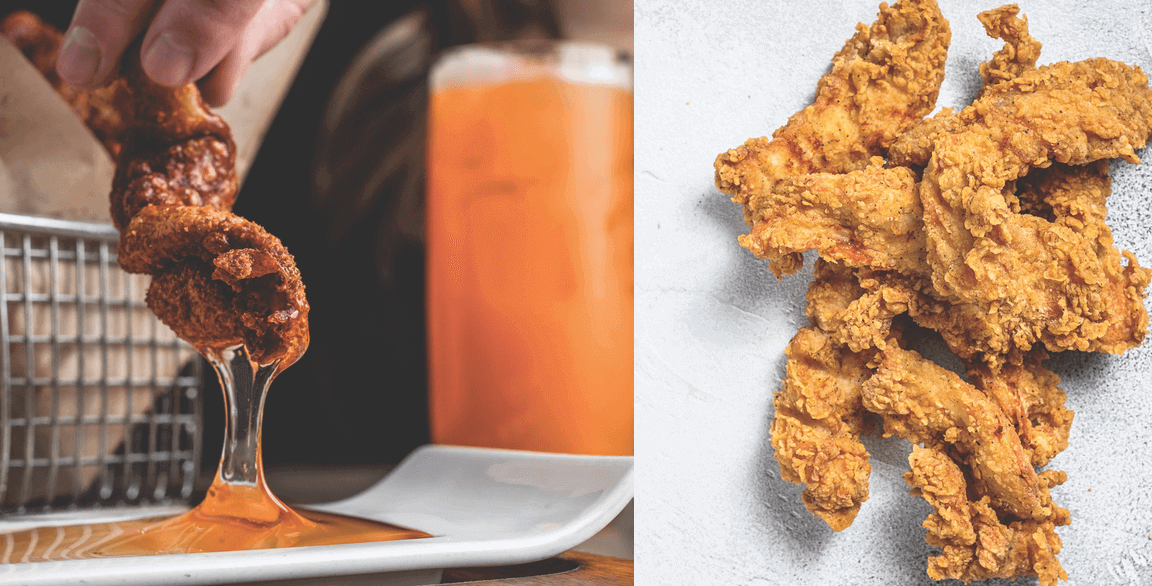 By Maeve Webster
March 23, 2022
Chicken skins have been creeping in on chicharrones' turf over the last few years, finding a place in creative menu development thanks to their highly satisfying mouthfeel and rich, savory flavor. Their emergence began in earnest 10 years ago, when proponents of nose-to-tail cuisine highlighted the value of whole-animal usage as a means of both decreasing waste and leveraging parts that could lift high-impact dishes at a relatively low cost. But today, the momentum behind this trend is gathering energy from other factors: flavor palates tilting more to savory profiles; the continued influence of Asian and Latin American cuisines; the love of fried chicken; and the need for foodservice kitchens to prioritize efficiency in the face of supply chain struggles and shortages of skilled staff.
"Any restaurant looking to promote small plates and communal dining should put chicken skins on the menu immediately," says Jamie Simpson, executive chef liaison of The Culinary Vegetable Institute in Milan, Ohio. "Aside from the common thread of Japanese or Southern food, chicken skins are a versatile ingredient. They can be applied anywhere pork rinds or potato chips might be welcome."
APPEAL "If you look at the growth of pork rinds in the past 10 years and the fact that crispy pork skin has evolved from niche ethnic concepts to mainstream chains, I believe chicken skins can become 'chicharrones 2.0.' Chicken is by far the most popular animal protein; chicken skins are perfectly set up for success."

APPLICATION "There are so many variations for prepping chicken skins: Fry as is. Boil, dry and fry. Boil and bake. One of my favorites is to cure the skins in salt, lay them out on a non-stick mat, layer with another meat, top with another non-stick mat with a pan on top as weight. Then bake low and slow. Another idea is to use your saved skins—or purchase skins from a meat purveyor (most offer these, even if unpromoted)—then purée and spread the mixture on a sheet pan to dehydrate. This makes a pliable sheet that can be used in countless ways."

ROBERT DANHI, Co-Founder/Chief Innovation Officer, Flavor360, Based in Los Angeles
CRACKLIN' GOOD
A crispy skin has all the elements of a craveable ingredient, from its auditory and textural impacts to the fat and seasonings that amp up its flavor. The idea of crispy skin as an addictive treat has a rich culinary history, with pork wearing the ruling crown. Pork cracklings and pork rinds are deeply rooted in the American South, and chicharrones are a fixture in Mexican food culture, served up as popular salty snacks.
For chicken skin, the entry point is the ubiquitous fried chicken, which continues to enjoy massive popularity among patrons. For many, it's the taste and crispiness of the chicken skin that makes or breaks the dish. Mastering the art of that shattering crispiness is key. As a component of fried chicken, chicken skins are a crunchy but relatively neutral flavor carrier for a variety of breading or dip flavors.
America is not the only country obsessed with crispy fried chicken. In Japan, crispy chicken skins have long been a popular snack. Torien, the New York outpost of an upscale Tokyo yakitori restaurant, features a 13-course skewer-based meal that largely centers on using every part of the chicken, including skin from the neck, which is folded accordion-style onto the skewer and grilled slowly to create a crispy yakitori experience. Chicken skins are also popular elsewhere throughout Asia with KFC in Indonesia offering fried chicken skins that, rumor has it, are better than the french fries.
APPEAL "There is a lot of flavor packed into chicken skins, and they are a versatile ingredient. They can be used for a wide range of recipes, and in a variety of ways, from toppings to stand-alone menu items. At Kowbird, we use them as a base for our Southern gravy, for instance, and as a topper for our mac and cheese."

APPLICATION "Experiment with different prep approaches: roasting, sautéing in a pan or deep frying. One of the main factors to consider when cooking is length of time. It has to be a perfect, golden-brown color to achieve a flavor that truly represents the spirit of chicken skins. I would also dehydrate them and work them into a rub for added flavor."

MATT HORN, Executive Chef, Kowbird, Oakland, Calif.
MENU MAGIC
For many operators, the most intuitive application for chicken skins is as a fried appetizer or small plate. The Catbird Seat, an upscale American restaurant in Nashville, Tenn., has featured spicy, crispy chicken skins served with Wonder Bread purée as a reimagined version of Nashville's iconic hot chicken. And Las Vegas-based Carson Kitchen, known for creative American fare, leverages on-trend smoked honey as an accompaniment for its Crispy Chicken Skins starter.
Chicken skins as a snack boast increasing crossover appeal, having made the jump to the retail segment, subsequently boosting their recognition factor among consumers. Chick N' Skin, based in Los Angeles, has grown from a brand hand-packing bags to a large-scale consumer packaged goods operation. Flavors range from the mainstream Buffalo Wing to bolder options like Jamaican Jerk and Cluckin' Hot. It's a smart move for chefs to keep an eye on the sales performance of these retail products to inform menu development.
Chicken skins can be much more than a craveable snack. As with any crunchy accompaniment—think croutons or bacon—crispy chicken skins add both visual and textural appeal to a range of items. During the holiday season, Creole restaurant Saint John in New Orleans promoted a Mangé Loa (feeding of the gods) menu that ran a Creole Red Bean Soup topped with crème fraîche and crispy fried chicken skins. Demonstrating the further potential of crispy skins, Saint John's Bacon Fat-Seared Duck Popper entrée is served with fried duck skins.
Beyond crunchy add-ons, this versatile ingredient can be quite functional. Consider the Stuffed "Angel" Wings at cocktail bar/Cambodian-American restaurant Oliver's Twist in Phinney Ridge, Ore. Here, a wing is stuffed with ground pork, glass noodles, shaved carrots, shaved taro, toasted peanuts and kroeung paste (Cambodian spice paste), with the crispy chicken skins acting as a wrapper to keep it all together.
In 2022, consumers are expected to make the move back to a mindset of experimentation and exploration. But they won't completely break out of the pandemic-driven rut of comfort and familiarity, given ongoing uncertainties. Chicken skins tick off a number of boxes as operators respond to different drivers. Chicken skins may enter an operation as a secondary item but they can steal the show when menued with intent.
APPEAL "One of my favorite snacks on the planet is the thick strip of crispy skin removed from the back of a chicken carcass fresh out of the oven. Any self-proclaimed food enthusiast knows that the chicken's skin is the most delicious part. It's like a litmus test for vetting 'foodies.'"

APPLICATION "Chicken skins are an incredible addition to vegetables while maintaining a veg-forward concept. Use it as a way to enhance the food around it: broccoli with chicken skin gremolata, fried Brussels sprouts and crispy chicken skin, soft-boiled egg with chicken skin and rice congee, chicken skin and potato croquette. Push the boundaries a little and whip them into a spread for biscuits or fold crispy chicken skin crumbs into tempered chocolate."

JAMIE SIMPSON, Executive Chef Liaison, The Culinary Vegetable Institute, Milan, Ohio
SPARKLING INNOVATION
MENU SIGHTINGS
Chitarra Alla Boscaiola: Prosciutto and porcini ragù, Tuscan pecorino, artichoke and crispy chicken skin
—Monteverde, Chicago
Black Truffle Gnocchi with mushrooms and crispy chicken skin
—Fellow, Los Angeles
Crunchy Chicken Skin B.L.T. with Texas toast and Duke's mayo
—Nash Bar & Stage, Boston
Chicken with butternut squash, wheat berries and Brussels sprouts, crusted with chicken skins rendered down to crisp bits and then blended with dehydrated sauerkraut, mustard and horseradish
—Tempus, St. Louis
Smoked Turkey Breast with apricot chutney and crispy chicken skin
—Loro, based in Austin, Texas
Apple Agnolotti: Chicken liver mousse, apple, crispy chicken skin and sage brown butter
—Milo at The Ellison Hotel, Oklahoma City
Chicken Breast with crème fraîche, leeks and chicken skin cracklin'
—Le Fantastique, San Francisco
Forest Mushrooms with spinach, garlic and chicken rind "crouton"
—Anthony's Chophouse, Carmel, Ind.
Nang Kai Tod: Deep-fried seasoned chicken skin
—Mahaniyom, Brookline, Mass.
Mac and Cheese with Gouda, Havarti and provolone, topped with fried, crispy chicken skins
—Kowbird, Oakland, Calif.