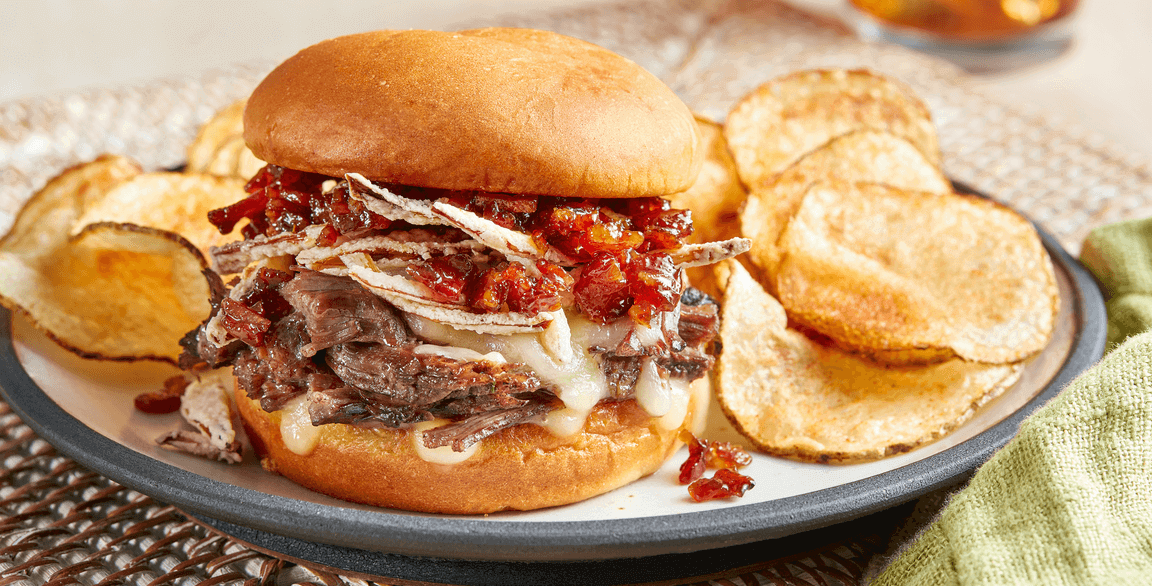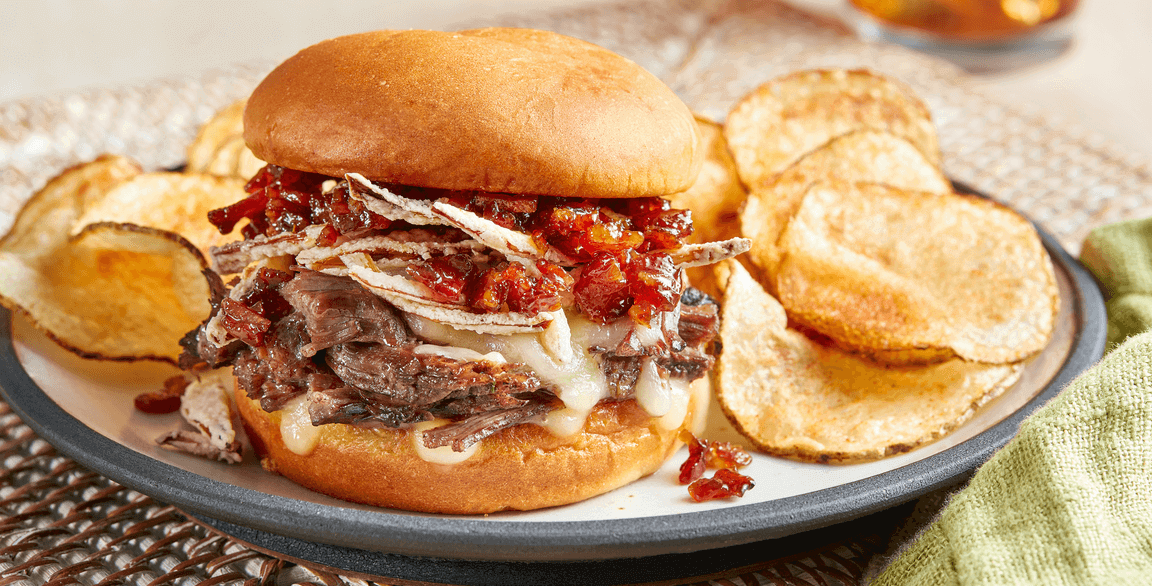 Braised Smokey Bacony Garlic Short Rib Slamwich
Recipe courtesy of Chef Matt Burton
Sponsor: King's Hawaiian
Servings: 12
Ingredients
1 c bacon jam (homemade or bought)
10 roasted garlic cloves, roughly chopped
3 c vegetable oil
1 c sliced red onion
½ c milk
½ c cornstarch
2 ¼ lbs cooked red wine–braised short rib meat
12 King's Hawaiian® 4-inch Little Island Burger Buns
1 ½ pounds shredded smoked Swiss cheese
Directions
In a small sauce pot over low heat, melt the bacon jam.
Stir in the roasted garlic and let sit for 5 minutes, then hold warm.
Heat the oil in a heavy pot over medium heat to 325 degrees F.
Place onions in the milk, and coat well. Drain.
Toss onions in the cornstarch and dust off. Using a spoon, add coated onions to hot oil. Stir using a spider and cook until brown. Remove from oil and drain on paper towels. Hold for service.
For each serving: Microwave 3 ounces of shredded short rib with braising liquid until hot.
Toast a King's Hawaiian roll on both sides.
Spread 1 ounce of bacon-garlic jam on the top half of roll.
On bottom half, evenly spread 1 ounce of shredded cheese, then top with hot short rib meat.
Sprinkle the short rib with 1 ounce more cheese and top with some crispy onions.
Drizzle about 2 tablespoons of braising liquid over all the onions and meat.
Place bun top on sandwich and use a toothpick to hold in place.
Microwave the sandwich for 15 seconds to melt cheese and meld flavors. Serve.
Chef Notes
Serve with chips or fried plantains.
Project Management: Summit F&B
Photography: Carlos Garcia // Food Styling: Peg Blackley & Bree Williams