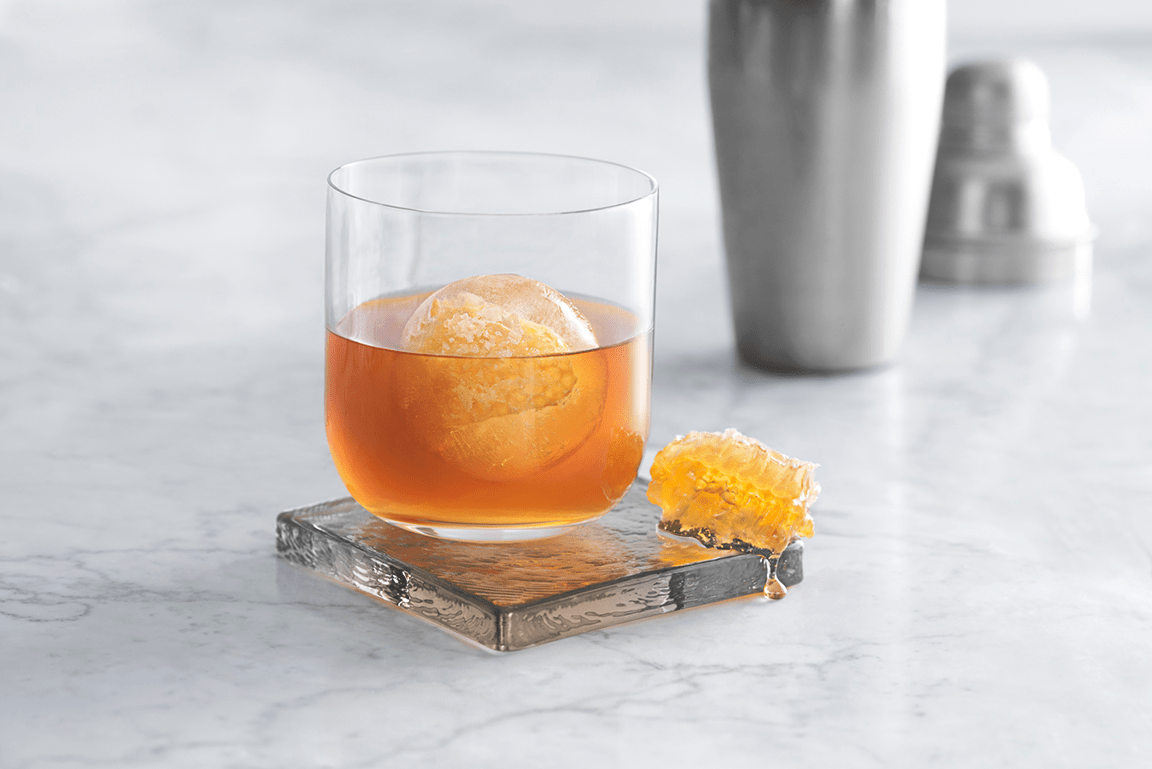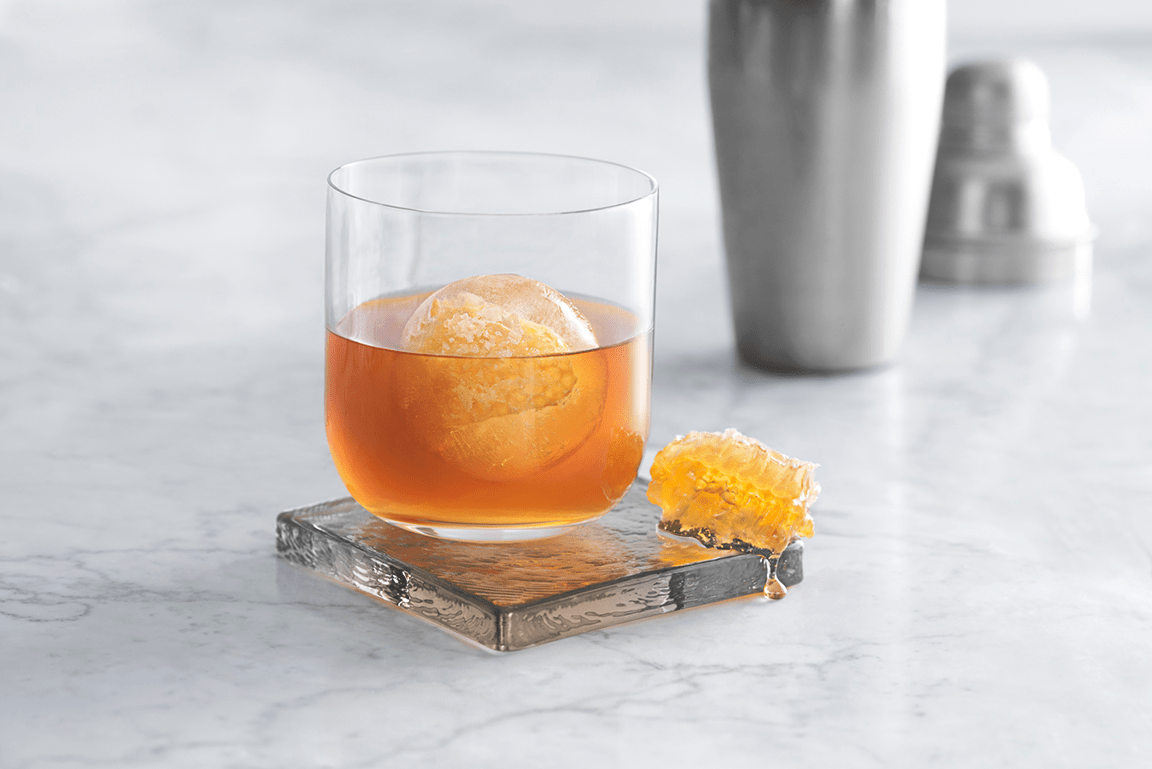 Honey Ginger Old Fashioned
Recipe courtesy of Matt Burton
Sponsor: National Honey Board
Servings: 1
Ingredients
Rich Orange Blossom Honey Syrup:
2 parts orange blossom honey
1 part hot water
Honeycomb Ice Spheres:
As needed distilled water
As needed honeycomb
Ice sphere molds
Honey Ginger Old Fashioned:
4 spritzes Domaine de Canton Ginger Liqueur
1 oz Rittenhouse Rye Bottled in Bond
1 oz Old Forester 86 or other bourbon
¼ oz Rich Orange Blossom Honey Syrup
4 dashes black walnut bitters (such as Fee Bros)
As needed crushed ice
1 Honeycomb Ice Sphere
As needed orange peel
As needed candied ginger
Directions
For the Rich Orange Blossom Honey Syrup:
Mix two parts orange blossom honey to one part hot water. Stir to dissolve honey completely.
Store honey syrup in the fridge for up to 2 weeks.
For the Honeycomb Ice Spheres:
Cut a piece of honeycomb to fit each of the molds. Rinse the honeycomb and freeze the pieces on a pan for 4 hours.
Fill a cocktail shaker with distilled water. Place the frozen honeycomb in the ice sphere molds and top off with distilled water. Make sure the molds are completely full of water when the ice molds are put together. Place a finger over the hole on top of the ice mold. Place the ice mold hole-side down in a shaker full of distilled water. Do not release your finger until the hole is submerged.
Place the shaker/ice mold combination in a cooler or other deep container. Fill the cooler with water around the shaker until it is 2 inches from the top of the shaker. Do not get tap water in the distilled water of the shaker. Place cooler with the shaker tin and water in the freezer for 24 hours.
To remove the ice, work the shaker loose first. Discard the contents of the cooler. Squeeze the shaker around the mold and remove the mold from the tin. Gently tap any remaining ice from the mold and remove your ice sphere.
For the Honey-Ginger Old Fashioned:
Fill an atomizer spray bottle with the ginger liqueur. With the rocks glass in one hand and atomizer in the other hand, spray 4 spritzes into the glass, holding atomizer 6 to 8 in away from the glass. Rotate rocks glass with each spray.
Combine the rye, bourbon, Rich Orange Blossom Honey Syrup, and bitters in a mixing glass. Stir with ice to perfection. Strain into prepared rocks glass over a Honeycomb Ice Sphere. Garnish with orange peel and candied ginger.
Chef Notes
Items needed for the honeycomb ice will be a Tevolo ice sphere mold, Igloo fliptop hard shell cooler, a 28-oz shaker tin, and distilled water.
Project Management: Summit F&B
Photography: National Honey Board// Food Styling: Peg Blackley