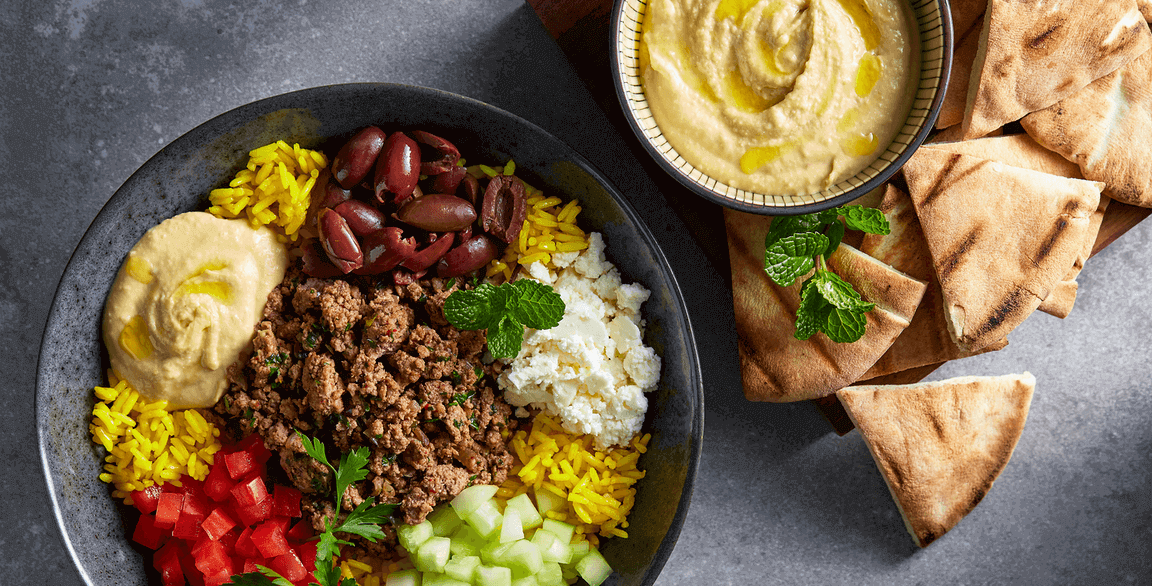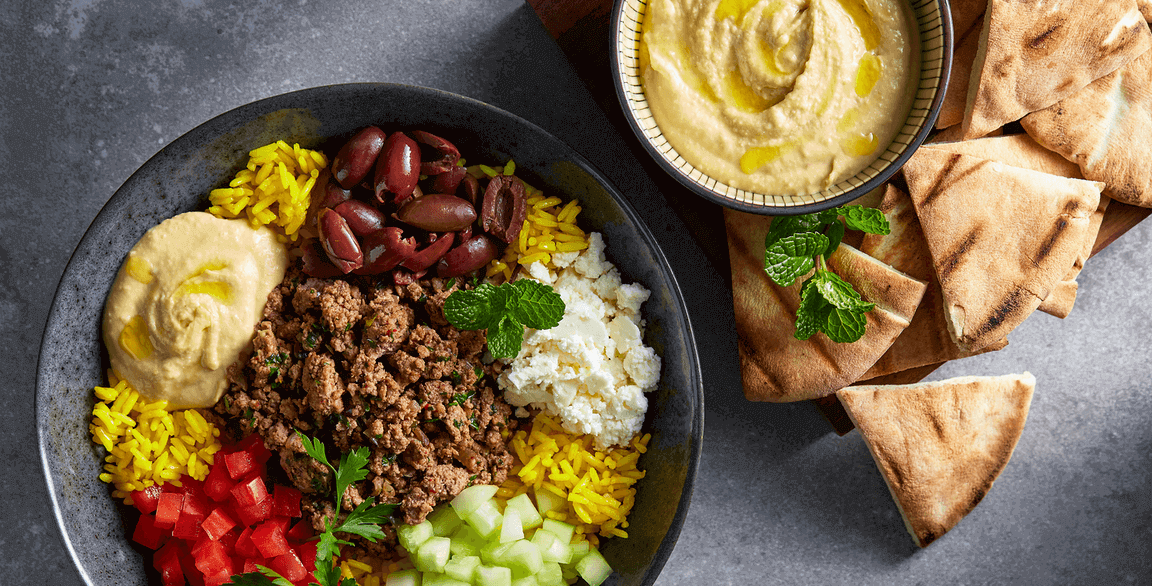 Lebanese/Greek Lamb Bowl
Recipe courtesy of Chef Matt Burton
Sponsor: True Aussie Beef & Lamb
Servings: 24, Directions for 1
Ingredients
For Spiced Ground Lamb:
6 lbs Australian ground lamb
½ c olive oil
1 ½ c onion, finely diced
¾ c garlic, finely minced
2 Tbsp paprika
2 Tbsp ground allspice
1 Tbsp red pepper flakes
½ Tbsp ground ginger
Salt, to taste
Pepper, to taste
1 ½ c fresh mint, chopped, plus more for garnish
1 ½ c flat leaf parsley, chopped, plus more for garnish
For Bowls
24 c (10.5 lbs) hot turmeric rice or other rice of choice
6 lbs fresh tomato diced
8 ¼ lbs cucumbers peeled and diced
6 qts roasted garlic hummus
6 c feta cheese, crumbled
6 c Kalamata olives, pitted
12 ea pita bread rounds, warmed for serving
Directions
For the spiced ground lamb: In a rondeau or tilt skillet, heat olive oil over medium heat. Add onions and garlic and sauté for 5 minutes, or until they soften, but have no color. Add ground lamb and brown until cooked through. Turn down heat to low and add paprika, allspice, red pepper flakes, ginger, salt and pepper. Mix until fully combined and cook for 1 to 2 minutes more. Remove from heat and stir in the chopped herbs. Hold warm for service, or chill and portion.
To assemble bowls: In a serving bowl, layer 1 cup hot prepared rice, then top with 1 cup of warm ground lamb. Around the edge of bowl arrange ½ cup diced tomatoes, ½ cup cucumbers, 1 cup of hummus, 2 tablespoons feta and 2 tablespoons olives. Sprinkle with more fresh mint and parsley if desired.
Serve with half a warm pita, cut in wedges.
Chef Notes
This recipe is designed to showcase simple flavors that become robust when combined–clean, healthy, and on trend with bowls. Ground lamb is an amazing ingredient that absorbs flavors and, with its unique fat, it makes the seasoning almost dance off your palate.
Project Management: Summit F&B
Photography: Carlos Garcia // Food Styling: Peg Blackley & Bree Williams