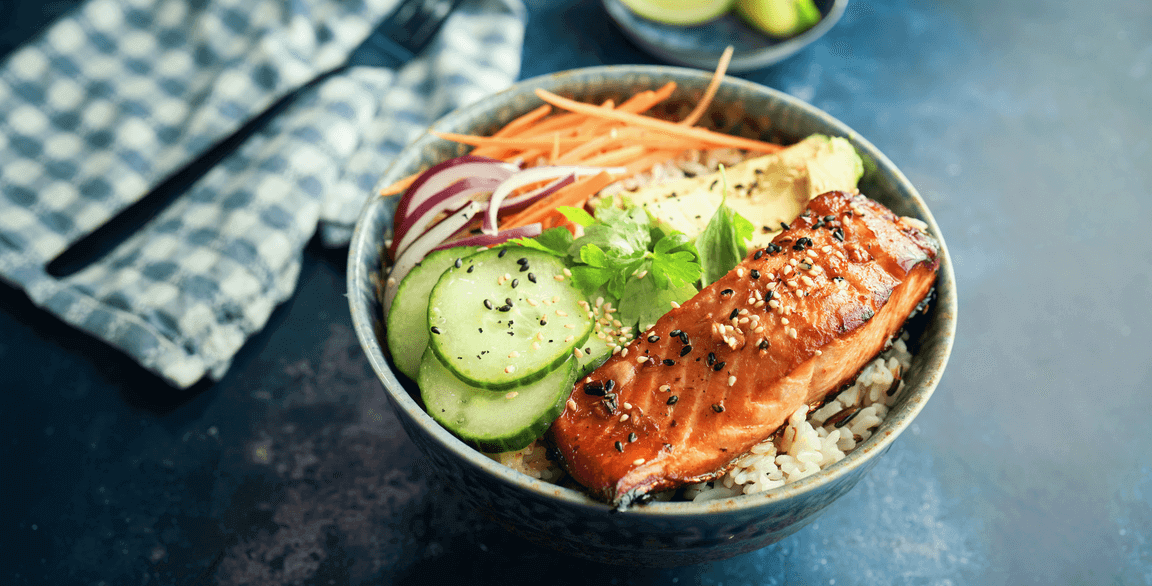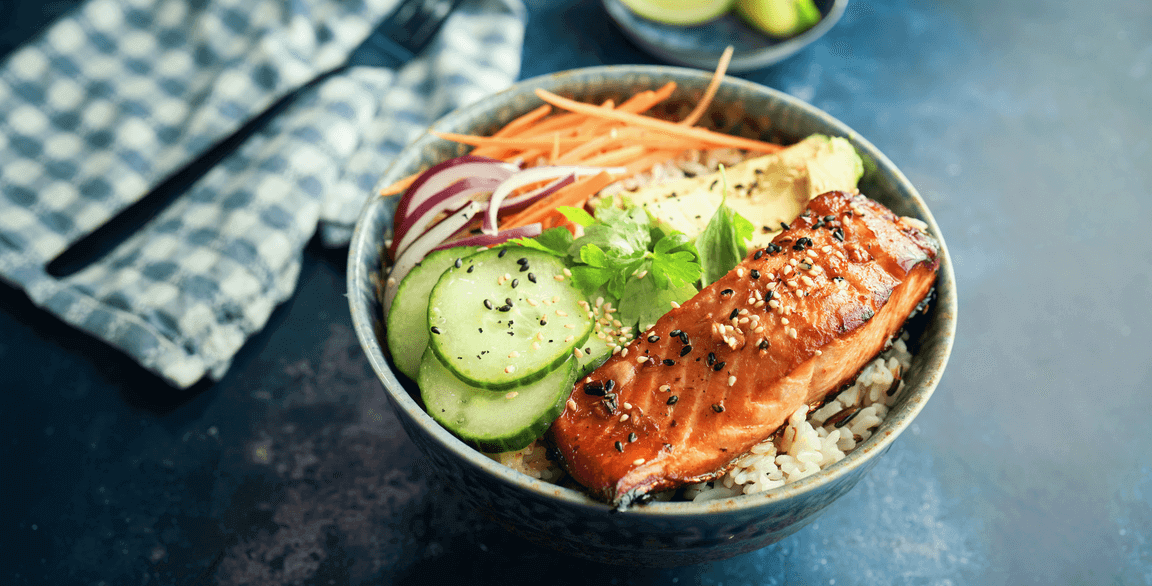 By Rob Corliss
March 24, 2022
Bowls afford operators a casual, yet delicious way of showcasing seafood. They require a deft hand to achieve optimal flavor and texture play. Here, we offer a culinary roadmap to better seafood-centric bowls, taking into account the texture of the fish or shellfish (delicate, medium, firm) along with its flavor profile (mild, moderate, full flavored) so as best to understand how to utilize it in a build.
Firmer and leaner seafood items can typically handle stronger applications and may require more seasoning. Fattier seafood works well with earthy or mild flavors. Add dimension with quick, low-acid marinades; glazes; pastes (like mashed ginger-garlic-avocado oil); seasonings and/or breadcrumb and batter coatings.
Here are four bowl categories where the addition of fish or shellfish works well, with menu ideas for each:
1

BREAKFAST BOWLS + SEAFOOD
Firmer seafood pairs well with the softer thick and creamy savory preparations showcased during breakfast.
Seared scallops, sautéed lobster and crabmeat offer a nice contrast in texture when paired with soft-scrambled eggs
Mesquite-grilled shrimp and fried fish belly pair well with creamy grits and porridges.
Roasted monkfish, blackened catfish and sautéed crawfish tails add gusto to crispy/soft hash browns.
Keep the bowl build simple, focusing predominantly on the seafood. Pull in a spicy glaze, a chimichurri, or other bold seasoning, or add bacon/sausage garnishes to heighten daypart appeal.
TRY THIS:
Bayside Crab Breakfast Bowl: Buttery soft-scrambled eggs + charred peppers/onions + Old Bay-seasoned crabmeat + pepper Jack cheese shreds
---
2

GRAIN BOWLS + SEAFOOD
Fish fillets or thick-cut fish chunks that yield tender flakes (salmon, sea bass, pollock, cod, haddock) pair well with interesting grains/vegetable/rice blends.
Use a base of cauliflower "rice," farro or kamut, earthy black quinoa, fragrant rice, legumes or lentil blends.
Employ a cooking technique like butter- or broth-poached, pan-seared, baked or roasted, creating an elegant contrast to a rustic grain and vegetable bowl.
ON THE MENU:
Paleo Salmon Bowl: Lightly seasoned salmon, cauliflower "rice," rosemary-zucchini mix, fresh herbs and pickled onion
—California Fish Grill, based in California
---
3

GREENS BOWLS + SEAFOOD
Start with a foundation of tender salad greens and crisp vegetables, then add high-impact seafood toppers. Emphasizing bright and healthful bowl builds (plant-based seafood could also play well here) catches the attention of flexitarians..
Delicate fish with spice or fresh herb coatings (tilapia, trout, char, flounder) Pinwheeled/stuffed fish
Housemade fish cakes
Creamy smoked fish dips
TRY THIS:
Trout Pinwheel Bowl: Baked prosciutto-wrapped honey-walnut stuffed trout pinwheel + Lollo Rosso-frisée mix + haricots verts + creamy lemon dressing
---
4

NOODLE BOWLS + SEAFOOD
Grilled seafood sausage and breadcrumb- or batter-coated fish pair well with the texture of noodles and corresponding sauces/glazes. (Battered fish in particular provides a contrast—when the crispy coating flakes off it will create additional texture throughout the noodles.) These bowl builds serve up latitude with global flavorings and unexpected flavor mixes, like introducing kelp or seaweed for additional oceanic appeal.

TRY THIS:

Beer Battered Fish Ramen Bowl: Beer-battered fried pollock nuggets + ramen noodles + orange-mustard sauce + charred shishito peppers