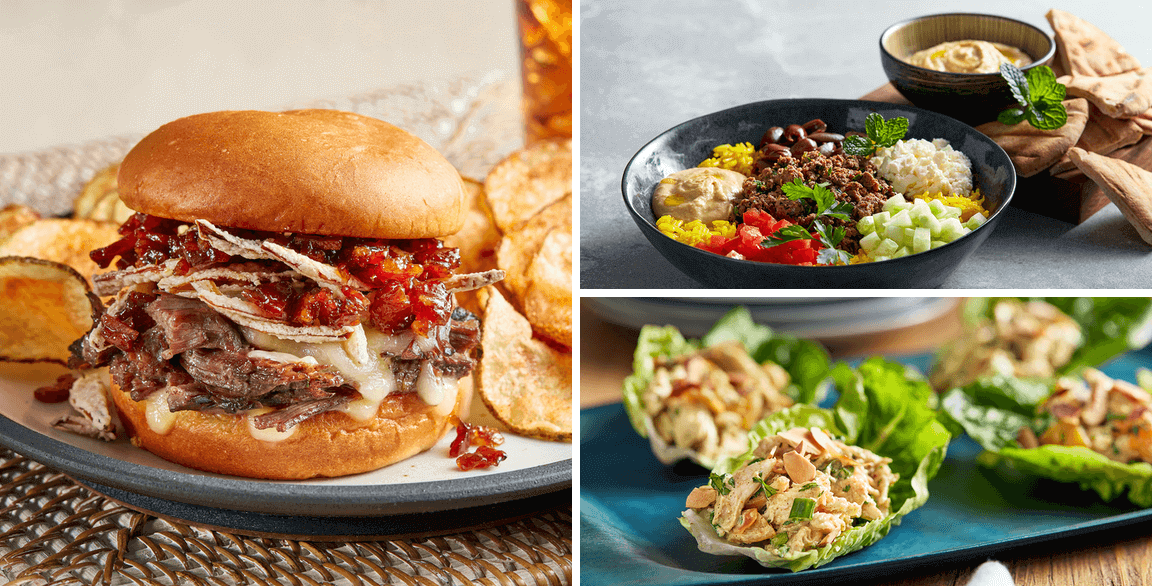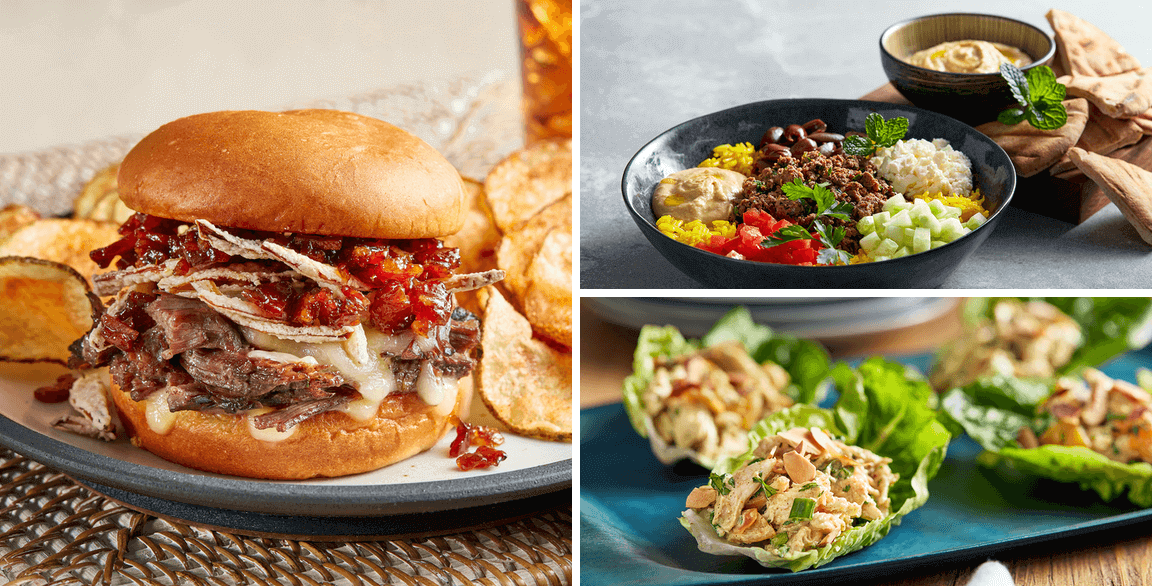 By Flavor & The Menu
March 29, 2022
Kitchen Collaborative is a recipe-development initiative formed by Summit F&B and Flavor & The Menu. To fuel flavor innovation, a group of talented chefs partnered with sponsor brands and commodity boards to create recipes that showcase the passion and potential of our industry.
CHEF SPOTLIGHT: Matt Burton
Matt Burton loves bold, robust, craveable flavors. This is evident in his go-to "secret" ingredient: gochuchang. "It adds a new level of flavor and goes with everything from breakfast dishes to a dehydrated seasoning for homemade chips," says Burton, president/executive chef of MBURS, LLC Culinary Consulting.
While Burton's Kitchen Collaborative recipes may not feature gochuchang, they do showcase an exciting spectrum of flavor-forward menu solutions that each land in a culinary sweet spot to meet contrasting consumer needs. Bold flavors are the ties that bind in his Good for You Moroccan Greek Yogurt Chicken Salad, Lebanese/Greek Lamb Bowl and the audacious Braised, Smokey, Bacony Garlic Short Rib Slamwich.
Good for You Moroccan Greek Yogurt Chicken Salad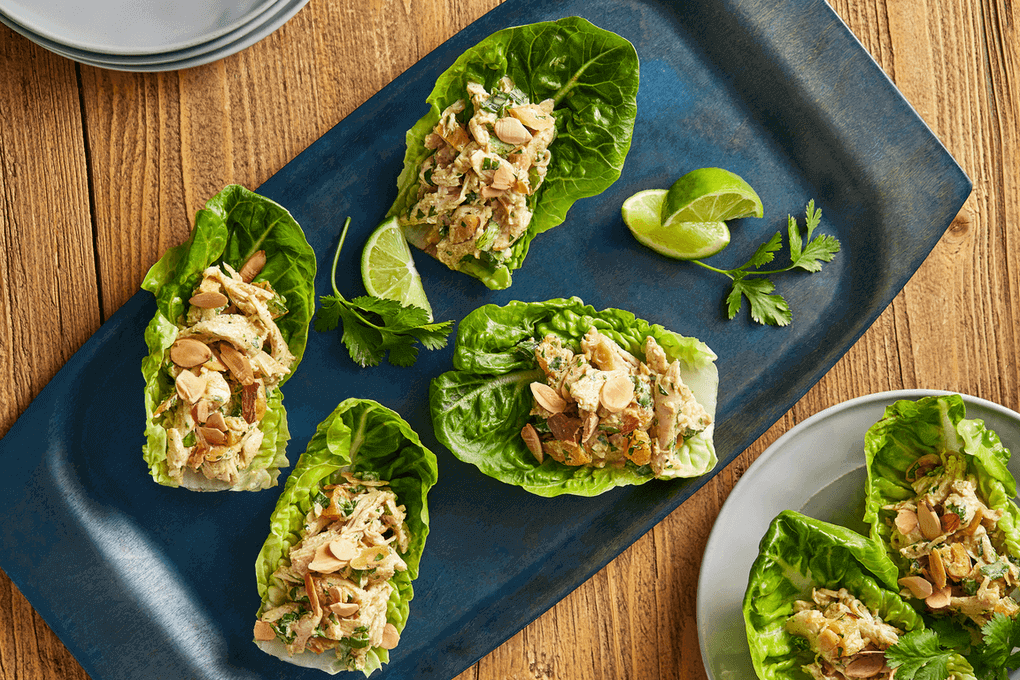 Photo: Carlos Garcia // Food Styling: Peg Blackley & Bree Williams
---
While Burton considers a healthy heart logo next to a menu item to be "a kiss of death," he concedes that customers are steadily signaling their interest in better-for-you options by choosing healthier proteins, lighter dressings and sauces on the side. They also have been demanding bolder flavors, but within the constraints of comfortable familiarity. Burton pulls together a singular solution to these disparate needs with his Good for You Moroccan Greek Yogurt Chicken Salad.
"Moroccan is an easy way to go when thinking bold. Its spices, like cinnamon, cumin and turmeric, provide a warm and comforting flavor experience," he says. "Plus, everyone loves chicken salad; its familiarity gives guests permission to try new variations."
Burton's easy-prep dish features Tyson's Low-Sodium Pulled Chicken, Greek yogurt, tahini paste, Dijon mustard, several spices, dried apricots or figs, green onions, parsley, cilantro and chopped pecans. Use of the low-sodium chicken product provided for a greater scope of seasoning options, says Burton: "It allowed me to add depth using the spices from Morocco and the tangy taste of the yogurt." He recommends serving the chicken salad on bread, lettuce wraps or even on endive wedges, for a great appetizer.
Braised Smokey Bacony Garlic Short Rib Slamwich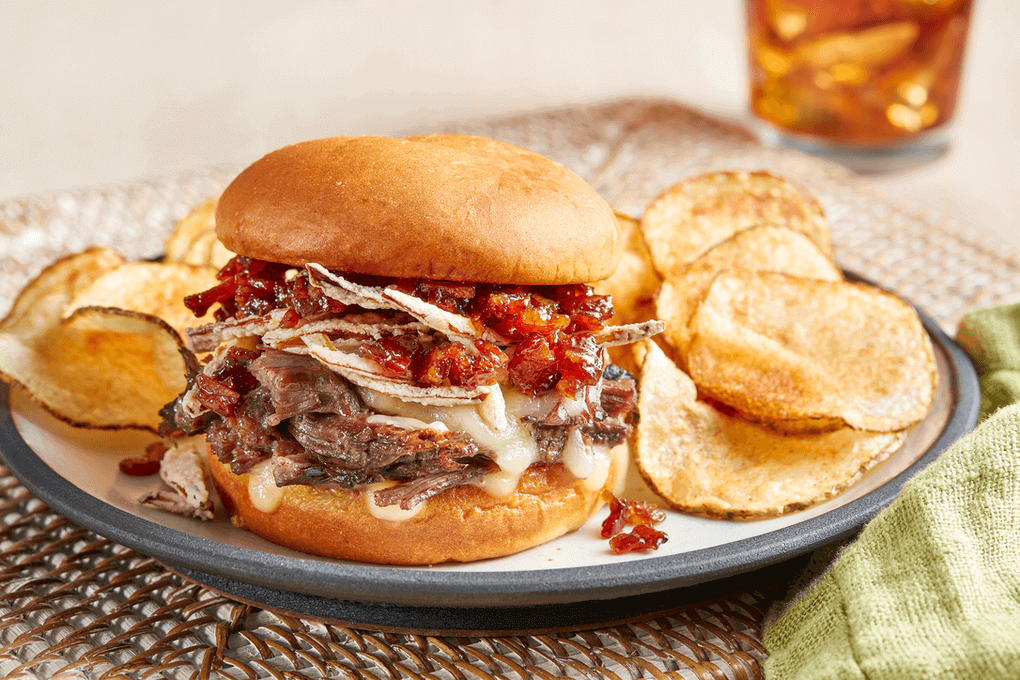 Photo: Carlos Garcia // Food Styling: Peg Blackley & Bree Williams
---
Burton uses King's Hawaiian Little Island Burger Buns to deliver a truly inspired assemblage of craveable hallmarks. The name says it all: Braised. Smokey. Bacony. Garlic. Short Rib. It is, Burton declares, so much more than a mere sandwich: "The ingredients stacked between those buns are so sexy! But I couldn't call it a 'sexywich,' so the 'slamwich' was born—after one, you want to slam down another."
His slamwich features shredded, tender beef short rib that has been braised in red wine. Shredded smoked Swiss cheese is melted atop and the build is layered with crispy fried onions, followed by a drizzle of the braising liquid. Roasted garlic is added to a prepared bacon jam and spread on the top half of the roll before crowning the sandwich. Burton recommends serving the handheld with chips or fried plantains.
"You have the periodic table of flavors and textures going on here," says Burton, ticking them off: "Salty, sweet, umami, juicy, crunchy. The whole combination is a flavor party!"
Lebanese/Greek Lamb Bowl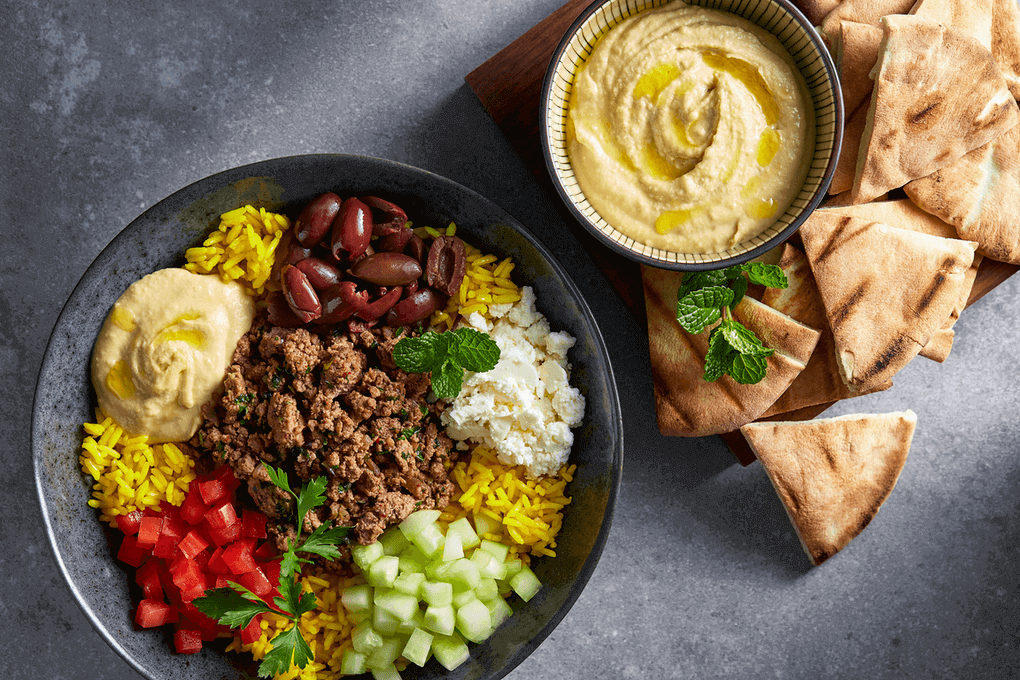 Photo: Carlos Garcia // Food Styling: Peg Blackley & Bree Williams
---
The American diner's enduring enthusiasm for bowl-based dishes has yet to dampen, making them a logical and reliable choice for menu expansion and flavor exploration. "This bowl thing is crazy," says Burton of the trend that has outlasted all expectations. "I think it goes back to comfort. Guests want flavors that work well together, but they also want the ability to customize." Bowls are a great way to meet those needs and to do so efficiently, without a lot of extra labor in the kitchen.
For a new bowl inspiration, Burton offers the Lebanese/Greek Lamb Bowl, featuring turmeric rice and warm, spiced ground Australian lamb, which is seasoned with onions, garlic, paprika, allspice, red pepper flakes, ginger, salt, pepper, mint and flat-leaf parsley. The bowl gets a boost from additional Eastern Med ingredients: diced tomatoes, cucumbers, hummus, feta and olives. "The recipe is designed to showcase simple flavors that become robust when combined," he explains. "It's clean, healthy and on-trend."
Burton calls Australian lamb "an amazing ingredient," one that both absorbs other flavors and delivers its own unique fat flavor that "makes the seasoning almost dance off your palate." Greek and Eastern Med cuisines have longstanding associations with lamb dishes, but Burton finds opportunity to use lamb in other global concepts, as well. "I have played around very successfully with lamb in Mexican recipes," he says. "Lamb works fantastic with chiles and cumin. A lamb chorizo could add a meaty dimension to a robust seasoning. Or consider it sliced, marinated and stacked in a lamb al pastor, packed into tortillas with a green salsa—that would be great!"
Project Management: Summit F&B
Photography: Carlos Garcia // Food Styling: Peg Blackley & Bree Williams