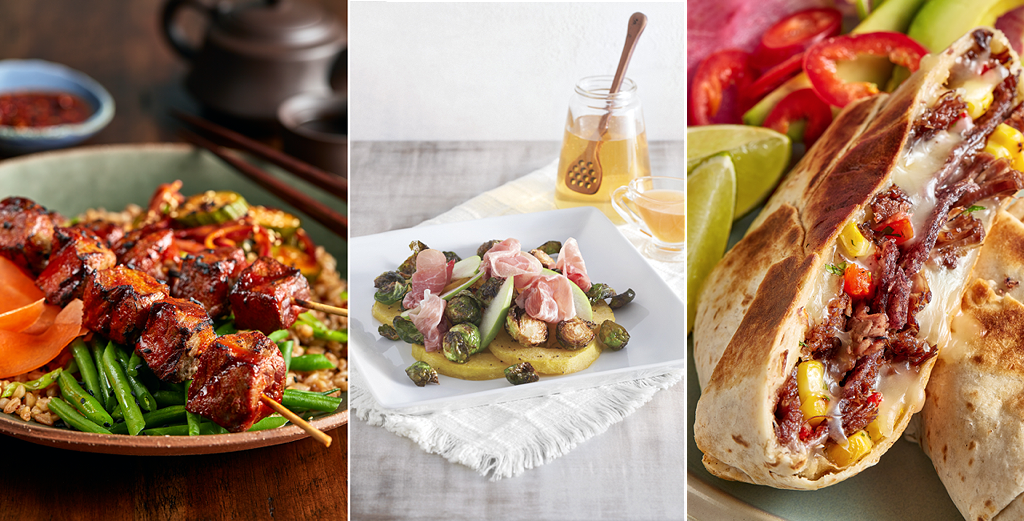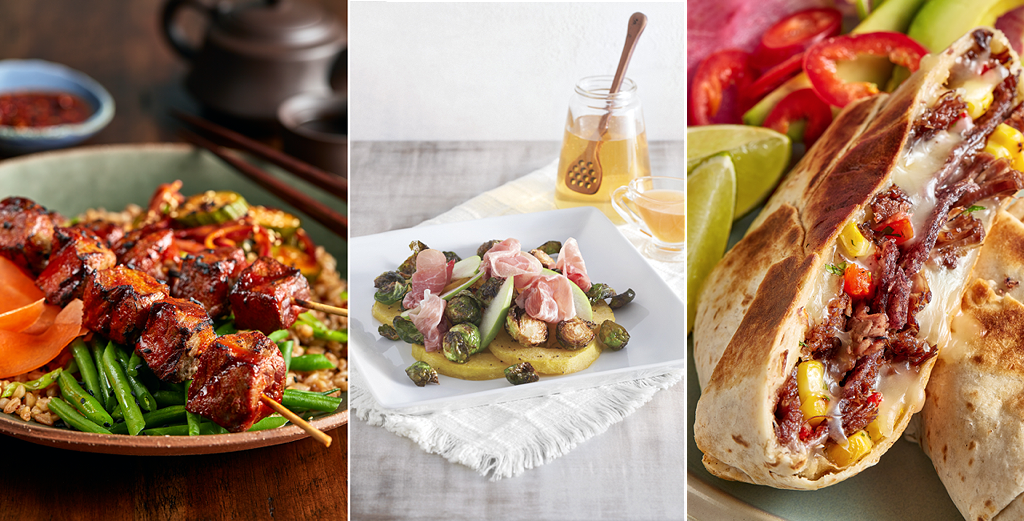 Kitchen Collaborative is a recipe-development initiative formed by Summit F&B and Flavor & The Menu. To fuel flavor innovation, a group of talented chefs partnered with sponsor brands and commodity boards to create recipes that showcase the passion and potential of our industry.
CHEF SPOTLIGHT: Kevin Felice
"I'm trying to create nostalgic moments," says Kevin Felice, noting that the best dining occasions are the ones remembered years later, and are intrinsically connected with the people who shared them. "Food is about bringing people together." Felice, Director of Operations and Food/Beverage, 40 North Restaurant Group, believes that a delicious dish not only creates new memories, but can propel us to a happy past.
Whether it's recreating his grandmother's meatballs in an elevated, restaurant-worthy manner or developing a trio of recipes for Kitchen Collaborative, Felice says he's always trying to produce a "bite that becomes a nostalgic moment." His Korean Beef Bowl, Fall Into Honey small plate and California Cheesy Short Rib Crunch Wrap dishes have each been thoughtfully crafted to deliver unforgettable, flavor-forward dining experiences.
Korean Beef Bowl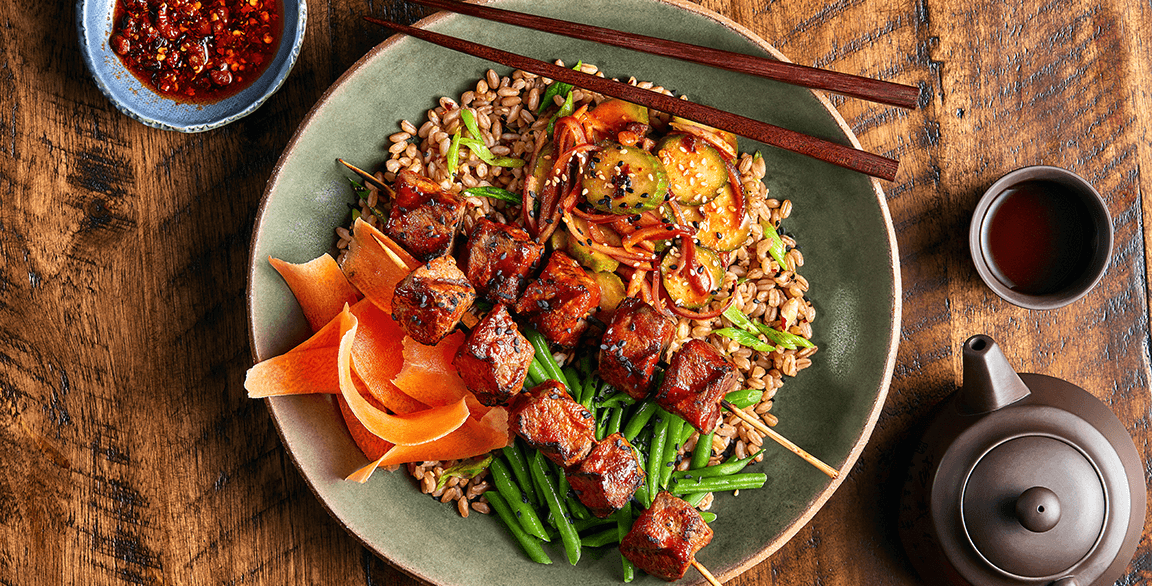 Photo: Carlos Garcia // Food Styling: Peg Blackley & Bree Williams
To showcase Australian grassfed beef strip loin, Felice opted to tap into two trends that show no sign of stalling: the Korean flavor pantry and bowl-based meals. "All international flavors are still popular, and the flavors that have come out of Korea resonate with me. It's something I really enjoy eating," says Felice of the inspiration behind this Korean Beef Bowl. "Gochujang works for my palate. I like the idea of spice, but without the heat becoming overwhelming. Gochujang has more funk, more sweetness. And I think there's still room for introducing it to diners."
As for the second trend? "The Australian beef strip loin is ideal for a steakhouse, but I wanted to do something to highlight it as a tender, higher-end product. It can cook quickly and be delicious," says Felice. "Bowls are still really popular. They're easy to eat—and eat on the run—but also present well in a restaurant setting." Felice understands why bowls continue to command so much attention. "I've always viewed pizza and pasta as vehicles to communicate a dish's flavor story. A bowl can do the same thing."
Felice fills this bowl with skewers of grilled, honey-gochujang rubbed, diced beef loin, along with sautéed farro and scallions, plus green beans, cucumber salad and carrot ribbons. The chef gave the nod to farro over rice or another grain. "I love farro. It takes on flavor really well," he notes. "It's also very versatile for a restaurant kitchen, cooking it up and cooling it down. Rice in that kind of application is more temperamental. Plus, it's a super food!"
Fall Into Honey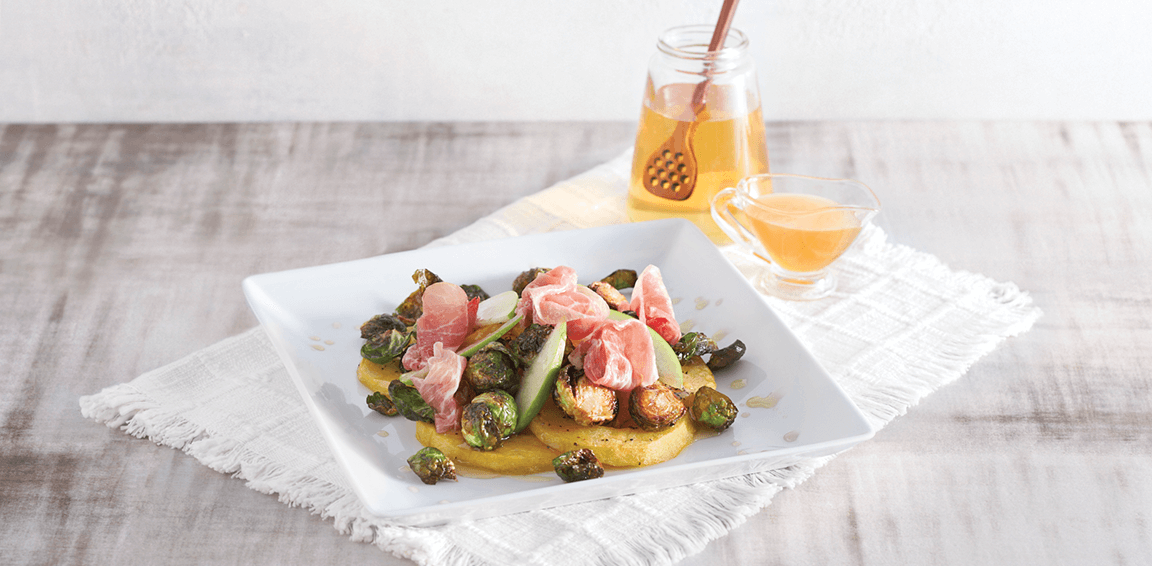 Photo Credit: National Honey Board
"No one wants me baking anything," says Felice, laughing, of his choice to forgo development of a dessert application for his honey showcase. He created this Fall Into Honey dish last fall, inspired by his idea of pairing honey with seasonal ingredients like butternut squash and green apples. The starter or tapas-style dish features a bed of honey-baked squash slices, topped with ruffles of prosciutto di Parma and half-moon slices of green apple. It's garnished with fried Brussels sprout leaves and a drizzle of honey mixed with truffle oil and truffle peelings.
"I wanted to use honey in a way that would enhance other ingredients that had some sweetness to them, like the squash and apples. In the same way that the addition of salt can make something taste more like 'itself,' honey can do this, too. For example, even prosciutto, although salty, has sweet undertones that honey can bring out," Felice explains. His recipe doesn't call for a specific honey varietal, but he recommends one that is lighter and more neutral in flavor. "Nothing too fruity," Felice advises.
Felice expects the dish to take diners on a nuanced journey of flavors and textures. "Sweet, salty and tartness will be hitting different spots of your mouth," he explains. "It's a way to get your palate started for the meal."
California Cheesy Short Rib Crunch Wrap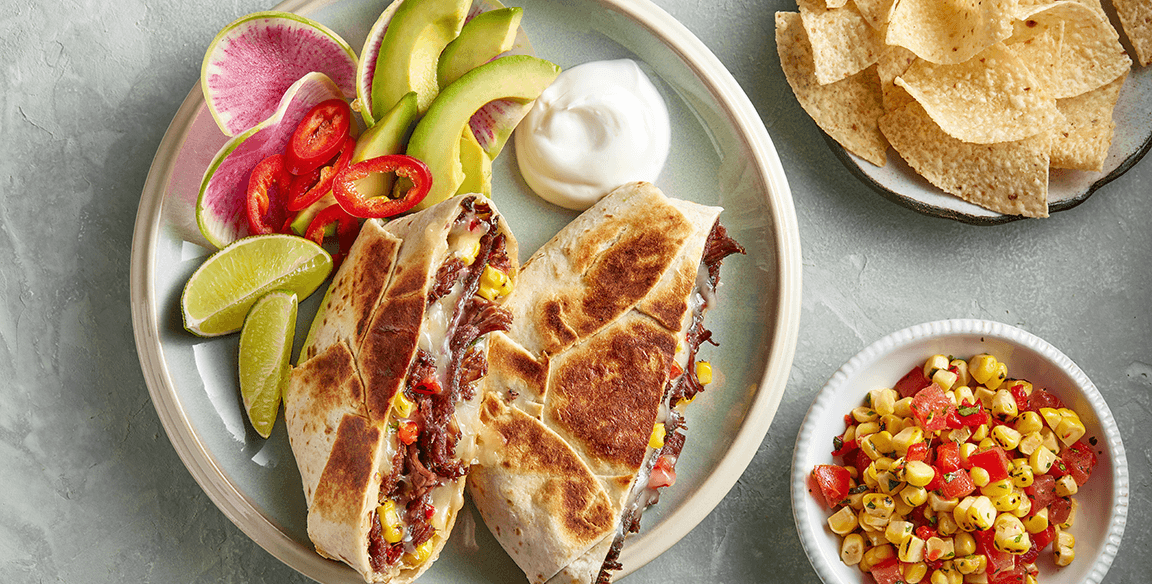 Photo: Carlos Garcia // Food Styling: Peg Blackley & Bree Williams
Felice understands and embraces the power of a hot trend, freely admitting that his California Cheesy Short Rib Crunch Wrap was inspired by the uber popular headliner from Taco Bell. "I actually put this dish on one of my restaurant menus. I was working on a Mexican concept and wanted to do a take on the Crunchwrap Supreme®, but make it high-end restaurant worthy," Felice says. "It's a $25 version of the fast food favorite."
Felice's thoughtful curation of A-level ingredients in his elevated flavor build more than justifies the price point of the dish—it also explains its wild popularity with customers. "It's the No. 1-selling entrée at this restaurant," he reports, still amazed by its success. "I thought this would just be a fun dish, but it's been moving and moving."
Let's break down the flavorful elements of the build. It features luxe short ribs, slow-cooked to elicit robust flavor and a tender mouthfeel. A slow-cooked mole sauce delivers its own depth of flavor dimension. Corn salad adds brightness. The wrap features a whopping three layers of tortillas, two flour varieties and the blue corn, providing complex textural interest. "The corn has salty, crispy notes, while the flour tortilla, when griddled, has nutty notes," Felice explains. The California Mozzarella offers a "perfect melty, ooey, gooey-ness," but he also could run it with Oaxaca, Jack and Cotija.
"It's a very composed entrée. These thoughtful decisions allow diners to discover nuances that aren't expected. It's packing a lot of complexity in something seemingly simple," Felice says. He also credits its hit status to associations that diners make to the fast food version. "There's enough in the menu description that is recognizable. Even if there are one or two ingredients they don't understand or expect, they still feel comfortable ordering it," he explains. "Plus, it's a big portion and very filling. It's a knife-and-fork item that could reheat well at home, if necessary."
Project Management: Summit F&B
Photography: Carlos Garcia // Food Styling: Peg Blackley & Bree Williams