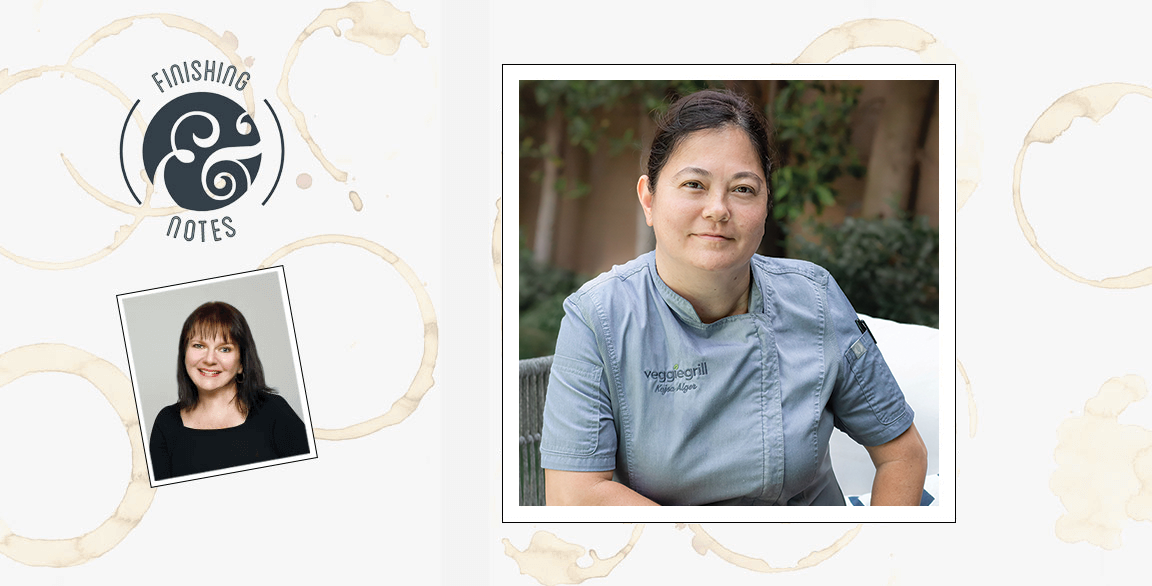 By Flavor & The Menu
October 31, 2022
In an ideal world, our editorial team could sit across from our readers and, over a good cup of coffee, discuss topics covered in the latest issue. We've distilled that ideal scenario into a more practical format, where Katie Ayoub, managing editor, asks a reader to filter a few of the topics explored in these pages through their brand's perspective.
For this issue, she spoke with Kajsa Alger, VP of food and beverage for the Veggie Grill family of plant-based brands, which includes its legacy fast-casual Veggie Grill; Stand-Up Burgers, a purpose-driven concept aimed at Gen Z; the virtual vegan taqueria brand Más Veggies; and the new virtual concept Vegan Bowls for All. Their "conversation over coffee" tackled a few themes from this issue, diving into Alger's deep well of expertise around building crave in plant-based menu items. They narrowed in on creative applications of carrots on the menu (p. 12), fermentation in flavor building (p. 58), and connecting with Gen Z (p. 52).
KA: In this issue, we talk about how carrots are among the first vegetables that chefs are showcasing in today's veg-centric movement, coaxing out flavor and texture in wonderful ways. How do you use this familiar, everyday ingredient?
KA: We're finalizing our spring and summer menu of 2023, and carrots are one of our features. When we bring in an ingredient, we try to cross-utilize it across all brands, across different applications. We handcraft all our sauces, marinades and sides in each restaurant, and we have to find ingredients that play well in both L.A. and in Chicago in winter—carrots are one of those magic ingredients that just works for us. To build layers of flavor, we'll use lactose fermentation with carrots, then cook them in carrot juice to add more carrot power. On the menu, those carrots will be grilled, marinated and fermented, offering a lot of great flavor. It's a layered approach and very effective with produce. We also use carrots to give depth of flavor or balance to other menu items. We often purée carrots with miso, using that combination in spreads on bread or toast, or brushing it on something that we're cooking, all to punch up the umami.
KA: In our Flavor Builders department, we explore 10 fermented ingredients and creative ways to use them, yet it seems we're only scratching the surface. How big of a role do fermented ingredients play in menu development for plant-based items?
KA: With vegetarian and vegan food, fat and complexity of texture is often lacking. We add umami to build that satiating flavor experience. So, you won't get the fat, but you'll get the savoriness and complexity—it takes some manipulation to achieve that and we use ferments throughout our menu to help. For instance, we might use the juice from kimchi to cook our rice. That, of course, negates the health benefits, but in that application, we're pulling in fermentation for its flavor-building benefits only. We also use the juice from sauerkraut to kick off lacto-fermentation in our miso-soy fermented mushrooms, which we feature as a garnish occasionally. Fermented mustard greens and fermented legumes are also great flavor builders. With the legumes, for example, we're working on a carrot crêpe for 2023 that involves a paste made with fermented mung bean and carrot purée. We form that into a pancake. It's our play on a Vietnamese street food.
KA: A few of your newer concepts are targeting Gen Z specifically. What do you think these diners are looking for?
KA: We're talking about a generation that has grown up with vegetarian and vegan food readily available to them, for the most part. How do you wow them? It's through intense flavors, but it's also important to look at your brand through their lens. They're asking, "What are you about? What is the purpose of eating this food?" If they're in it for the nutrition, we've got that for them because we'll pack it with macronutrients and different forms of protein, greens, probiotics and prebiotics. If they're in it for indulgence, we go all-the-way indulgent with our offerings—gooey, sloppy, craveable. There's no middle ground with Gen Z.