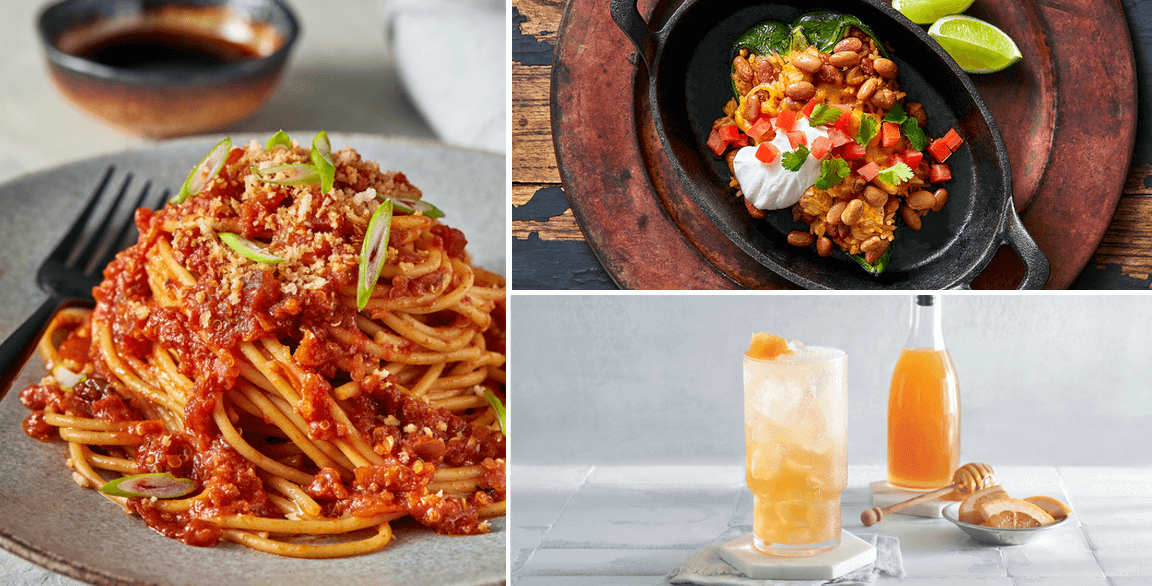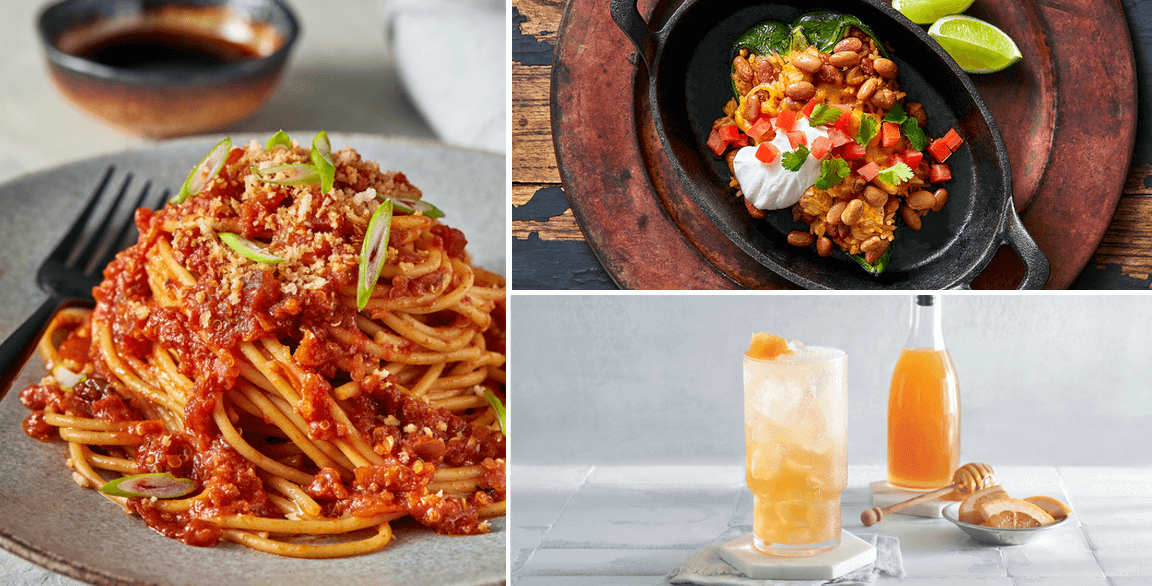 Kitchen Collaborative is a recipe-development initiative formed by Summit F&B and Flavor & The Menu. To fuel flavor innovation, a group of talented chefs partnered with sponsor brands and commodity boards to create recipes that showcase the passion and potential of our industry.
CHEF SPOTLIGHT: Dawn McClung
Making all guests feel valued and welcome at the table is an unquestioned axiom of hospitality—and a business practicality. Whether it's creating mocktails for those who eschew alcohol, plant-forward standouts for vegans/vegetarians or unexpected fusions for guests seeking a little adventure in their dining experiences, Dawn McClung, Research and Development Chef, Piada Italian Street Food, understands that satisfying a broad spectrum of diners will yield literal dividends in check averages—and return visits.
But good intentions are only part of the equation. Flavor is the undisputed driver and getting it right is often based on thoughtful research. "I love to find new ways of doing things by seeing what others have done," says McClung. "When I get a project, I spend loads of time researching the gold standard and then the variations that stem from that." This philosophy clearly informs her Kitchen Collaborative creations: Honey Grapefruit Shrub, Plant-Based "Wafu-Style" Bolognese with Kikkoman,® and Southwest Stuffed Chicken Poblano Peppers.
Honey Grapefruit Shrub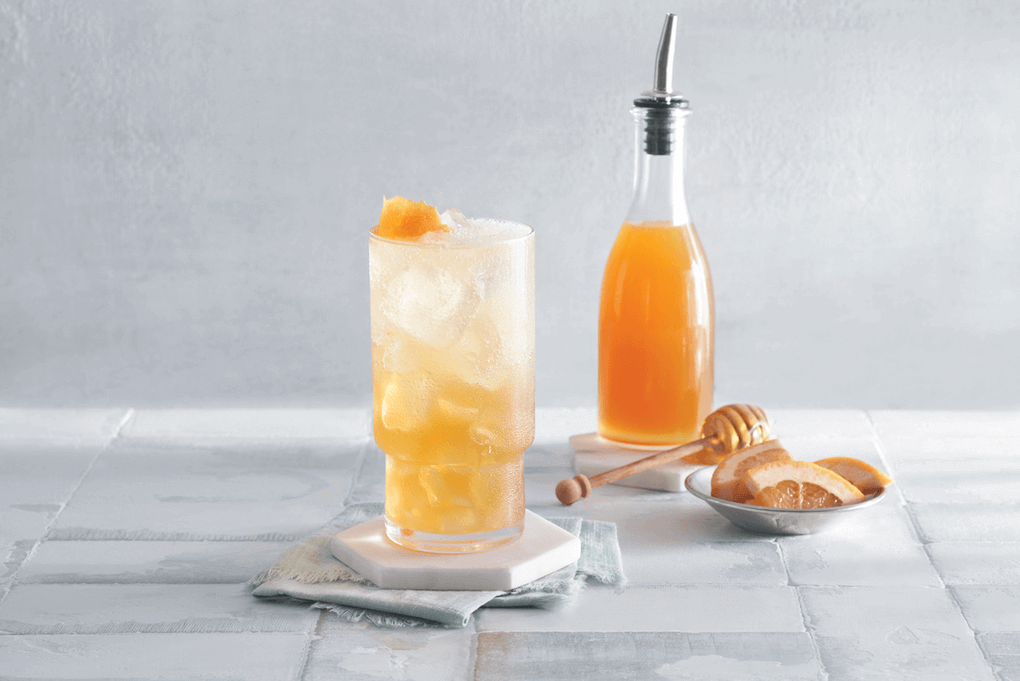 Photo: National Honey Board
"My grandma had honeybees and would make fresh lemonade sweetened with honey. I remember enjoying a glass while swinging on the front porch rocker with my sisters," says McClung of the nostalgic memory that served, in part, as inspiration for development of the Honey Grapefruit Shrub. When assigned honey for Kitchen Collaborative, "I did play around with a honey lavender almond brittle and a honey caramel cheesecake before I settled on the shrub," she notes. The sentiment of her reminiscences was complemented by more pragmatic drivers: "I wanted something unique and functional. Plus, beverage innovation is an easy way to intrigue guests and add dollars to the check."
"Honey is a great modification to traditional shrub recipes," says McClung. "It balances the tart vinegar while enhancing mouthfeel. It also adds delicate, harmonizing flavor notes to the other ingredients." Another less-conventional modification is her use of thinly sliced fresh ginger. "For this shrub, I needed something that could hold up against the acid and the sweetness. I added ginger because it gives a nice bite, without being too bitter. It gives just the right boost to round out all of the ingredients," she explains.
The beverage is presented as a nonalcoholic refresher as McClung says she is seeing a rise in mocktail lists and dry bars. "We are now capturing the same dollars for mocktails as we do for alcoholic beverages. Providing variety to all patrons will only help your bottom line," she says, seeing herself in the target audience. "I am not a real drinker, but I do enjoy the flavors of many cocktails, just without the liquor. So when I see a mocktail list that has been thoughtfully crafted, it makes me feel like I am just as important as every other guest."
The recipe can be batched and stored for up to a month. "With labor constraints and rising costs, it's important to be able to batch items and have them ready. One benefit with shrubs is that they get better with age; the flavors blend more as they sit," she adds. "Oftentimes, people want to make things as fresh as possible, but with this, you can make flavor the star without worrying about making the recipe every day!"
Plant-Based "Wafu-Style" Bolognese with Kikkoman®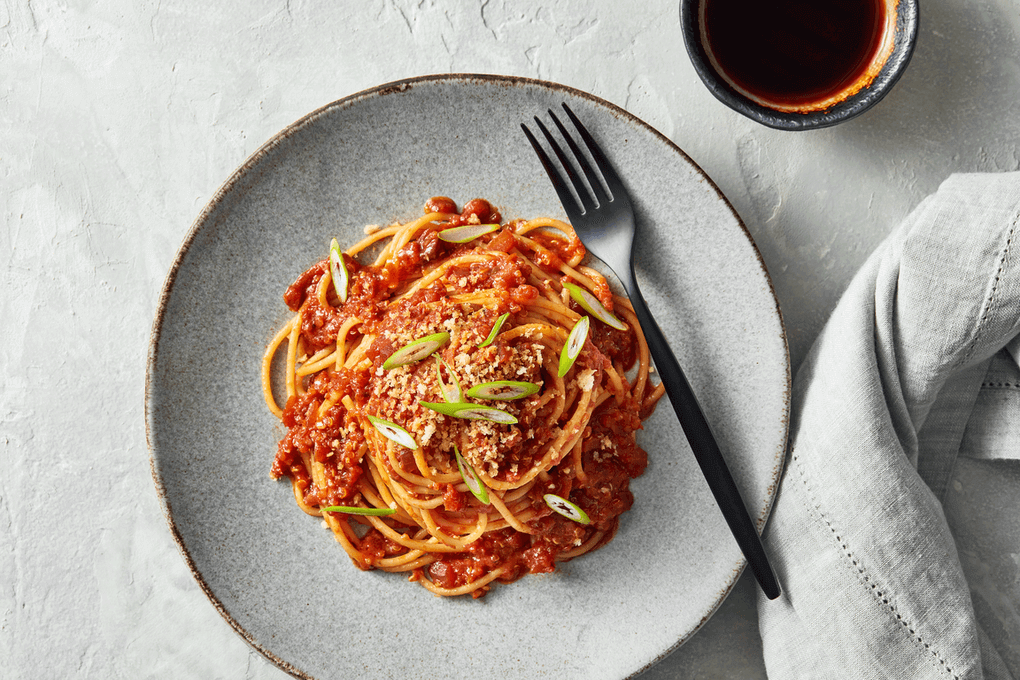 Photo: Carlos Garcia // Food Styling: Peg Blackley & Bree Williams
In response to a rising consumer demand for greater flexitarian variety on menus, recipe developers are discovering that ingredient swaps made in foundational favorites can take diners on an unexpected flavor journey. In using Kikkoman® Soy Sauce and Kikkoman® Pearl Soymilk Original for her Plant-Based "Wafu-Style" Bolognese, McClung does more than deliver a meatless rendition of a classic. "It's completely vegetarian, but still delivers a ton of richness and texture," she says. "The soy sauce adds an interesting level of umami and elevates the flavor profile, keeping it on trend with a Japanese (aka Wafu) style twist on an Italian favorite."
The dish features quinoa and beet sugar as additional departures from a conventional approach to Bolognese. These were key decisions in delivering a pleasant mouthfeel and balanced flavor, says McClung. "I really wanted to give it a good texture." The sugar, Italian seasoning, garlic powder, pepper, salt and tomatoes are added to the quinoa, simmering 40 to 45 minutes until the grain is tender. At this point, she adds the soymilk and heats the mixture an additional five minutes. "When quinoa over cooks, it has a softer bite to it, allowing the flavors to marry. The beet sugar, chosen to keep it vegan, and the soy complement each other." And for chefs that want to deliver an even-heartier version, she suggests adding Kikkoman® Panko Bread Crumbs along with the milk. "Trust me, it's tasty! The flavor is so deep and rich, you'll think twice about how this could really be vegan!"
McClung concedes that this particular dish might push the envelope a bit at Piada Italian Street Food. "Fusion flavor can be tricky in an Italian restaurant," she says. "However, we do have dishes that feature Mediterranean influences—many of which are our vegan/vegetarian offerings. We want all of our guests to have the ability to select from any of our menu categories and feel we have offered them variety and a great meal. We're looking into adding more items that can be more vegetable forward with complete plant proteins."
Southwest Stuffed Chicken Poblano Peppers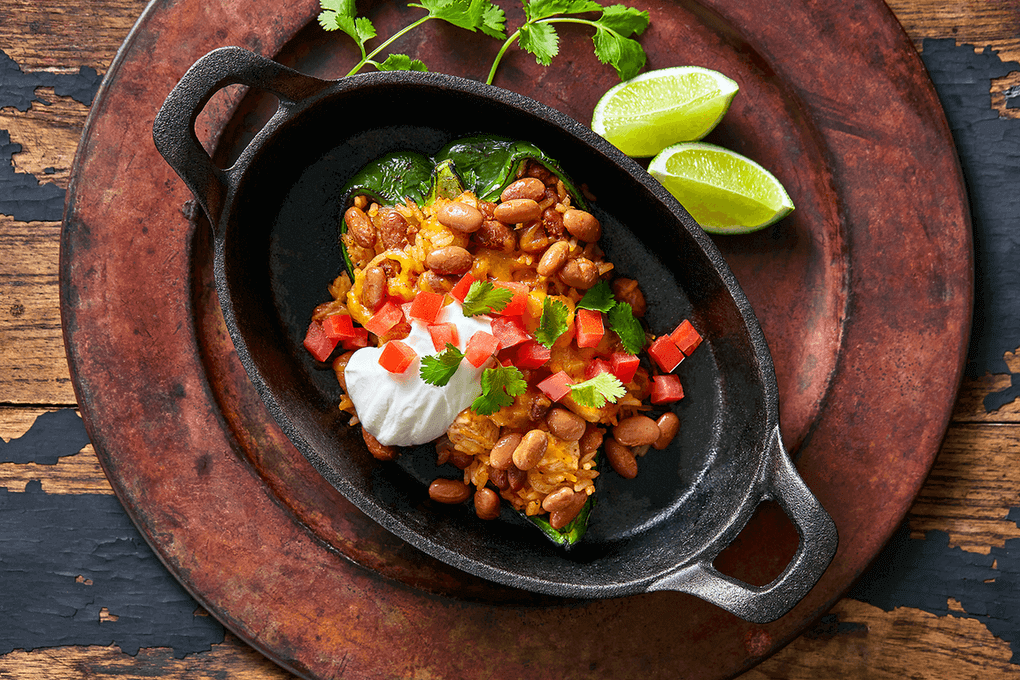 Photo: Carlos Garcia // Food Styling: Peg Blackley & Bree Williams
Since the age of exploration, the classic dishes of one cuisine have been adapted by cooks half a world away. Recipe revisions were typically driven by the availability of local ingredients, but now, chefs do it for fun! Take McClung's Southwest Stuffed Chicken Poblano Peppers, for example, as she fuses the fundamentals of an Italian favorite with flavors found 6,000 miles away. "I used the basic principles of Italian stuffed peppers—peppers, rice and cheese—but transformed them with Mexican flavors: the poblano pepper, lime, cilantro, cumin and beans," McClung says.
The dish features Bush's Best® Easy Entrees™ Texas Ranchero® Pinto Beans, a flavor-packed product that reduced the need to add a grocery list of extra seasonings. "It was very easy to marry flavors together," says McClung, pointing to the labor-saving benefits. "It reduced the number and amount of ingredients needed to make such a flavorful dish. Less measuring equals less time!" She got the job done with minimal amounts of thinly sliced white onion, garlic powder, cumin and salt.
McClung's recipe includes tweaks to easily convert the dish into a soup. How often does she consider pantry versatility in menu development? "Every day," she says. "I try to cross-utilize items all the time. It's critical that all dishes I create can be used in multiple ways or that the ingredients can be used in many different dishes. This keeps your inventory lower and your product fresher," she notes.
Project Management: Summit F&B
Photography: Carlos Garcia // Food Styling: Peg Blackley & Bree Williams