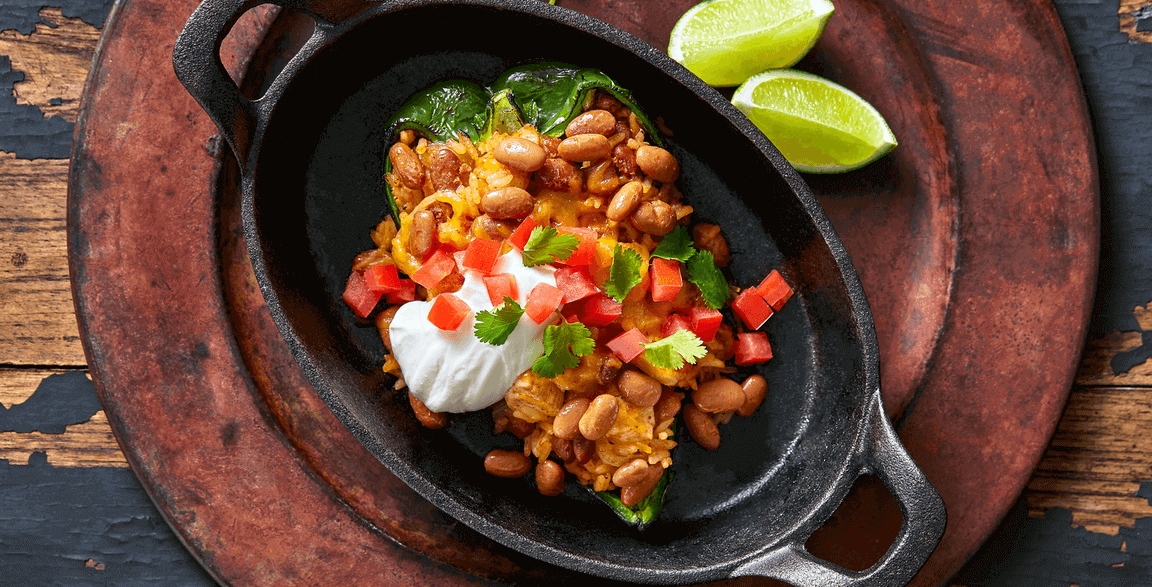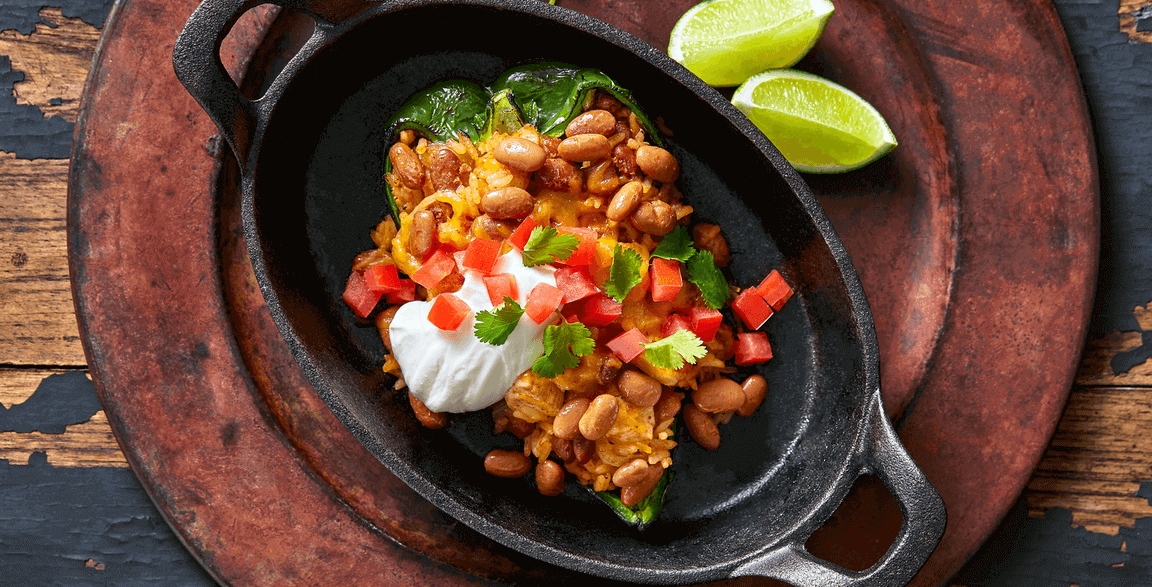 Southwest Stuffed Chicken Poblano Peppers
Recipe courtesy of Dawn McClung
Sponsor: Bush's Best
Servings: 4
Ingredients
4 poblano peppers
2 Tbsp canola oil
2 large chicken breasts, diced
1/2 c rice
1/2 medium white onion, thinly sliced
1 c Bush's Best® Easy Entrees™ Texas Ranchero® Pinto Beans
1 tsp garlic powder
1 tsp ground cumin
1 tsp salt
2 1/2 c chicken stock
1 c shredded cheddar cheese
Garnish:
freshly chopped cilantro
lime wedges
diced Roma tomatoes
sour cream
Directions
Wash, slice and de-seed the peppers and place them into a 9 x 13-inch baking dish; set aside.
Add oil to a large sauté pan over medium heat and heat for 2 minutes.
Cook chicken in sauté pan until it reaches an internal temperature of 165 degrees F, about 5 minutes.
Add the rice and onions to the chicken and sauté an additional 2 minutes, until onions begin to sweat.
Add the beans, seasonings and chicken stock to pan; stir and put on a lid. Reduce heat and cook for 20 to 25 minutes, stirring occasionally, until rice is tender.
Preheat oven to 350 degrees F.
Evenly divide the rice mixture between each pepper half. Sprinkle the cheese on each pepper. Bake for 25 to 30 minutes, until peppers are soft.
Remove and serve with desired garnishes.
Chef Notes
To make this vegan: Sub out the chicken for additional beans and chicken stock for vegetable stock; remove or sub cheese and sour cream.
To make this into soup: Dice the poblanos and sauté with the rice and onions, add 4 more cups of stock, simmer for 30 to 45 minutes and garnish with the cheese and other items.
Project Management: Summit F&B
Photography: Carlos Garcia // Food Styling: Peg Blackley & Bree Williams